The Atlantic Politics & Policy Daily: Justin Time
Donald Trump met with Canadian Prime Minister Justin Trudeau at the White House.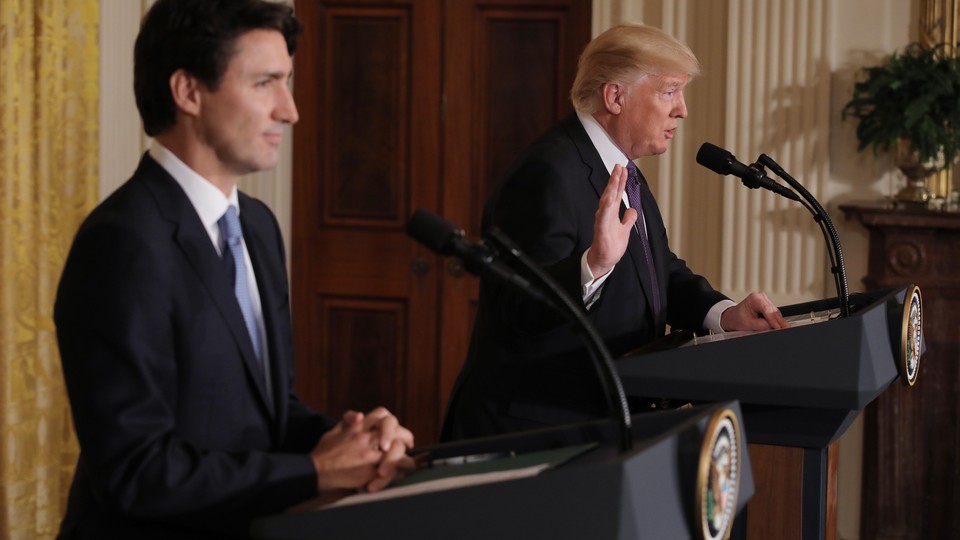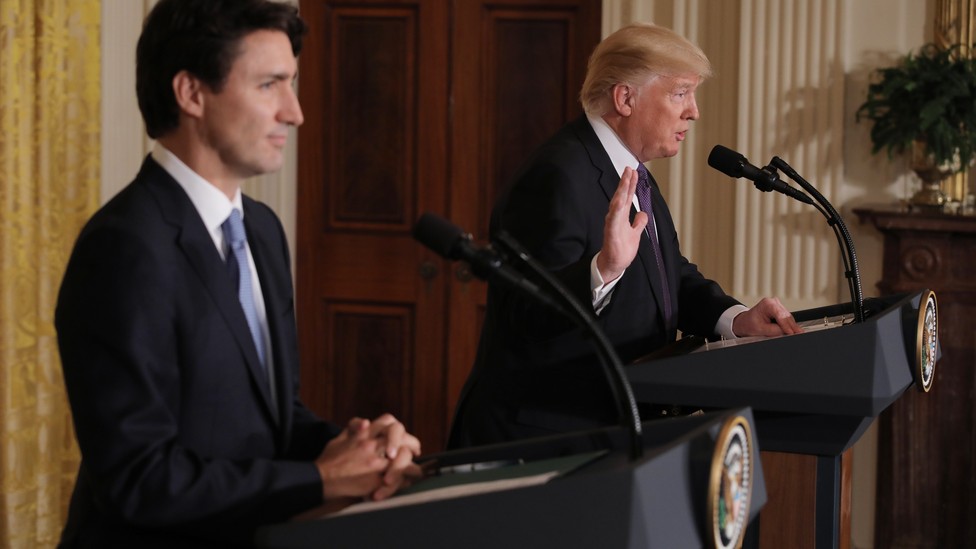 Today in 5 Lines
During a joint news conference with Canadian Prime Minister Justin Trudeau, President Trump praised the "outstanding" trade agreement between the two countries. White House Press Secretary Sean Spicer said Trump is "evaluating the situation" following reports that National Security Adviser Michael Flynn discussed sanctions with a Russian official before Trump's inauguration, something Flynn had previously denied. Immigration and Customs Enforcement arrested more than 680 people in raids last week in what the agency described as "routine" operations. The Senate is expected to confirm Steven Mnuchin as treasury secretary later today. The California Department of Water Resources is attempting to fix the Oroville Dam in California, after a hole in an emergency spillway prompted mass evacuations over the weekend.
---
Today on The Atlantic
Sorry Not Sorry: Donald Trump "is a sensitive soul whose feelings are easily bruised when others say unkind or disrespectful things about him," writes Michelle Cottle. When Trump feels wronged, he "puts great stock in the healing power of an old-fashioned apology."

The Anti-Anti-Trump': Conservative commentators' reactions to Trump largely fall into three categories: those who champion the president, those who staunchly oppose him, and those who generally oppose the principles he threatens but recognize that their business model is opposing the left. (Peter Beinart)

Same Fight, New Year: Since 2011, House Republicans have been trying to eliminate the Election Assistance Commission, which helps states improve their voting systems. The GOP argues the agency is no longer useful, but Democrats say it remains important, especially amid concerns about hacking. (Russell Berman)
Follow stories throughout the day with our Politics & Policy portal.
---
Snapshot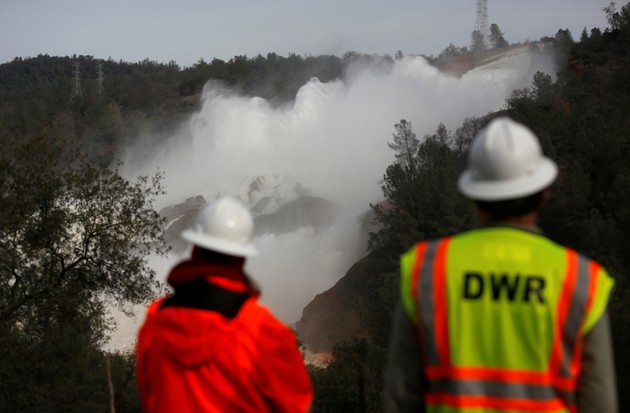 ---
What We're Reading
Dinner and a Show: The president was dining on the Mar-a-Lago Club terrace with Japanese Prime Minister Shinzo Abe when he was informed that North Korea had test-fired a ballistic missile. CNN reports that the meal "quickly morphed into a strategy session, the decision-making on full view to fellow diners." (Kevin Liptak)
'The Apprentices Have Become the Boss': Critics argue that Donald Trump might still face conflicts of interest despite entrusting his business interests to his sons. But Eric and Don Jr. don't see it that way, and they're plowing ahead with new business deals. (Eric Lipton and Suzanne Craig, The New York Times)
Corker on Trump: In an interview with Politico, Senator Bob Corker, chairman of the Foreign Relations Committee, said Trump approaches American foreign policy like a "wrecking ball." But Corker thinks congressional Republicans can be a positive influence on the president. (Susan Glasser)
Getting the Facts: ProPublica spoke with Alan Bersin—who served as acting Commissioner of U.S. Customs and Border Protection under former President Obama—about the scope of the country's challenges along the U.S.-Mexico border and why the solution will require more than building a wall. (Sebastian Rotella)
Separate Lives: Donald Trump has taken steps to distance himself from his business interests, but his actions have been "utterly insufficient," Sheelah Kolhatkar writes, as he continues to breach "the norms and ethical standards that have long governed the personal financial interests of the President." (The New Yorker)
---
Visualized
The Art of Building a Wall: These graphics show how the Trump administration might execute its plan to construct a wall along the U.S.-Mexico border based on what we know so far. (Bloomberg)
---
Question of the Week
On Monday, February 20, we'll celebrate Presidents' Day. This week, we'd like to know: What U.S. president do you admire most—and why?
Send your answers to hello@theatlantic.com, and our favorites will be featured in Friday's Politics & Policy Daily.
-Written by Elaine Godfrey (@elainejgodfrey) and Candice Norwood (@cjnorwoodwrites)