The Atlantic Politics & Policy Daily: Flynn Hot Water
National security adviser Michael Flynn reportedly discussed Russia sanctions with the Russian ambassador before Trump was sworn in as president.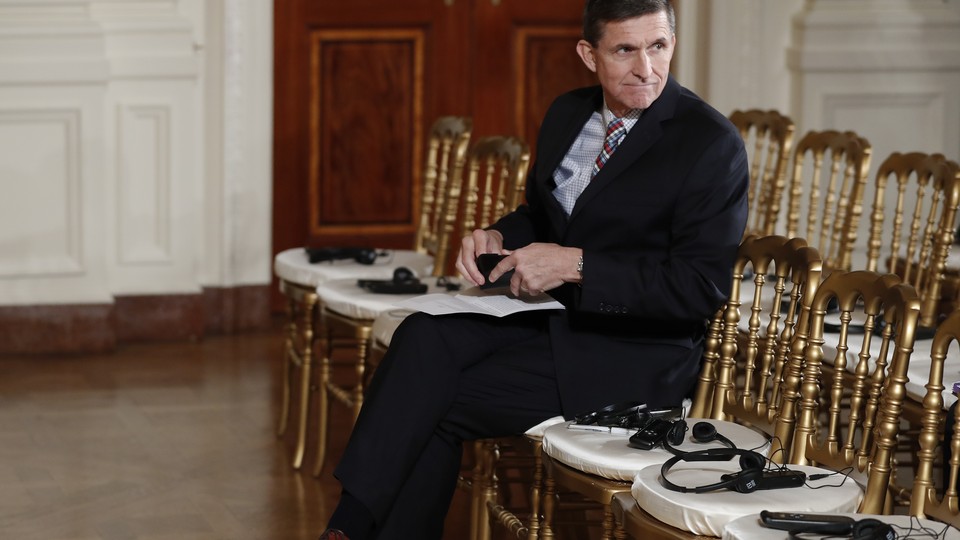 Today in 5 Lines
During a joint news conference with Japanese Prime Minister Shinzo Abe, Trump said the U.S.-Japan relationship is the "cornerstone of peace and stability in the Pacific region." Trump said he is considering a "brand new order" after his travel ban was stalled in court. National security adviser Michael Flynn reportedly "discussed U.S. sanctions against Russia with that country's ambassador to the United States" before Trump was sworn in as president, contrary to previous denials by officials. Tom Price was sworn in to serve as secretary of health and human services after the Senate confirmed his nomination in a party-line vote. Mexico warned its citizens living in the United States to "take precautions" after an Arizona woman was deported on Thursday following a routine visit with immigration authorities.
---
Today on The Atlantic
Trump Tried and Failed: Garrett Epps unpacks the decision by a Ninth Circuit Court of Appeals panel to block the president's executive order banning citizens of seven Muslim-majority countries.

Setting the Record Straight: The Trump administration has portrayed former Alabama senator and new U.S. Attorney General Jeff Sessions as a champion of civil rights. This is "largely a fiction," Adam Serwer writes, that was meant to "deflect the 30-year-old allegations of racism that had derailed Sessions's nomination to the federal bench in 1986."

'Survivor: West Wing': After a tumultuous first few weeks, the Trump administration may sacrifice a member of its team as a way to appease public criticism. The question is: Who will it be? (David A. Graham)
Follow stories throughout the day with our Politics & Policy portal.
---
Snapshot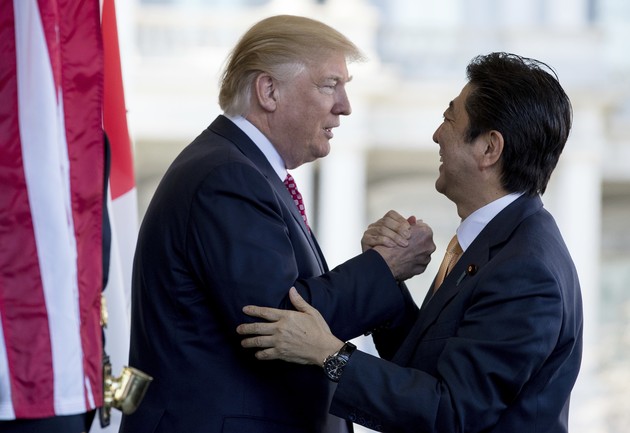 ---
What We're Reading
Harder Than It Looks: Politico reports that Trump has become increasingly frustrated by the obstacles he faces as president—"from congressional delays over his cabinet nominations and legal fights holding up his aggressive initiatives to staff in-fighting and leaks." (Alex Isenstadt, Kenneth P. Vogel, and Josh Dawsey)
'Explain Yourself': Many of Utah Representative Jason Chaffetz's constituents aren't happy with his job performance. On Thursday night, more than 1,000 people showed up at a town-hall meeting demanding the House Oversight Committee chair hold Trump accountable for potential conflicts of interest. (Courtney Tanner, The Salt Lake Tribune)
A Leader for the Resistance: "For years, some Democrats have been saying they need a feisty tea-party-type wing of their own to motivate the base," writes Ben Terris for The Washington Post. Is former MSNBC host Keith Olbermann the man for the job?
Less Than Meets the Eye: A number of Donald Trump's executive actions have come under widespread scrutiny for their "immediate and far-reaching impacts." Most of the orders, however, "have been rather mundane." Here's why. (Gregory Korte, USA Today)
The Man Who Got it Right: Some editors say they predicted Donald Trump's rise, but it's "hard to find ones who are telling the truth," writes Ben Smith. Meet R. Emmett Tyrrell, the founder and editor of the conservative American Spectator, and the man who really saw Trump coming. (BuzzFeed)
---
Visualized
'A Tale of Two Americas': These graphics compare the uninsured rates in states that have either accepted or rejected Medicaid expansion under the Affordable Care Act. The differences between the groups underscore what could happen if Republicans succeed in repealing the law. (The Huffington Post)
---
Question of the Week
Actress Melissa McCarthy caused a stir last weekend with her impersonation of White House Press Secretary Sean Spicer on Saturday Night Live. This week, we asked you to share some of your favorite political impressions in comedy. Here are three of our favorite responses:
From Tom Lucas:
My all-time favorite impersonation was Chevy Chase as Gerald Ford on Saturday Night Live.  To this day I still say "I was told there would be no math" whenever my friends or family ask me a complicated question.
Stephen Saribalis liked John Goodman as Linda Tripp and Molly Shannon as Monica Lewinsky:
Taking what few details we had about this ridiculous situation and bringing them to life--it was perfect. Now I almost remember these two in real life as the caricatures that John/Molly made of them.
And finally, Sally Swift said, "Tina Fey saved us from Sarah Palin."
Stay tuned for next week's Question of the Week contest.
-Written by Elaine Godfrey (@elainejgodfrey) and Candice Norwood (@cjnorwoodwrites)