The Atlantic Politics & Policy Daily: DeVos Bearly Confirmed in the Senate
Vice President Mike Pence cast the tie-breaking vote to confirm Betsy DeVos as secretary of education.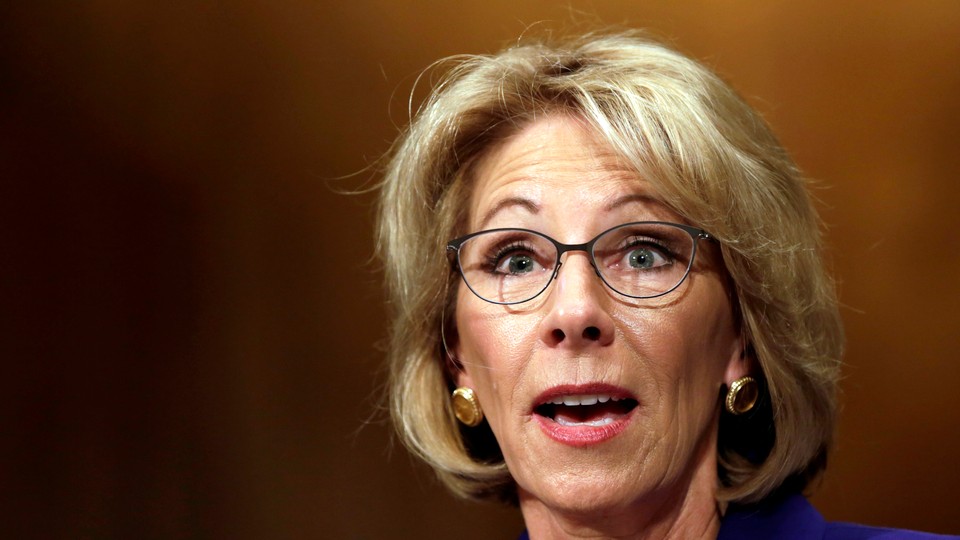 Today in 5 Lines
During a hearing before a House panel, Homeland Security Secretary John Kelly appeared to take the blame for the rollout of President Trump's controversial travel ban, telling lawmakers "this is all on me." The Senate confirmed Betsy DeVos as education secretary after Vice President Mike Pence cast a historic tie-breaking vote. DeVos's confirmation clears the way for Senator Jeff Sessions, Trump's pick for attorney general, to move toward a confirmation vote. Senate Minority Leader Chuck Schumer said he has "serious, serious concerns" about Trump's Supreme Court nominee, Neil Gorsuch, after the two met. The U.S. Ninth Circuit Court of Appeals will hear oral arguments from the Justice Department asking to reinstate Trump's executive order on immigration at 6 p.m. ET.
---
Today on The Atlantic
'Containing Trump': The new president "might pose the gravest threat to the constitutional order since" Richard Nixon, Jonathan Rauch writes. The severity of this threat will depend on whether civil society disregards Trump as a fluke, or actively mobilizes to "contain and channel" him.

'Frederick Douglass, Refugee': As a runaway slave in 1838, Frederick Douglass "was a dangerous illegal immigrant." David Blight connects the prominent author's life and work to the plight of millions of people today who are forced to flee as refugees and beg for asylum.

An Alt-Universe: Trump's allegation that "any negative polls are fake news" is an example of how he has "rejected objective facts to such a stunning degree that one wonders about the implications for a president who lives in a parallel reality." But, Alex Wagner asks: "Can you really govern from the Twilight Zone?"
Follow stories throughout the day with our Politics & Policy portal.
---
Snapshot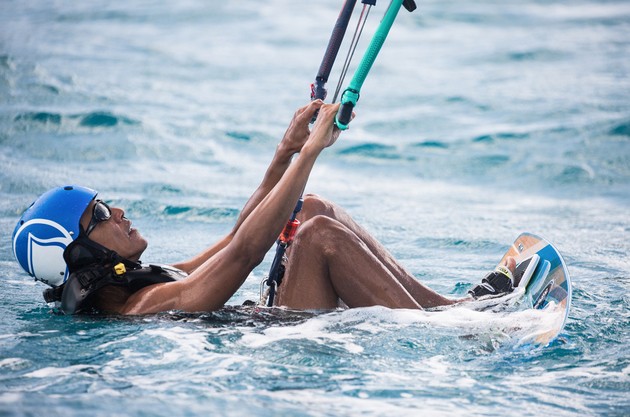 ---
What We're Reading
A Crackdown on Legal Immigration: Arkansas Senator Tom Cotton has drafted legislation to limit legal immigration. Here's how the push could splinter the GOP. (Seung Min Kim, Politico)
Under the Radar: Betsy DeVos is one of Trump's most controversial Cabinet picks, but once the drama surrounding her confirmation dies down, DeVos's activities will likely go unnoticed. (Libby Nelson, Vox)
Taking the Lead: The Women's March—one of the largest mass demonstrations in U.S. history—became an emblem of the left's resistance against Trump's stance on a range of issues. How will this brand of "pop feminism" develop moving forward? (Amanda Hess, The New York Times Magazine)
Second Time's the Charm: In 2000, Donald Trump launched his first presidential bid, which provided "a preview of the promises, threats, attention-seeking and paranoia" that characterized his successful 2016 run. But there were also noticeable differences. (Edward Helmore, Guardian US)    
'I Hope I'm Not Wrong': Voters in Crawford County, Wisconsin, supported Trump because he promised an economic revival, but they've watched his first few days in office with a mixture of hope and fear, leaving them to wonder: When will he focus on what matters to them most? (Claire Galofaro, AP)
---
Visualized
NATO in 2016: During his campaign, Trump said NATO members needed to pay their fair share. Here's how much NATO members spend on defense every year—and what it would look like if every country budgeted 2 percent of their GDP. (Nina Agrawal, Los Angeles Times)
---
Question of the Week
Actress Melissa McCarthy caused a stir this weekend with her impersonation of White House Press Secretary Sean Spicer on Saturday Night Live. What are some of your favorite political impressions in comedy—and why?
Send your answers to hello@theatlantic.com, and our favorites will be featured in Friday's Politics & Policy Daily.
-Written by Elaine Godfrey (@elainejgodfrey) and Candice Norwood (@cjnorwoodwrites)