The Atlantic Politics & Policy Daily: Frank Conversations
President Trump signed an executive order calling for a review of the 2010 Dodd-Frank financial regulations
Today in 5 Lines
President Trump signed an executive order calling for a review and eventual changes to the 2010 Dodd-Frank financial regulations signed by former President Obama in 2010 in response to the financial crisis. The Treasury Department issued sanctions against 25 individuals and businesses connected to Iran's ballistic missile program after the country's test launch of a missile last weekend. The U.S. Senate advanced Betsy DeVos, Trump's nominee for education secretary, for a final vote on her confirmation next week. The State Department reported that 60,000 visas were revoked by Trump's executive order banning travel from seven Muslim-majority countries. The U.S. added 227,000 jobs in January, and the unemployment rate increased slightly from 4.7 percent to 4.8 percent.
---
Today on The Atlantic
Changing Things Up: Donald Trump's executive order on immigration enforcement might resemble former President Obama's record deportations during his first term. But, Priscilla Alvarez writes, the president's directive lacks the corresponding push for legalization that occurred under the Obama administration.

'Obamacare's Unlikely Defenders': The prospect of losing health-care coverage and jobs from the proposed repeal of the Affordable Care Act has prompted a wave of home-care providers to get involved in political organizing. (Vann R. Newkirk II)

The Equality of Free Speech: In the aftermath of the violent protests at the University of California, Berkeley that prevented Milo Yiannopoulos from delivering a scheduled speech, Peter Beinart argues that "even obnoxious bigots" have a right to free speech, and that universities should establish guidelines for speakers and apply them equally among liberal and conservative guests.
Follow stories throughout the day with our Politics & Policy portal.
---
Snapshot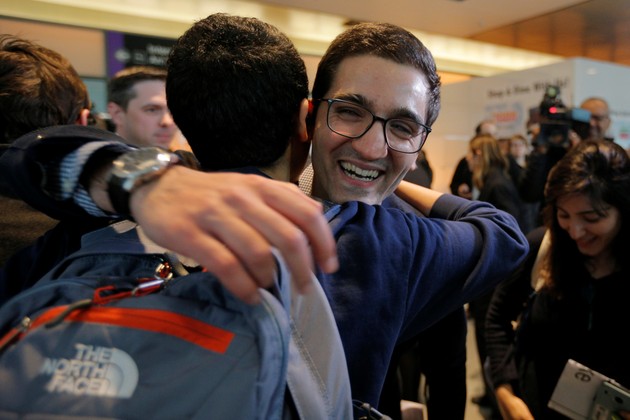 ---
What We're Reading
Why All the Leaks?: The Trump administration has been dogged by a flurry of leaks about Trump's decision-making and his phone calls with world leaders, teaching the new president an important lesson: "His most dangerous enemies are people who ostensibly work for him." (John F. Harris and Daniel Lippman, Politico)
End of an Era?: The New Yorker and Vanity Fair have canceled their parties for the annual White House Correspondents Dinner, prompting many to question the future of the event. Will the tradition change under the Trump administration? (Michael M. Grynbaum and Katie Rogers)
Learning a Lesson: Senate Majority Leader Mitch McConnell maintained a "stubborn" opposition against the Obama administration's agenda. Now that Senate Democrats are grappling with how to handle President Trump, will they mirror McConnell's methods? (Alec MacGillis, ProPublica)
'24 Hours at JFK': Reeves Wiedeman recounts the experiences of Hameed Khalid Darweesh and Haider Sameer Abdulkhaleq Alshawi, two Iraqi's detained at John F. Kennedy International Airport in New York just hours after Donald Trump signed his executive order on immigration. (New York)
A Trump Review: The president's first two weeks in office have been riddled with controversies related to immigration, trade, health care, and government regulation, among others. Andrew Prokop weeds through the drama and takes a look at the policy changes Trump's made so far. (Vox)
---
Visualized
Unpresidented: Is Trump a populist authoritarian or a populist who is "authoritarian-curious"? The Atlantic's Uri Friedman breaks it down in this short video.
---
Question of the Week
On Sunday, the New England Patriots will take on the Atlanta Falcons at Super Bowl 51 in Houston, Texas. This week, we asked what you would call Capitol Hill's football team. Here are some of our favorite answers:
Douglas Ritter suggested Capitol Punishment, and Greg Schuckman offered the Capitol Hill Filibusters.
Capitol Hill Grid Lox was suggested by Lionel Bercovitch, who said they would wear "orange uniforms and a helmet with a half-bagel with cream cheese and lox logo."
Thomas Tuohy proposed the Washington Monuments, and Bernie suggested the Foggy Bottoms.
-Written by Elaine Godfrey (@elainejgodfrey) and Candice Norwood (@cjnorwoodwrites)