The Atlantic Politics & Policy Daily: Rex and Balances
The Senate confirmed Rex Tillerson to serve as secretary of state.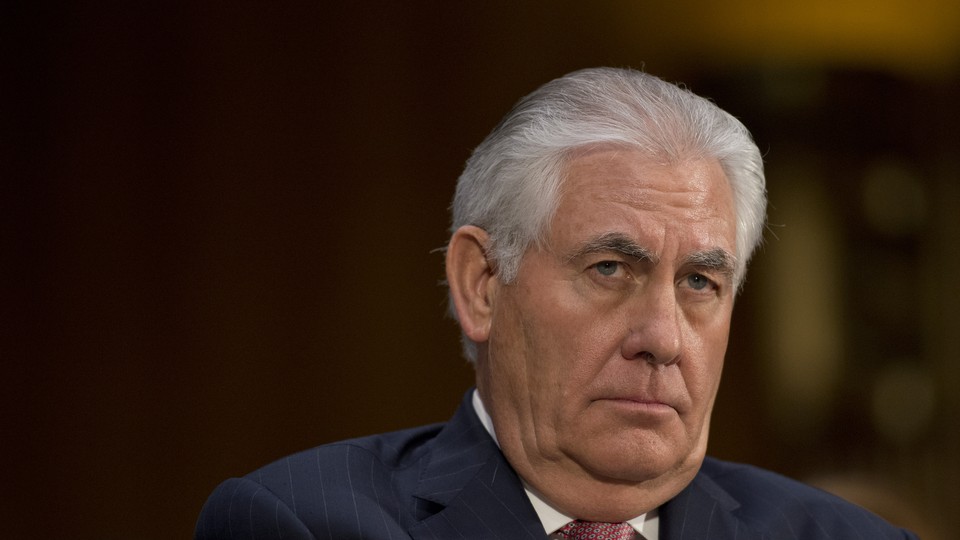 Today in 5 Lines
President Trump made an unannounced visit to Dover Air Force Base to attend the return of the remains of Chief Petty Officer William "Ryan" Owens, a U.S. Navy SEAL killed in Yemen on Sunday. The Senate confirmed Rex Tillerson to serve as secretary of state in a 56-43 vote. Senate Republicans pushed two of Trump's Cabinet nominees—Steve Mnuchin for treasury secretary and Tom Price for health and human services secretary—to a full Senate vote without any Democrats present, and the Senate Judiciary Committee voted to advance the nomination of Senator Jeff Sessions for attorney general. Republican Senators Susan Collins and Lisa Murkowski said they would not vote to support Betsy DeVos's nomination for education secretary. Former Vice President Joe Biden endorsed former Labor Secretary Tom Perez to lead the Democratic National Committee.
---
Today on The Atlantic
Alternative Figures: Donald Trump has used "an arsenal of half-truths to defend his controversial executive order on immigration." Andrew McGill breaks down four numbers used in White House statements that are "problematic at best and plain wrong at worst."

'A Senator's Best Friend': Now that Trump has picked a Supreme Court nominee, Congress faces a major question: How will Republicans respond if Democrats attempt to filibuster Trump's choice? (Michelle Cottle)

Questions of Morality: In 2006, Trump's Supreme Court nominee Neil Gorsuch published a book that discusses matters of life, death, and morality, such as abortion and assisted suicide. The book, Emma Green writes, offers insights into where he might stand on issues as a Supreme Court justice.
Follow stories throughout the day with our Politics & Policy portal.
---
Snapshot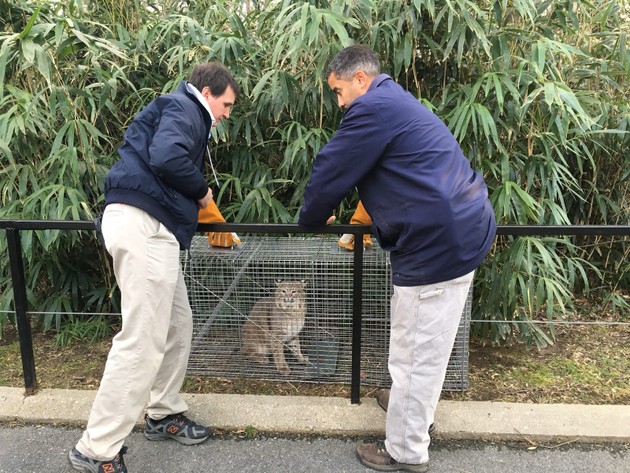 ---
What We're Reading
Getting to Yes: During his presidential campaign, Trump released a list of 21 contenders to fill the vacancy on the U.S. Supreme Court. Here's how he reached the decision to nominate Neil Gorsuch. (Shane Goldmacher, Eliana Johnson, and Josh Gerstein, Politico)
'Acting Like Idiots': Tensions are at an all-time high in Congress: The Senate has so far confirmed only three of Trump's Cabinet nominees, and Democrats are continuing to delay the confirmation of other appointees, prompting Republicans to accuse the party of obstructionism. (Alexander Bolton, The Hill)
Gathering Steam: With more than 1,000 signatures as of Tuesday evening, a State Department dissent cable condemning Trump's executive order on immigration is "quickly emerging as one of the broadest protests by American officials against their president's policies." (Jeffrey Gettleman, The New York Times)
Launching a Movement: Saul Elbein shares the story of a group of Native American teenagers whose actions to fight the possible contamination of a local water source ignited an influential environmental battle over the Dakota Access Pipeline. (The New York Times Magazine)
'Why Let 'Em In?': To understand the Trump administration's agenda, it's important to understand President Trump's chief White House strategist Stephen Bannon, and his "fiery populist vision for remaking the United States and its role in the world." (Frances Stead Sellers and David A. Fahrenthold, The Washington Post)
---
Visualized
A Deeper Look: Immigrants from the seven Muslim-majority countries targeted by Donald Trump's executive order only make up about 2 percent of all the foreign-born people in the United States. These graphics provide a profile of these immigrants and the states where they've settled. (The New York Times)
---
Question of the Week
On Sunday, the New England Patriots will take on the Atlanta Falcons at Super Bowl 51 in Houston, Texas. If Capitol Hill had its own football team, what would it be named?
Send your answers to hello@theatlantic.com, and our favorites will be featured in Friday's Politics & Policy Daily.
-Written by Elaine Godfrey (@elainejgodfrey) and Candice Norwood (@cjnorwoodwrites)