The Atlantic Politics & Policy Daily: Trump Blesses Boeing
The president visited a Boeing plant in South Carolina.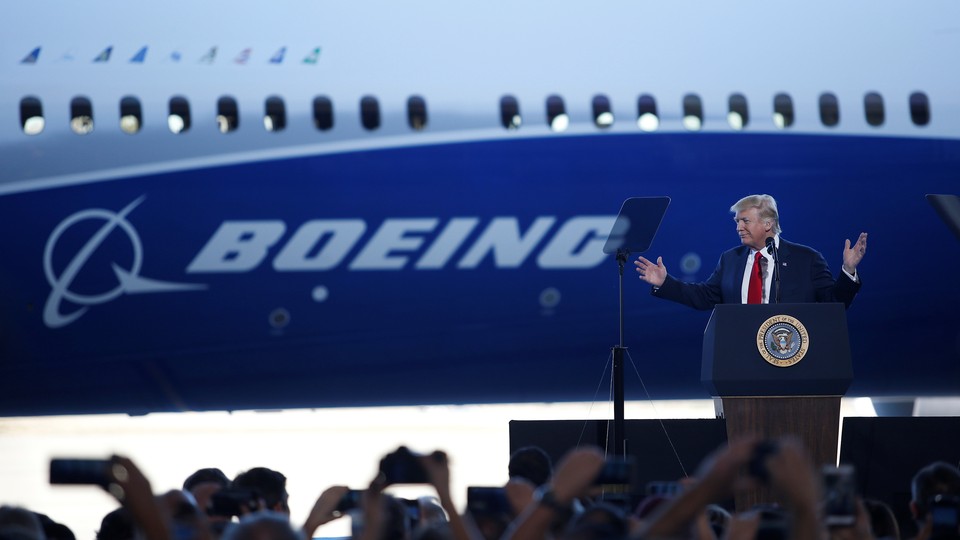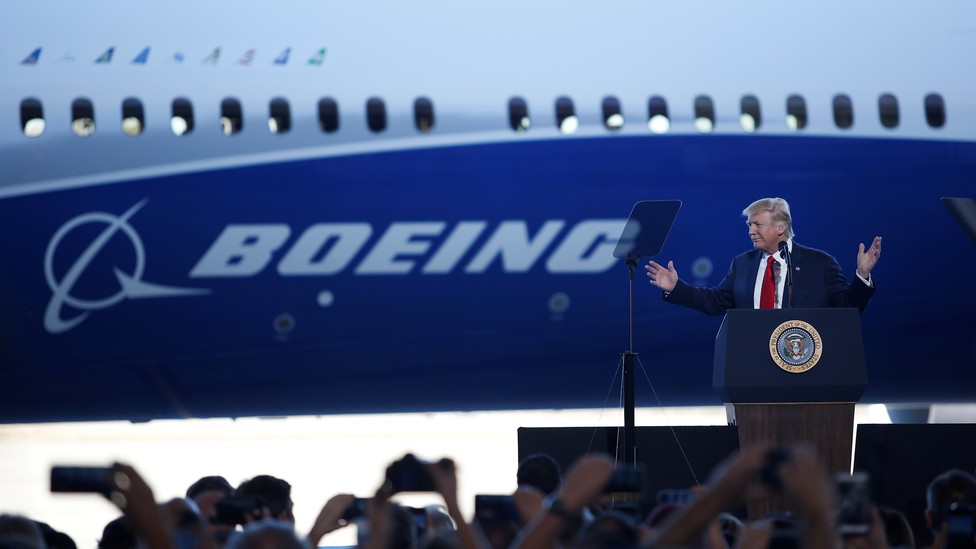 Today in 5 Lines
During an address at a Boeing plant in North Charleston, South Carolina, President Trump promised to "fight for every last American job," and concluded his speech by saying, "God bless Boeing." Trump will hold a rally at the Orlando-Melbourne International Airport in Melbourne, Florida, on Saturday. FBI Director James Comey met privately with the Senate Intelligence Committee amid concerns over alleged contact between Trump associates and Russian officials. Senate Majority Leader Mitch McConnell said Republicans "don't expect any Democratic cooperation" in the GOP-led effort to repeal and replace the Affordable Care Act. The Senate confirmed Scott Pruitt to head the Environmental Protection Agency.
---
Today on The Atlantic
The Red Resistance: Outrage over Donald Trump's actions in the early days of his presidency is not confined to liberal strongholds, writes Clare Foran. In some of the country's most conservative states, voters new to political organizing "are taking a page out of the Tea Party playbook in hopes of making their voices heard."

Blast From the Past: Last week's immigration raids angered Democrats and advocates. But Representative Luis Gutiérrez of Illinois has seen this before. "We are taking the progress that has been made, and we are turning the clock back," he said. (Russell Berman)

No Good, Very Fake News: During Thursday's press conference, Donald Trump's "unvarnished disdain, unhinged fixations, and wild accusations were most certainly firsts for a sitting president," argues Alex Wagner. The event, however, serves as a case study for the new era of White House-press relations.
Follow stories throughout the day with our Politics & Policy portal.
---
Snapshot
---
What We're Reading
'Dead Man Walking': While Congressman Mark Sanford might be "the unlikeliest enforcer of honesty in politics," he's unafraid to criticize Trump's performance as president. Tim Alberta looks ahead to the once-celebrated Republican's political future. (Politico)
Keeping a Closer Eye: The White House appears to want more direct control of foreign-policy portfolios: Just this week, the State Department laid off a number of staff members and excluded officials from White House meetings with Israeli Prime Minister Benjamin Netanyahu. (Margaret Brennan and Kylie Atwood, CBS)
'Logistical Nightmare': The Washington Post reports that, nearly a month into Trump's presidency, "the unusually elaborate lifestyle of America's new first family is straining the Secret Service and security officials," and could cost taxpayers. (Drew Harwell, Amy Brittain, and Jonathan O'Connell)
A Changing World: Amid political tension over Mexican immigration to the U.S., climate change simultaneously threatens to sink Mexico City further below sea level and worsen the region's water shortage, potentially forcing millions of residents to seek refuge elsewhere. (Michael Kimmelman, The New York Times)
Time After Time: Donald Trump has denounced the intelligence leaks that led to the resignation of former National Security Adviser Michael Flynn as "un-American." But political leaks have existed for decades. (Issie Lapowsky, Wired)
---
Visualized
'28 Days Later': What has Trump accomplished in the weeks since his inauguration—and what hasn't gone according to plan? Here's a day-by-day rundown. (Matthew Nussbaum, Politico)
---
Question of the Week
On Monday, February 20, we'll celebrate Presidents' Day. So this week, we asked you: What U.S. president do you admire most—and why? Visit our Notes section for a complete list of our favorite responses, but here was a particularly thoughtful one from Christopher Wilson who chose President Barack Obama:
When someone is observed with such scrutiny and vigilance, they cannot escape their faults. President Obama had his. The pivot of his leadership was changing an opinion of what had been a strong conviction—not for the purpose of politics and remembrance—but because he knew it was the right thing to do!  Specifically, having held strong opposing views of [same-sex marriage], President Obama made a remarkable turnaround and went full throttle in securing rights and becoming a quiet champion for the community—this in spite of his own personal beliefs. That's rarely seen in politics, and applaudable.
-Written by Elaine Godfrey (@elainejgodfrey) and Candice Norwood (@cjnorwoodwrites)