The Atlantic Politics & Policy Daily: Trump and the Terrible, Horrible, No Good, Very Fake News
The president held a press conference at the White House.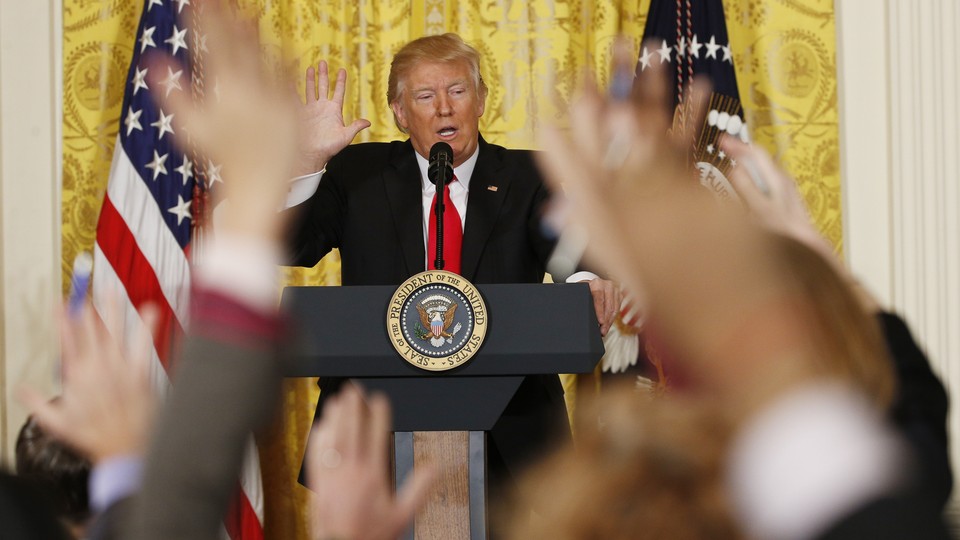 Today in 5 Lines
In a wide-ranging—and at times, unwieldy—press conference, Trump defended his tumultuous first weeks in the White House, saying his administration is operating like a "fine-tuned machine"; railed against the media and its reporting on alleged contact between his associates and Russian officials; announced that the administration will issue a new executive order next week; and named his new nominee for labor secretary, Alexander Acosta. Former National Security Adviser Michael Flynn reportedly denied that he had discussed sanctions with the Russian ambassador before Trump took office in an interview with FBI agents. The Senate confirmed Mick Mulvaney to head the Office of Management and Budget, and the Judiciary Committee said the Senate will begin hearings for Trump's Supreme Court nominee, Neil Gorsuch, on March 20.
---
Today on The Atlantic
Will Sessions Take a Seat?: Justice Department guidelines appear to suggest that Attorney General Jeff Sessions should recuse himself from any investigations into the Trump team's alleged contact with Russia based on his relationship with the president. But will he do it? (Adam Serwer)

The Tables Are Turned: Donald Trump, a self-proclaimed WikiLeaks lover, is "poorly positioned to complain about the release of information that disadvantages his administration." Here are three reasons why his criticisms of recent intelligence leaks don't hold up. (David Frum)

Biting the Hand That Votes for You: In an effort to shrink the federal government, Republicans have targeted federal anti-poverty programs. But "the cornerstone of the modern GOP electoral coalition," whites without a college degree, benefit most from these services. (Ronald Brownstein)
Follow stories throughout the day with our Politics & Policy portal.
---
Snapshot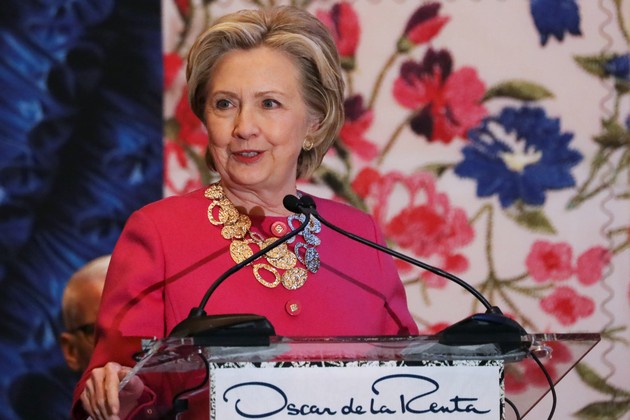 ---
What We're Reading
Keeping Secrets From Trump?: The Wall Street Journal reports that U.S. intelligence officials "have withheld sensitive intelligence" from Trump because they're concerned that it could be leaked or compromised, underscoring "the deep mistrust that has developed between the intelligence community and the president." (Shane Harris and Carol E. Lee)
A State of Constant Chaos: Trump's first days in office have been mired in controversy, writes Philip Elliott, but the president is afraid to change his strategy: "Bottle up the disruptive methods and Trump fears he could lose the magic that made him President." (Time)
Looking for Answers: The Senate Intelligence Committee is advancing an investigation into the Trump team's alleged ties with Russia, as well as Russian efforts to interfere with the presidential election. Here's how the inquiry is moving forward. (Ali Watkins, BuzzFeed)
The Plot Thickens: Newsweek reports that "at least one" Western European ally has conducted surveillance of Trump staff and associates for months "out of concerns that Russia is seeking to manipulate its relationships with Trump administration officials as part of a long-term plan to destabilize the NATO alliance."
Stay Home to Stand Up: The New York Times spoke with a few of the "carpenters, plumbers, cooks, cleaners and grocery store owners" who participated in Thursday's "Day Without Immigrants" event that called for immigrants to stay home from work and school in protest of the Trump administration's policies. (Liz Robbins and Annie Correal)
---
Visualized
Fall From Grace: The fall of a Cabinet pick, like labor secretary nominee Andrew Puzder, is not unheard of. The five most recent presidents have each had a nominee fail in the process. Take a look at these graphics to see who they were and where they fell short. (Kevin Schaul and Kevin Uhrmacher, The Washington Post)
---
Question of the Week
On Monday, February 20, we'll celebrate Presidents' Day. This week, we'd like to know: What U.S. president do you admire most—and why?
Send your answers to hello@theatlantic.com, and our favorites will be featured in Friday's Politics & Policy Daily.
-Written by Elaine Godfrey (@elainejgodfrey) and Candice Norwood (@cjnorwoodwrites)