The Atlantic Politics & Policy Daily: The Boys Are CPAC in Town
The four-day Conservative Political Action Conference is underway in Oxon Hill, Maryland.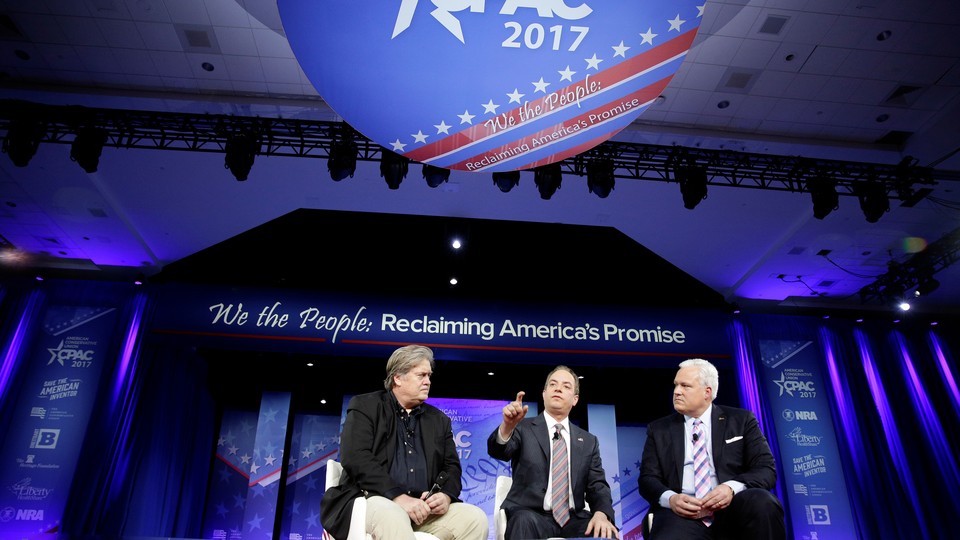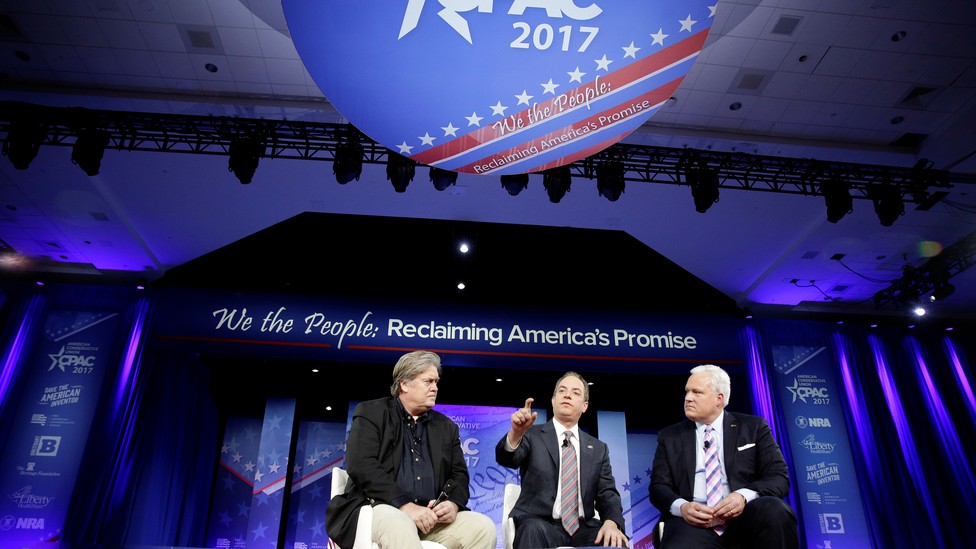 Today in 5 Lines
During joint remarks with White House Chief of Staff Reince Priebus at the Conservative Political Action Conference, chief strategist Steve Bannon listed the "deconstruction of the administrative state" as one of the Trump administration's priorities. Richard Spencer, the founder of the self-proclaimed "alt-right" movement, was kicked out of CPAC after the event's organizer called the alt-right a "hateful, left-wing fascist group." Homeland Security Secretary John Kelly said there will be "no use of military force in immigration operations" after Trump called his administration's effort to remove undocumented immigrants "a military operation." Speaking at a health conference in Orlando, former House Speaker John Boehner said repealing and replacing the Affordable Care Act is "not going to happen." White House Press Secretary Sean Spicer suggested there will be "greater enforcement" of the federal marijuana law under the Trump administration.
---
Today on The Atlantic
In Trump's White House: Rumana Ahmed, a hijab-wearing Muslim woman, was hired right out of college to work at the White House and later the National Security Council under former President Obama. When Donald Trump took over the Oval Office, Ahmed stayed on to serve her country. She lasted eight days.

'The Bow-Tied Bard of Populism': Fox News pundit Tucker Carlson catapulted to fame during the 2016 presidential election by using his residential neighbors as anonymous examples of "the educated elite's insular thinking." But, McKay Coppins writes: "The question now is what he wants to do with that perch."

Re-strategizing: As the Democratic Party contemplates the road ahead, it must decide whether to focus on energizing its progressive base, or "building a big tent party where far-left voters and moderate centrists can co-exist even if they occasionally disagree on policy and strategy." (Clare Foran)
Follow stories throughout the day with our Politics & Policy portal.
---
Snapshot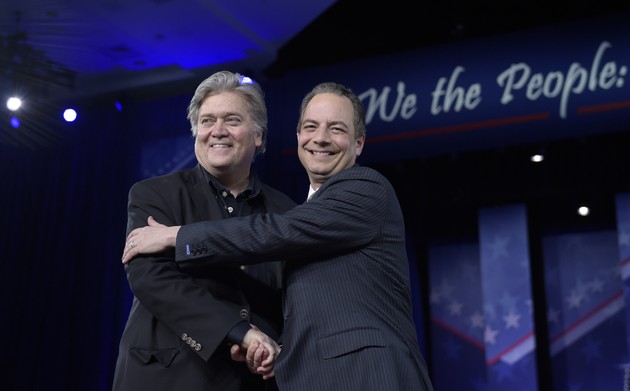 ---
What We're Reading
Ivanka's New Mission: The first daughter is lobbying Congress to include a tax deduction for child-care expenses, but critics don't expect it to get far: The proposal "would favor wealthier families with two working parents" and cost up to $500 billion. (Sahil Kapur, Shannon Pettypiece, and Stephanie Baker, Bloomberg)
Meanwhile, in Foggy Bottom: The State Department has gone a full month without conducting its daily press briefings, and Secretary of State Rex Tillerson has "been notably absent from White House meetings with foreign leaders." Is disarray in the White House reflecting on the department? (Carol Morello and Anne Gearan, The Washington Post)
Inside the Tower: New York spoke with a few of the "thousands of New Yorkers living in Trump-branded towers that span the city from Soho to the Upper West Side" to learn what it's like to be a resident. (Nick Tabor)
Question and Answer: On Wednesday, the Trump administration rescinded Obama-era guidelines on how schools should accommodate transgender students based on their gender identity. NPR answers five questions about what this action means for transgender students around the country. (Anya Kamenetz and Cory Turner)
The New Age: A new intellectual journal called American Affairs has launched and "it's ready to explore the meaning and shape of American nationalism in the age of Trump." The political climate has shifted since the founding of earlier policy journals, which means the new publication will play a different role from its predecessors. (Damon Linker, The Week)
---
Visualized
Oh, Dam: Earlier this month, residents living near the massive Oroville Dam were evacuated after damage to a spillway. These maps show that aging infrastructure isn't just a problem in California. (Troy Griggs, Gregor Aisch, and Sarah Almukhtar, The New York Times)
---
Question of the Week
After a visit to the National Museum of African American History, President Trump pledged to "bring this country together." What's an effort you've seen in your community—or one you've participated in yourself—that you think could help heal a polarized nation?
Send your answers to hello@theatlantic.com, and our favorites will be featured in Friday's Politics & Policy Daily.
-Written by Elaine Godfrey (@elainejgodfrey) and Candice Norwood (@cjnorwoodwrites)