The Atlantic Politics & Policy Daily: Back to the White House After These Messages
Kellyanne Conway promoted Ivanka Trump's brand in a Fox and Friends interview.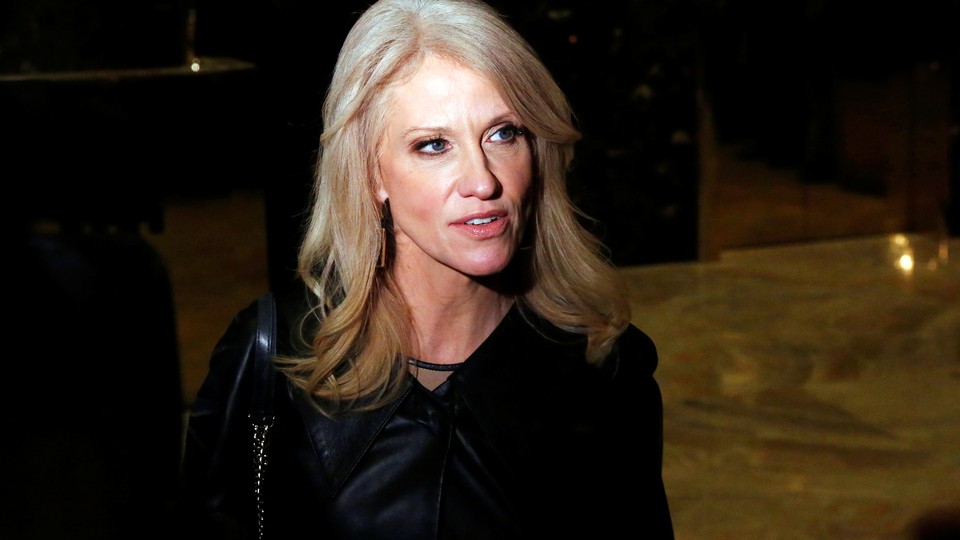 Today in 5 Lines
Jeff Sessions was sworn in as attorney general. Shortly after, President Trump signed three executive orders that, in his words, are "designed to restore safety in America." Trump falsely accused Senator Richard Blumenthal of misrepresenting Supreme Court nominee Neil Gorsuch's comments after Blumenthal said Gorsuch called Trump's attack on the judiciary "disheartening" and "demoralizing." Alabama Governor Robert Bentley named state Attorney General Luther Strange to take Sessions's place in the Senate. White House Press Secretary Sean Spicer said Kellyanne Conway, a top adviser to Trump, was "counseled" after she promoted Ivanka Trump's brand in an interview from the White House.
---
Today on The Atlantic
History Repeating: For those who remember the conservative tea party movement of 2009, the anti-Trump resistance "feels like deja vu," writes Molly Ball. In both cases, the incoming president frightened thousands of people who had never been politically active and prompted them to take action.

Everything Is Fine: Donald Trump tweeted Thursday that Senator John McCain "should not be talking about the success or failure of a mission," in reference to the criticism of his first counterterrorism mission in Yemen. The comments "set a steep standard" for when the administration's military operations can be criticized. (Uri Friedman)

A Curious Case: Alabama Governor Robert Bentley named the state's attorney general, Luther Strange, to replace Senator Jeff Sessions, the country's new attorney general. But the move has come under scrutiny since Strange might be investigating Bentley "for impropriety related to an affair he had with a top political adviser that became public last year." (Russell Berman)
Follow stories throughout the day with our Politics & Policy portal.
---
Snapshot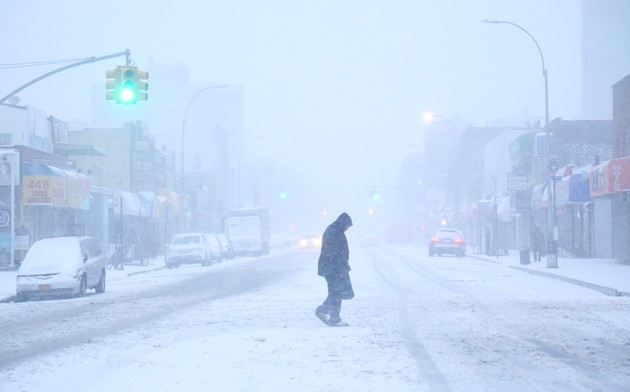 ---
What We're Reading
The Politics of Identity: Vox spoke with nine prominent racial justice advocates and experts, including DeRay Mckesson, Wesley Lowery, and Alicia Garza, about a changing U.S. society and the future of activism in the Trump era. (Michelle Garcia, Sunnivie Brydum, Tyler Tynes, and Derrick Clifton)
BFFs?: Recent media reports have painted Steve Bannon, Trump's chief strategist, and Reince Priebus, the White House chief of staff, as bitter rivals competing for power, but in an interview with New York's Olivia Nuzzi, Priebus said "it's the total opposite."
A Storm Brewing: Donald Trump's decision to continue with the contentious Dakota Access Pipeline project has yielded pledges of "mass resistance" among Native American activists and allies. Leaderless movements like this one "tend to have staying power," Tom DiChristopher writes, and the pipeline protests have the potential to succeed. (CNBC)
'Go Buy Ivanka's Stuff': Kellyanne Conway may have violated a key ethics law by encouraging Fox and Friends viewers to purchase Ivanka Trump's merchandise. Here's what legal experts think. (Drew Harwell, Tom Hamburger, and Rosalind S. Helderman, The Washington Post)
Trouble in the Farm Belt: Due to a combination of rising costs and a shrinking role in the international grain market, America could be facing "the biggest wave of farm closures since the 1980s." (Jesse Newman and Patrick McGroarty, The Wall Street Journal)
---
Visualized
'Before the Wall': New York Times' reporters traveled to eight cities along the U.S.-Mexico border to speak with people who have seen the border in different forms—pieces of metal, wooden posts, a fence—and who wonder what changes Trump's proposed wall will bring.
---
Question of the Week
Actress Melissa McCarthy caused a stir this weekend with her impersonation of White House Press Secretary Sean Spicer on Saturday Night Live. What are some of your favorite political impressions in comedy—and why?
Send your answers to hello@theatlantic.com, and our favorites will be featured in Friday's Politics & Policy Daily.
-Written by Elaine Godfrey (@elainejgodfrey) and Candice Norwood (@cjnorwoodwrites)