The Five Biggest Hurdles for Republicans Replacing Obamacare
Several critical policy questions remain unanswered about the emerging GOP plan: How much will it cost? How will they pay for it? How many people will be covered? And what will happen to the parts of the current law that people like the most?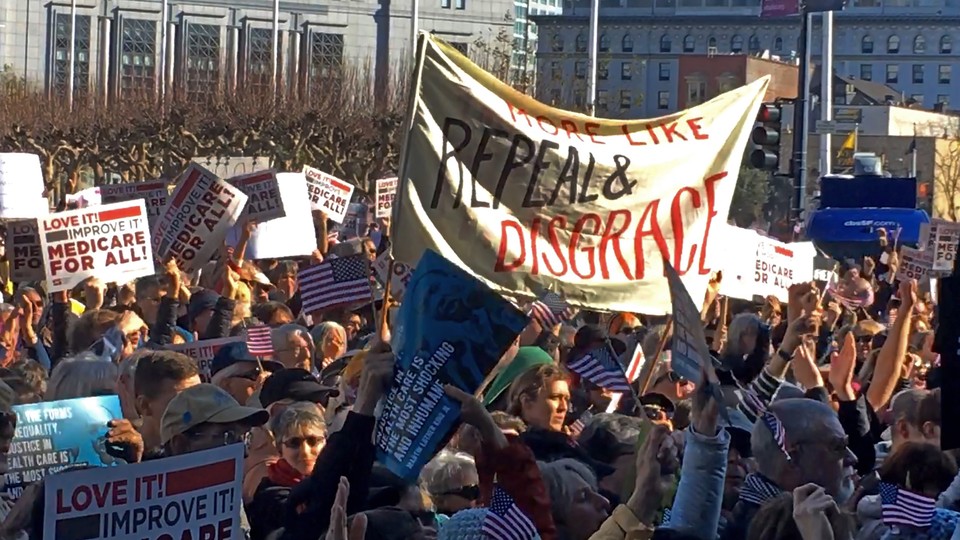 In the 25 years that John Boehner served in Congress, the former House speaker said on Thursday in his eye-opening moment of candor, "Republicans never, ever, one time agreed on what a health care proposal should look like. Not once."
The happily-retired Ohioan was explaining to a health-care conference in Orlando why he believed his party would fail to deliver on its longstanding pledge to repeal and replace the Affordable Care Act. Boehner's prediction, which was reported by Politico, captured the headlines, but the history lesson that accompanied it shouldn't have come as a surprise: Not only have Republicans never agreed on health care, the modern conservative movement has never before seen it as a priority to reform the entire U.S. system. That's one of the many reasons why the GOP is struggling so mightily to replace Obamacare now. While Democrats famously tried and failed to enact universal healthcare for decades before the ACA finally won approval in 2010, the only GOP proposals that have advanced in Congress have been far more limited in scope, like the creation of a new prescription-drug program under President George W. Bush in 2003.
For Republicans seeking an Obamacare replacement now, the challenge is growing with each passing day. Re-energized Democrats are defending the ACA with a ferocity unseen in past years, and new polls show that the law is becoming more popular than ever before. The release of repeal legislation has been delayed, most recently because of a reportedly unfavorable cost estimate from the Congressional Budget Office (though Politico got its hands on a draft bill Friday). And House and Senate Republicans remain divided over how quickly they should scrap the law and how much of it they need to immediately replace.
But the biggest hurdles for Republicans have centered on the vexing policy questions that pit the political imperative to match the benefits of the Affordable Care Act against their ideological opposition to government involvement in the market. How much will it cost? How will they pay for it? How many people will be covered? And what will happen to the parts of the current law that people like the most?
Taxes
Democrats paid for the new benefits and programs in the Affordable Care Act by raising taxes on wealthy individuals, medical devices, even indoor tanning salons. They also capped the tax deduction for the most expensive employer-sponsored insurance plans—a provision that became known as the "Cadillac tax."
Republicans denounced all these new charges, and conservatives have demanded that they be eliminated right alongside the repeal of the broader law. But other lawmakers want to keep at least some of the taxes in place to pay for the policies in the GOP replacement plan, like funding for high-risk insurance pools and tax credits for expanded health savings accounts. "The revenue is essential," Senator Bill Cassidy of Louisiana told reporters as he introduced a compromise plan last month, explaining that without revenue from Obamacare's taxes, Republicans can't hope to fulfill President Trump's own request for a healthcare plan that provides "insurance for everybody."
Yet the hardline House Freedom Caucus has already vowed to oppose any bill that keeps the ACA tax hikes. One option under consideration is for Republicans to scrap the current regimen of taxes but replace them with a version of the Cadillac tax that Congress already repealed as part of the ACA. The policy under discussion, according to The New York Times, would limit the tax break that allows people to deduct the cost of health insurance off their federal taxable income. That's a proposal that health economists have advocated for years, but it has been nearly impossible to implement because of the popularity of the tax break; the scaled-back Cadillac tax was so unpopular that Democrats eventually agreed to get rid of it.
Deficit Impact
The fate of Obamacare's taxes is directly related to another crucial question for Republicans: How much will their bill cost? The new tax revenue meant that that Affordable Care Act actually shrunk federal deficits over a decade, and because of that, the Congressional Budget Office has projected that previous GOP repeal bills would have raised the deficit by several hundred billion dollars. Republicans have disputed these estimates, but for a party that attacked former President Barack Obama for presiding over a steep increase in the debt, it's a big political problem. In January, Senator Rand Paul of Kentucky cited the deficit impact as a reason he voted against the budget resolution that Republicans passed to lay the groundwork for repeal. And according to The Hill, a House committee is pushing back its consideration of repeal-and-replace legislation because some elements of the bill received a poor score from the CBO.
Medicaid
Nothing about the ACA has divided Republicans across the country more than its expansion of Medicaid. The party won a rare legal victory in 2012 when the Supreme Court ruled that states could choose not to receive extra federal support for an expansion in the program that covers poor and disabled Americans. But several Republican-led states opted for expansion anyway, and their governors are now lobbying Congress to maintain their federal funding. They've taken credit for reductions in the uninsured rate in their states and for Medicaid reform they've been able to negotiate with the Obama administration.
As with Obamacare's taxes, however, conservatives in the House are adamant that any repeal scrap the Medicaid expansion, which they consider a costly endorsement of government-run healthcare. They also want to be sure that the federal funding formula doesn't reward states that expanded Medicaid at the expense of states—like their own, in many cases—that didn't. "Some people in Congress want my state to pay for someone else's Medicaid expansion," Representative Raul Labrador of Idaho told reporters earlier this month. At the other end are Republicans like Senator Lisa Murkowski of Alaska, who vowed to oppose repeal of the Medicaid expansion as long as her state's Legislature wanted to keep it.
Coverage
One of the key talking points for supporters of the ACA is that the approximately 22 million people who gained health insurance under the law stand to lose that coverage if it is repealed. Trump at one point vowed "insurance for everybody," but his appointees have since backed off that promise by instead claiming that the goal of the administration's plan is to ensure "access" to healthcare for all—an important distinction and a much looser standard to uphold, as my colleague Olga Khazan explained in January.
The truth is that because Republicans are committed to spending less on government assistance and to eliminating Obamacare's mandates that individuals purchase insurance and that most employers provide it, their plan will almost certainly cover fewer people. As Bloomberg reported on Friday, some Republican lawmakers are beginning to acknowledge as much.
GOP leaders have said that their priority is giving consumers more choices in insurance coverage, including the option not to have any at all. They've said the focus on how many people have insurance under Obamacare is misplaced because the plans come with such high deductibles that people can never actually use the coverage they're paying for. At the same time, Republican proposals rely on these same kind of high-deductible plans, except in many cases they offer fewer benefits for lower costs. And as they seek to prevent instability in the insurance market, party leaders are now trying to reassure Americans covered on the ACA that they won't "have the rug pulled out from under them."
Democrats learned the hard way that promising people they'll be able to keep their insurance plans is a lot easier than making it a reality. Republicans are likely to find that the more people they hope to cover, the more money they'll have to spend to do so.
The Popular Parts
If Democrats have succeeded in selling any part of the Affordable Care Act, it's the provision that prevents insurance companies from discriminating against consumers with pre-existing medical conditions. Now, Republicans from Trump on down are pledging that their plan will protect these people, even if it stops short of a complete federal ban on insurers. But like so much else about healthcare policy, this is easier said than done. The GOP bill is expected to call for states to set up high-risk pools to cover people with pre-existing conditions, but the big question will be whether Republicans appropriate enough money to sustain them.
They face a similar bind with other popular parts of Obamacare, like the ban on lifetime coverage limits and the requirement that insurers allow adult children to stay on their parents' plan until age 26. Insurance companies acquiesced to these rules in large part because the employer and individual mandates guaranteed them enough customers to make it work financially. But as Republicans strike those more controversial mandates, they'll find it more difficult to guarantee the more popular consumer protections survive.