The White House's Rapidly Shifting Story on Firing Flynn
Spokesman Sean Spicer said that Donald Trump gradually lost trust in his national security adviser, then decided to fire him Monday night—but not everything about that account adds up.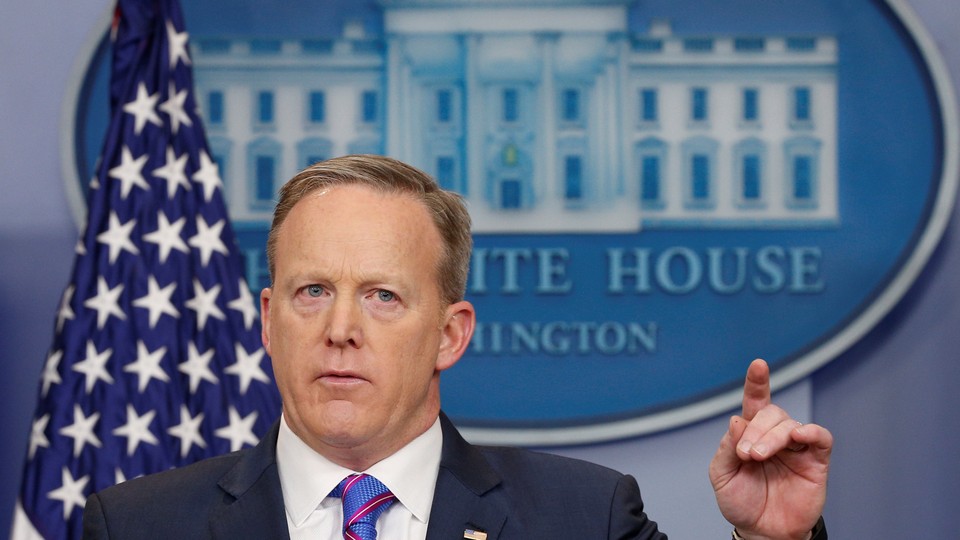 The White House is taking a mulligan on its selection of a national security adviser, replacing Michael Flynn just 24 days into his tenure. It's seeking a do-over on its messaging of Flynn's departure, too.
During a briefing Tuesday afternoon, Press Secretary Sean Spicer tried to corral a narrative fast getting out of control. Spicer's message had a few fundamental points: First, the White House had determined that Flynn broke no laws in his discussions with Russian Ambassador Sergey Kislyak. Second, Flynn was fired because Trump had lost faith in his honesty, not for having violated any law. "It was a matter of trust," Spicer repeated, over and over. Third, he said Trump learned about Flynn's untruths in January. Fourth, Flynn was not directed by Trump or anyone else at the White House to discuss sanctions with Kislyak. Fifth, Trump made the decision to fire Flynn.
But Spicer's narrative is dubious, riddled with contradictions with what's already known and with previous administration statements.
Take the claim that Trump pulled the trigger on firing Flynn. It stands to reason that the White House would want to make the president look firm, decisive, and in command. But that undercuts reporting from The New York Times and Politico, both of which said that Trump adviser Steve Bannon had pushed Flynn to resign, and from The Washington Post, which said Trump was willing to let Flynn linger to see if the scandal would blow over. As soon as Spicer made the claim, reporters who'd been up late on Monday covering the story cried foul, noting that senior administration officials had told them last night that Flynn made the decision on his own.
Spicer's timeline also presents some difficulties. Flynn said in mid-January that he not discussed sanctions with Kislyak. On January 15, Vice President Mike Pence went on CBS and repeated that. According to Spicer, White House Counsel Don McGahn heard from then-Acting Attorney General Sally Yates on January 26 about evidence that Flynn had discussed sanctions with Kislyak, despite his denials. McGahn then brought the matter to Trump, who asked whether Flynn had broken the law. McGahn reported back that he did not think Flynn had broken the law.
According to Spicer, Trump then gradually lost trust in Flynn, over the period between January 26 and February 13, in what Spicer called "an evolving and eroding process." He couldn't say whether Flynn had intended to mislead Pence and others.
"I don't know that it was intentional," Spicer said. "He may have just forgotten [that he discussed the sanctions]. At some point that trust eroded to the point that the president did not feel comfortable and asked for an received his resignation." He added that when Trump "thought it was time for a decision, he immediately made it."
But the question is why Trump thought that Monday night was the time for a decision. After all, some three weeks passed between Yates's call to McGahn and the actual firing. Spicer criticized the Justice Department for informing the White House of its suspicions about Flynn sooner, but it's hard to square that criticism with the lengthy dithering the White House went through. If Trump had known about the calls 10 days earlier, moving his decision up by 10 days, that still would have been two weeks into his presidency.
Spicer wouldn't say what made Trump change his mind about his national security adviser, who was a close ally during the campaign and spoke at the Republican National Convention, or why it took so long. Spicer said, somewhat cryptically, that the change was based on "this and a series of issues," without elaborating.
Yet that, too, presents some contradictions with what was publicly known. If what Spicer says is true, Flynn continued lying about his conversations with Kislyak, telling The Washington Post as late as Wednesday that he had not discussed the sanctions with the Russian. If the White House knew that was untrue, why did it allow Flynn to reiterate it? Finally, on Thursday, Flynn admitted to the Post that he might have discussed the sanctions, though he could not recall for sure. On Friday, while flying to Mar-a-Lago, Trump was asked by a reporter about The Washington Post report including Flynn's admission. The president answered as though he had no idea what was being asked. Spicer defended that by saying that Trump simply had not read the Post article, but Trump's response is strange if he'd known for weeks that Flynn had misled.
Spicer's story of Trump gradually losing trust in Flynn is at also at odds with a statement from Trump spokeswoman Kellyanne Conway Monday afternoon that Trump had "full confidence" in Flynn. Spicer and Conway's accounts can't both be true, though whether that's a product of chaos or spin is unclear.
Perhaps the most troubling element of Spicer's account is that if taken at face value, it makes it appear that Trump was for a time relatively untroubled by the fact that Flynn had misled both the vice president of the United States and, through him, the American people. For three weeks, he allowed Flynn to remain in his post as his top security aide. It was only when it became public that Flynn had misled Pence and the people that Trump moved and decided Flynn had to go. The worrisome implication is that Trump was OK with Flynn's dissembling until anyone knew about it, which calls into question the White House's honesty on other accounts. As Sean Spicer might put it, it's a matter of trust.