Seema Verma's Austere Vision for Medicaid
The nominee for CMS administrator has already implemented a harsh model for the country's public insurance programs in Indiana.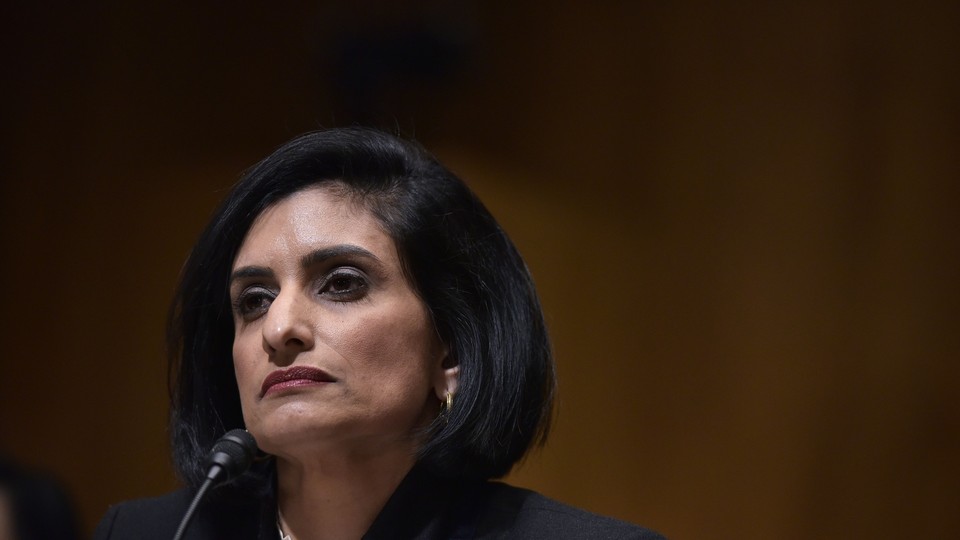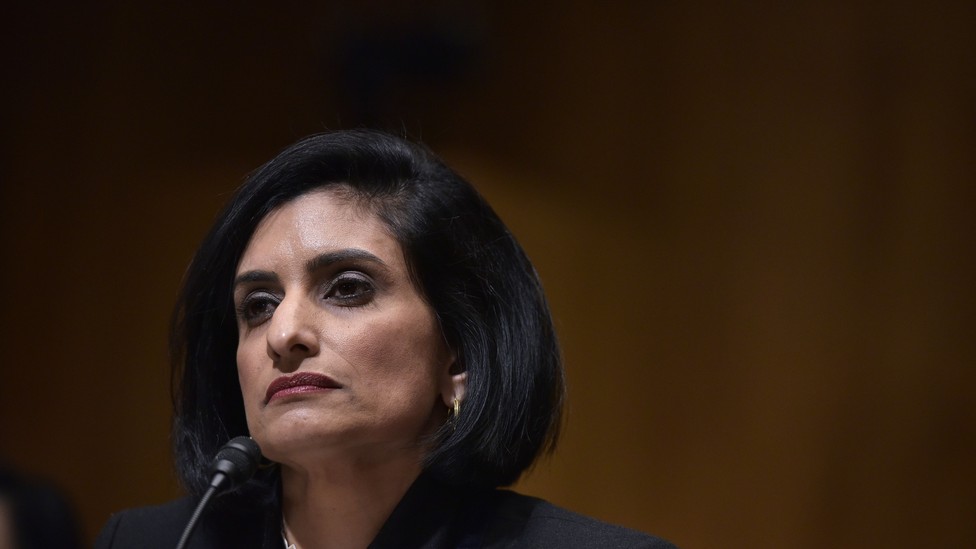 It's the confirmation hearing nobody was watching.
Thursday morning, the Senate Finance Committee held a confirmation hearing for Seema Verma, the Trump administration's pick to lead the Centers for Medicare and Medicaid Services. Though relatively breezy by confirmation-hearing standards at just under three hours and relatively low on theatrics, Verma's low-key hearing will help determine the health outcomes for over a third of all Americans.
Thirty-four percent of Americans receive health-insurance coverage under one of the three federal insurance programs, Medicare, Medicaid, and the Children's Health Insurance Program. With their vows to repeal Obamacare, the Trump administration and health secretary Tom Price aim to reduce the Medicaid portion of that number—and perhaps even put Medicare on the chopping block. Barring any drama in the confirmation process, as the administrator of CMS, Verma will be the point person for reducing the federal spending on public insurance programs, particularly for the poor. And her background suggests she is up to the challenge.
Verma is best-known for her role in reshaping the Indiana Medicaid program under then-Governor Mike Pence. Despite Pence being an ardent critic of Obamacare, Indiana made the choice to expand Medicaid anyway. But they utilized a pathway known as the 1115 waiver to craft a program that diverged significantly from the guidelines under the standard Obamacare program, and quickly created the most conservative Medicaid expansion program in the country. That program, known as the Healthy Indiana Plan 2.0, was the brainchild of Verma and her health-care consulting company, SVC, Inc, then recommended as an experienced expert and consultancy firm with knowledge of the minutiae of CMS regulations.
Although many see the creation of "HIP 2.0" as a strange move for a Republican-controlled state, Indiana has suffered from several public health issues for years—not to mention a well-publicized drug epidemic that ballooned into an HIV outbreak under Pence's watch—and has consistently ranked near the bottom in most state health indices. It quickly became clear that the HIP 2.0 program under Verma did not intend to be a very generous program. The plan sought to eliminate standard Medicaid protections and provisions for vulnerable people, exchanging them for a premium-based program that mimicked private plans. In her defense of those reforms, Verma wrote:
Medicaid was designed as a critical part of the safety net for our nation's most vulnerable populations—individuals who are aged, blind, or disabled, and families with incomes well below the poverty line—many of whom possess limited ability to provide for their own well-being. Rules governing the program recognize the necessity of long-term enrollment for those facing serious medical challenges, making it easier for them to get in and stay in the program. Yet many of Medicaid's enrollment and eligibility policies, which might make perfect sense for certain vulnerable populations, are not always appropriate for able-bodied adults possessing different capabilities and earning potential. Able-bodied adults need coverage, but not the same set of policy protections.
It's unclear if any of Verma's reforms in Indiana have had the desired effect. The state still sits near the bottom of all states in several outcomes, and drug deaths and infant mortality have still risen over the past year. The program has improved reimbursement for physicians and thus increased access to providers for Medicaid enrollees, but its scheme requiring enrollees to contribute to a health savings account and sometimes pay premiums has cost thousands of people their coverage. It also might not even be cheaper for the state than traditional Medicaid, despite implementing restrictions on enrollees designed to reduce costs.
Verma's consultancy was also involved in a failed attempt in Ohio to bar Medicaid recipients from coverage until they'd paid premium arrears, and in the use of an 1115 Medicaid waiver in Kentucky to create a "work activity" requirement for the program. That waiver is still under consideration by CMS, and will be under her own review should she become administrator.
Although Verma's biggest policy accomplishments came under the Obamacare Medicaid expansion, a provision that still seems to be on its way out, they could still signal what CMS's priorities might be as the administration seeks to dismantle Obamacare and roll back public insurance. For one, until Congress does act to repeal Obamacare, CMS is authorized by an executive order from President Trump to "minimize the unwarranted economic and regulatory burdens" of Obamacare, and order that in practice might involve rolling back and privatizing as many elements of the ACA as possible under law. To that end, CMS has already proposed new rules slashing open enrollment times for the exchanges by over a month and relaxing the minimum standards for what qualifying exchange plans have to cover.
As administrator, Verma would also likely be empowered by the executive order to allow more states to use 1115 waivers to exempt themselves from Medicaid restrictions and privatize their programs, as well as implement plans like work requirements. These provisions could be extended beyond the parts of Medicaid expanded by Obamacare to the core program that existed before the health reform, thus initiating a wide-scale privatization of Medicaid and the creation of work and premium requirements for much of the public insurance infrastructure in America. In other words, poor people would have to work harder to pay more money for less care.
One thing Verma will not have authority to do yet is change statutory eligibility levels or the administration of Medicaid and Medicare, although CMS is clearly granted wide latitude through rules and waivers to effectively change those requirements for millions of people.
Still, during the hearing Verma said she would consider the idea of block granting Medicaid or instilling per-capita caps, two policy options that would reduce federal spending by essentially locking in federal funding on a yearly or per-person basis. Both of these plans would essentially transform Medicaid from an means-tested safety net program with a guarantee of coverage to an exhaustible benefit with no guarantee of coverage beyond a certain point. These policies would inevitably shift more costs to poor and low-income Medicaid enrollees. Verma's CMS would be a leading authority in determining the financial and programmatic feasibility of such proposals.
If confirmed, Verma would be granted an arsenal of tools to push back the expansion of public insurance and cede more of it to the private sector, an arsenal that she helped develop and hone in creating HIP 2.0. Even if Obamacare repeal languishes, Verma will have the power to reshape large swathes of health care as we know it, particularly for Americans who are struggling financially.