Republican Lawmakers Face Hostile Town-Hall Crowds
In response, some GOP members of Congress are attempting to show sympathy for voter concerns.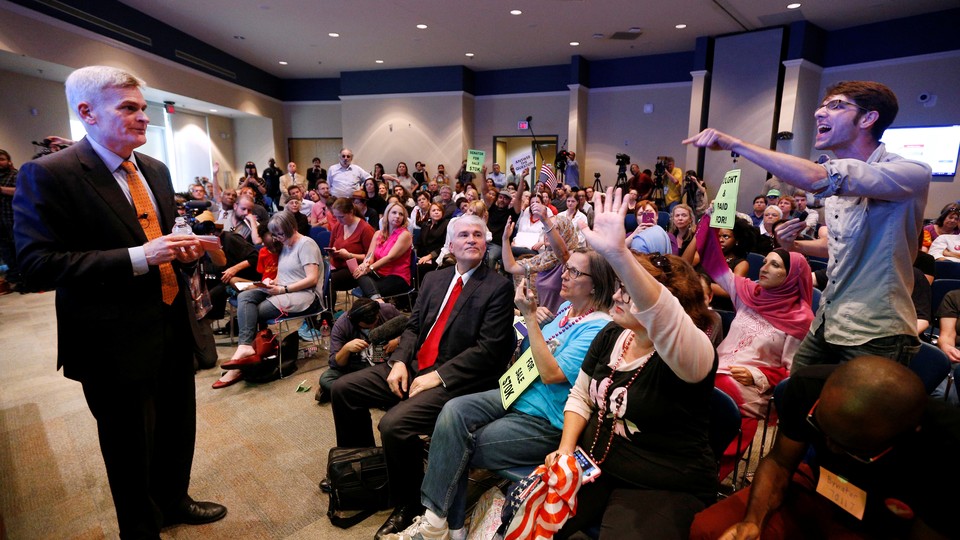 In their districts this week, Republican members of Congress are facing pushback from angry town-hall crowds over the potential repeal of the Affordable Care Act. Some lawmakers are offering up a degree of sympathy in response, whether by defending the right to protest or attempting to convince voters they understand their concerns.
Republican Senator Tom Cotton told an agitated town hall audience in Arkansas on Wednesday that he wouldn't deny that "Obamacare has helped many Arkansans," after a woman said the law saved her life. When another woman insisted she wasn't a "paid protester," the senator tried to reassure the crowd that wasn't a charge he planned to make: "You're all Arkansans and I'm glad to hear from you," he said. "Thank you to everyone for coming out tonight, whether you agree with me or disagree with me. This is part of what our country is all about."
Other Republican lawmakers have gone even further in making clear over the past week that they believe the people showing up at town halls and expressing alarm over the possibility of Obamacare repeal are genuine and should be listened to.
"This wasn't an artificial crowd. It wasn't manufactured. It was real people with real concerns in terms of what came next on healthcare," GOP Representative Mark Sanford of South Carolina told CNN after holding a town hall of his own lasting almost four hours over the weekend.
In Iowa, Republican Senator Chuck Grassley told reporters on Tuesday that "it's all legitimate," as he too faced questioning at town halls over the fate of the healthcare law. "If Hillary Clinton had been elected president, there'd be people from the conservative end of the spectrum [who would] probably be doing the same thing."
Those acknowledgements might not be enough to allay the fears of people worried that they might lose health coverage if the Affordable Care Act is repealed. But they mark a contrast with the way the White House has characterized the protest and agitation taking place, and also appear to be a departure from how some Republican lawmakers talked about the activism at town halls when they first started generating national headlines earlier this month.
After video footage of an agitated crowd in Utah chanting "Do your job!" at House Oversight Committee Chairman Jason Chaffetz went viral, the GOP congressman went on the defensive. Suggesting that people at his town hall were not acting in good faith, Chaffetz said that what happened was "bullying and an attempt at intimidation." The Deseret News reported that Chaffetz claimed that the protestors "included people brought in from other states to disrupt the meeting."
The White House has also attempted to downplay the crowds. During a press conference last week, President Trump seemed to dismiss protesters by arguing that they aren't residents of the lawmakers' districts. "They fill up our rallies with people that you wonder how they get there, but they're not the Republican people that our representatives are representing," he said. On Tuesday, he tweeted: "The so-called angry crowds in home districts of some Republicans are actually, in numbers cases, planned out by liberal activists."
White House Press Secretary Sean Spicer acknowledged during a press briefing earlier this week that "some people are clearly upset," but similarly suggested the activism may not accurately reflect the sentiment of the lawmakers' constituents. "There is a bit of professional protestor, manufactured base in there," he said. "It is a loud, small group of people, disrupting something in many cases for media attention."
In states across the country, liberal activists are taking a page out of the Tea Party playbook to help organize turnout at town hall events. Some of those activists are following guidelines that draw inspiration from Tea Party tactics as a way to put pressure on members of Congress and generate headlines, explicitly recommending that activists "reach out to media, during and after the town hall." Still, that doesn't necessarily mean the people voicing concern at town halls are exclusively liberal activists. CNN's Eric Bradner and MJ Lee, meanwhile, have reported that there's "no evidence" of paid protesters.
It's too early to say what kind of impact the town hall protests might have, if much at all, beyond energizing liberal activists. The extent to which voter dissatisfaction is or isn't widespread is also difficult to gauge from protest alone. This week, a Pew Research Center survey found that most Republican voters have a favorable view of Trump and trust the president more than GOP leaders in Congress.
Even if some GOP lawmakers adopt a sympathetic tone toward angry town hall crowds, that isn't necessarily an indication that they're changing course. When Cotton told the crowd on Wednesday that he wouldn't deny Obamacare has helped people in the state of Arkansas, he quickly added it has also "hurt many Arkansans."
And some Republican lawmakers have voiced frustration at events. "If all you want to do is vent, this will not be profitable," Republican Senator Bill Cassidy said during a Louisiana town hall on Wednesday amid shouts and yelling. Later, the senator lamented to reporters: "The unfortunate thing is there was so much common ground that they would not listen to," adding "unfortunately, people came in with their prejudices, and with their prejudice, they would not listen."
But Cassidy defended the right to protest. "I assume they're Americans who care about our country," he told Gambit, a Louisiana newspaper, after the event, dismissing the possibility that people in the room were paid protestors. He added: "They're coming out with their Constitutionally protected right to assemble and speak. And isn't that a good thing!"