Q of the Week: Which President Do You Most Admire?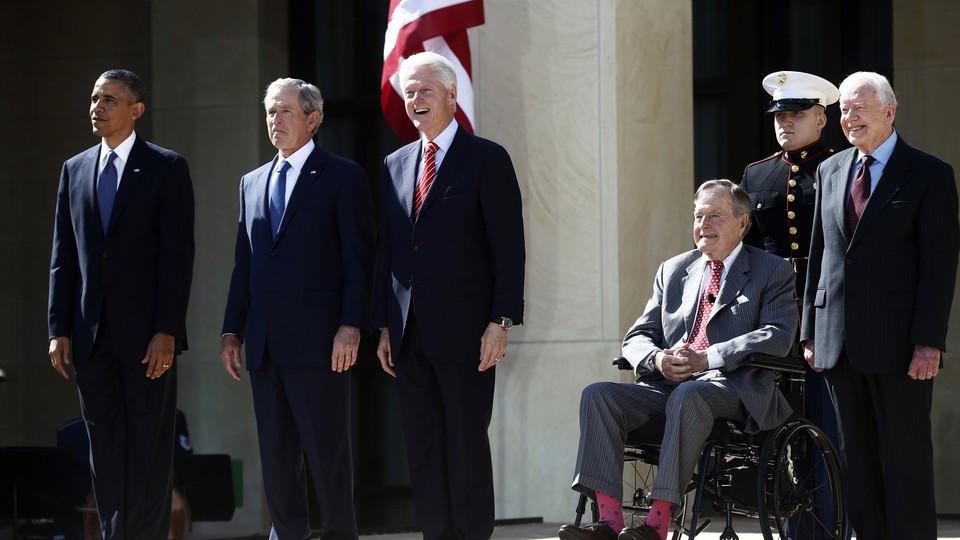 Editor's Note:
This article previously appeared in a different format as part of The Atlantic's Notes section, retired in 2021.
On Monday, February 20, we'll celebrate Presidents' Day. So this week, we asked our Politics & Policy Daily readers: What U.S. president do you admire most—and why? We received dozens of thoughtful responses, but here are a few of our favorites.
For Dolores Oliver, the answer is George H. W. Bush. She admires his ability to "work beyond ideological barriers":
First, Bush was willing to resist pressure to aggressively brag about the fall of the Soviet Union. This approach reminded me of Lincoln's commitment to welcoming back the South after the Civil War. He worked hard to respond with humility and support to bring the former Soviet satellite countries into the international community and eventually Russia too. Had the West come out with a prideful, bellicose attitude, perhaps we would be far worse off in our relationship with Russia than we are currently.
Secondly, he was willing to stand firm against great pressure within his party against the American with Disabilities Act (ADA). Instead, he recognized the need to give individuals with disabilities the opportunity to function independently, thus empowering many who otherwise would be homebound.

Third, he was willing to stand firm against tyranny when Saddam Hussain invaded Kuwait. He worked carefully and wisely to merge together a coalition of more than thirty countries to remove Iraqi forces and liberate Kuwait in under four months.

Lastly, he was willing again, against great pressure, to acknowledge the need to increase taxes—which would eventually lose him a second term.
On a similar note, Mary Shannahan chose President Jimmy Carter because he "walks his talk":
I admire him because of his integrity while in office. Since his term ended, he's facilitated  peace on a global level and supervised integrity, or lack of it, in elections throughout the world. Here in the States he's active with Habitat for Humanity. His principles are guided by his faith.
From Jennifer Poulakidas: "LBJ, for sure":
What President Johnson was able to accomplish during his tenure is undeniably amazing and advanced our country in many very significant ways. AND, he was able to get a majority of the Congress to join him! The Civil Rights Acts, the Voting Rights Act, the first ESEA and HEA bills, the Immigration Act of 1965, the establishment of Head Start, Medicare, Medicaid and Work Study, creation of the National Endowments of Humanities and the Arts—the list could continue.
Paul E. Doherty suggested President Harry Truman, who he calls a real "man's man." Why?
He probably made more difficult decisions than any other president, and right or wrong, he made them in the best interest of our country. He truly meant it with the sign on his desk in the Oval Office that said "The Buck Stops Here!" After leaving the White House he went back to Independence, Missouri, to live the rest of his life with his family.  Truly a great American!
Reader Cindy Simpson would have some questions for FDR:
If he were in office today, he'd probably be impeached: Did he know about Pearl Harbor? If so, when, and if not, why? And what about those affairs—for both him and his wife?

But I admire Franklin D. Roosevelt. I believe he led this country through a very difficult time—he helped to get people relief and employment during and after the Great Depression; established social security, the SEC, and the FDIC; and navigated the U.S. entry into WWII (though of course, it wasn't all good).
For college student Zubair Merchant, it's a tossup between two young presidents, John F. Kennedy and Barack Obama:
Both men had a passion and honor in office that I think is characteristically unique to them. It also helps that they were young and inspirational presidents and that I am in college.

I think that 50 percent of the presidency is policy and 50 percent is rhetoric. On the policy side you can debate that JFK didn't have time to do much, yet Obama (I believe) moved this country forward in a way that we haven't seen in a long time (he's the liberal Reagan, but cooler). On the rhetoric front, they are, in my view, the most inspirational presidents in history, and their youth carried a message that is unparalleled.
Finally, Christopher Wilson didn't support Barack Obama during his candidacy, but says he still admires him the most—"without question":
When someone is observed with such scrutiny and vigilance, they cannot escape their faults.  President Obama had his.  The pivot of his leadership was changing an opinion of what had been a strong conviction—not for the purpose of politics and remembrance—but because he knew it was the right thing to do!  Specifically, having held strong opposing views of [same-sex marriage], President Obama made a remarkable turnaround and went full throttle in securing rights and becoming a quiet champion for the community—this in spite of his own personal beliefs.  That's rarely seen in politics, and applaudable.

Lastly, he gave the face of the president its most human touch.  His humor, casual style, personal interests, candor and confidence were his beauty.  I, like many others were able to connect with and see him for who he was ... a great father, husband, brother, uncle, son, friend and human being.
Thanks for your comments, and stay tuned for next week's Question of the Week contest.