Protesters Respond to Trump's Supreme Court Pick
Less than an hour after the president announced his appointment of Judge Neil Gorsuch, demonstrators gathered to voice their disapproval.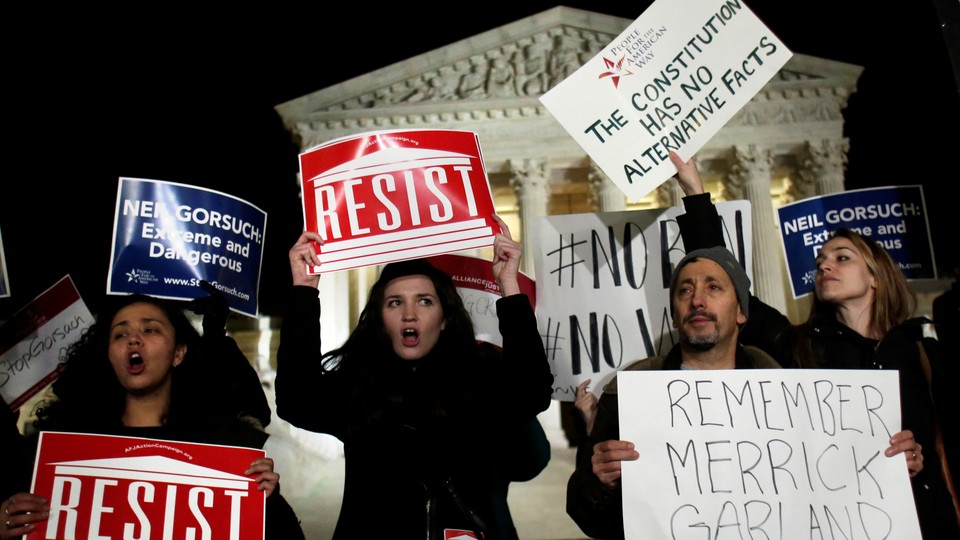 Within half an hour of President Donald Trump's announcement of Neil Gorsuch as his nominee, a crowd of demonstrators gathered outside of the Supreme Court building to voice their opposition—not just to Gorsuch, but also to the situation that enabled Trump to name a justice to the bench this early in his term.
Many of those who ringed the steps had come prepared to protest either Gorsuch or Trump's apparent runner-up, Judge Thomas Hardiman of the U.S. Court of Appeals for the Third Circuit. Some participants held signs they had received only moments before, which read "Oppose" in large block letters over an empty space in which Gorsuch's name was written by hand. (None of the protesters to whom I spoke knew who had been in charge of distributing these signs.) Other, generic signs were distributed by organizations that had helped plan the demonstration, including Planned Parenthood, NARAL Pro-Choice America, and the Alliance for Justice. And some held signs that focused not on Gorsuch but on the perceived wrong to Judge Merrick Garland, President Barack Obama's nominee to the Court who languished for nine months as Senate Republicans denied him the chance for so much as a hearing.
One participant to whom I spoke made it clear that she had heard about the protests even before the news that Gorsuch and Hardiman would be flying in to D.C. in advance of Trump's announcement. She said that she had received an email from Planned Parenthood the previous night announcing a protest on the steps of the Supreme Court building at 9 p.m. regardless of which of the two candidates Trump chose. She and three acquaintances suggested that, though disappointed that the seat had been left open for Trump to fill, they were willing to reserve final judgment until they learned more about Gorsuch.
Though all four described themselves as "not single-issue voters," they also identified reproductive rights as a key issue, voicing concerns over Gorsuch's opinion in the case that would become Burwell v. Hobby Lobby, in which he sided in favor of granting closely-held corporations a religious exemption to language in the Affordable Care Act requiring companies to pay for employees' contraceptive coverage. "I don't think women can ever be equal to men," one of the women said, "unless they can decide what to do with their bodies. That means birth control and other contraceptive care, not just abortion." Though Gorsuch's credentials were not in question, another said, the protesters were there "to put it out there that these are the things Americans really care about, so go prove us wrong. Go ahead and stand up for Planned Parenthood. I think he is definitely right-leaning, but I think he could be a moderate Supreme Court justice if given the opportunity. We're out here to say, these are the things that matter most to us." Though they had not frequently attended demonstrations in the past, "Trump is giving us so much to oppose," one said, that she had been to protests "every day, twice a day" since his inauguration.
Another protester with whom I spoke had learned of the details of the protest via Facebook. Glenn Simpson, whose shirt read "This Machine Kills Fascists" in homage to the legendary folk singer Woody Guthrie, described protesting as "a lifelong pursuit." An online-advocacy and development manager at the consumer-rights group Public Citizen, he expressed concerns over Trump's belief that "his main enemy is the press as opposed to traditional political opponents or ideas. We've got people apparently with a straight face saying that facts don't matter, we've got religious tests for whether you can even come here." He added that, in his view, the progression under Trump so far "tracks far too closely" to developments under Nazi Germany.
Also in attendance were representatives of several organizations that intend to remain active during Gorsuch's confirmation hearing. "We need someone who's going to be an independent voice, and be a check on both the executive branch and the legislative branch," said Adam Hodge, a spokesman for the Constitutional Responsibility Project. In Hodge's view, Gorsuch has "consistently ruled on behalf of Wall Street, consistently ruled on behalf of big corporations, consistently ruled to place shareholders and the little guy below the importance of what's best for corporations and the big and the powerful," views that place him "out of the mainstream."
Cynthia Williams, a Louisiana native who now works in D.C., had a more fundamental concern. She said she's worried about "general abuse of power." Of particular importance, she noted, was the likelihood that Roe v. Wade would come up before the court, as well as Trump's executive order on immigration from predominantly Muslim countries. "You already have the courts intervening and these law-enforcement agencies making it clear that they're going to go rogue and not obey the order of the courts and enforce the stay," she said. "If that's going to be a widespread thing, where they're just not going to obey the law like that, then that's a problem."