Will Kellyanne Conway Face Dismissal for Promoting Ivanka Trump's Products?
The president is exempt from certain ethics rules, one of his top aides is in hot water with Congress after lashing out at Nordstrom.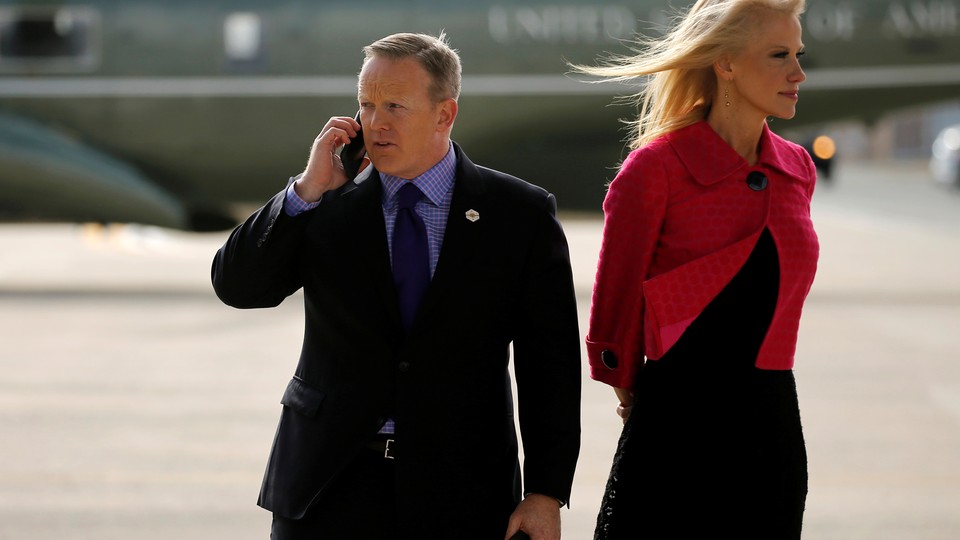 Updated on February 9 at 5:59 p.m.
Sturm und drang, the German Romantic movement of the 19th century, contains—as Merriam-Webster defines it—"rousing action and high emotionalism that often deal with the individual's revolt against society." The U.S. might today be involved in what might fairly be called Nordstrom und drang, a period of rousing tweets and high emotionalism that deals with the administration's revolt against society's conflict of interest rules.
The saga began when the retailer announced it was cutting ties with Ivanka Trump's clothing line. The president, who evidently doesn't have much else to do with his time, fired back on Twitter:
My daughter Ivanka has been treated so unfairly by @Nordstrom. She is a great person -- always pushing me to do the right thing! Terrible!

— Donald J. Trump (@realDonaldTrump) February 8, 2017
Federal law prohibits a government employee from using "his public office for his own private gain or for that of persons or organizations with which he is associated personally. An employee's position or title should not be used to coerce; to endorse any product, service or enterprise; or to give the appearance of governmental sanction." But as Trump never tires of pointing out, the president is exempt from these laws, meaning he's off the hook. (Norm Eisen, a former top ethics lawyer to President Obama who has been a frequent critic of Trump's conflicts of interest, suggested that Nordstrom could, however, sue Trump under state laws against unfair business acts.)
Yet the onslaught of criticism against Nordstrom didn't end with the protective father's Twitter barrage. "This is a direct attack on his policies and her name," White House Press Secretary Sean Spicer said on Wednesday.
Then on Thursday morning, presidential aide Kellyanne Conway appeared on Fox and Friends. "Go buy Ivanka's stuff is what I would tell you. I hate shopping, I'm going to go get some myself today," she said.
Trump critics immediately leapt on that, arguing that it violated the laws against pushing products. Larry Noble, the general counsel of the Campaign Legal Center pointed to the endorsement law, as did former Obama administration official Chris Lu, and Eisen agreed. Trump, as president, might be exempt from the law, but Conway is not.
Richard Painter, who was top ethics lawyer in the Bush administration, said a statement like Conway's would never have been allowed during that presidency.
"It is a violation of federal ethics regulations prohibiting use of public office for private gain for any government employee in an official speech, an official capacity TV interview or any similar communication to promote the products or services of a particular private business belonging to the employee's own family, the President's family, a friend, a campaign contributor or anyone else," he wrote in an email. "That was strictly forbidden in the Bush administration because it is illegal."
Thursday afternoon, Representative Jason Chaffetz, who chairs the House Oversight Committee, and Elijah Cummings, the Democratic ranking member, wrote a letter to the head of the federal Office of Government Ethics saying that Conway's remarks "raised extremely serious concerns." The two members ask that OGE recommend a remedy, whether that is dismissal, demotion, reprimand, or suspension to Conway's superviser—although they note that it's a challenging situation, since Conway's boss is Trump, who "has an inherent conflict of interest since Conway's remarks relate to his daughter's private business."
The White House's performative outrage at Nordstrom is a bit much—the company says it informed the Ivanka Trump team in January of the decision to cut ties, and that it was based on declining sales. Even if the decision is political, and Nordstrom has made the calculation that due to Trump's toxic standing, it would prefer not to be associated with him, that's a solid business decision, and well within its rights.
But Trump, despite rising to power on his reputation as a great businessman, has shown little traditional respect for capitalism. When, as president-elect, he inserted himself into Carrier's decision about whether or not to move some jobs to Mexico, the free-market wing of the Republican Party rocked back in horror. His feud with Nordstrom represents another example of Trump using the presidency to attempt to dictate to a private company how it runs itself.
What's peculiar about Trump's style of jawboning is that it does not, as yet, seem to ever serve any broader policy purpose. The Carrier affair was all about political gain, even if the number of jobs saved was few and the cost to taxpayers high. The Nordstrom affair is all about personal enrichment. There seems to be little danger of Trump attempting to create a command economy, if for no other reason than he doesn't have the attention span and incentive to do so. It's not business—it's personal.
The Trump Organization, unusually for a company of its size, runs as basically a small mom-and-pop (or, more precisely, pop-and-son-and-son-and-daughter) shop. Trump's approach to the presidency before and after his inauguration shows he has every intention of running the White House as another asset in his business empire, with a slightly unusual portfolio. What's peculiar is that figures like Spicer and Conway seem to have readily enlisted into helping the president defend his daughter's business interests.
Of course, one way to avoid the impression that Nordstrom was insulting the president by dropping Ivanka Trump's line would be to disentangle Ivanka Trump from her business, and in fact she did promise in January to resign from her business. But ProPublica finds that she has not actually done that. Trump himself has apparently resigned his positions, though under an arrangement that no reputable ethics expert believes solves his conflicts of interest.
It's easy to deride the Nordstrom feud as some sort of strange sideshow, and it's certainly true that a spat between a department store and the president and his aides is not of the utmost governing importance. But then again, this is the president using the messaging apparatus of the federal government to try to bully private companies for the financial benefit of his daughter, and it's only one of several places where Trump seems to be using the government for personal enrichment.
The other disconcerting current here is the willingness of the White House to thumb its nose at the rules. The administration seems to be gradually feeling out what it can get away with. Trump once said he'd release his tax returns, eventually; increasingly, he and aides say no one cares. He said he'd take care of conflicts of interest, then floated a plan that experts said was unacceptable. But without anyone forcing him to adopt a more robust plan, why would he?
As for Nordstrom, first the president fired at the company, and now his aides are doing so. Aside from Chaffetz's letter with Cummings Thursday, Republicans in Congress have shown little interest in holding the White House to the rules. If Trump learns he can get away with flouting the rules for ethics, why wouldn't he try to flout them in other realms, too?