Republicans' Muted Response to Flynn's Resignation
"I think the administration will explain the circumstances that led to this," the GOP House Speaker Paul Ryan said on Tuesday.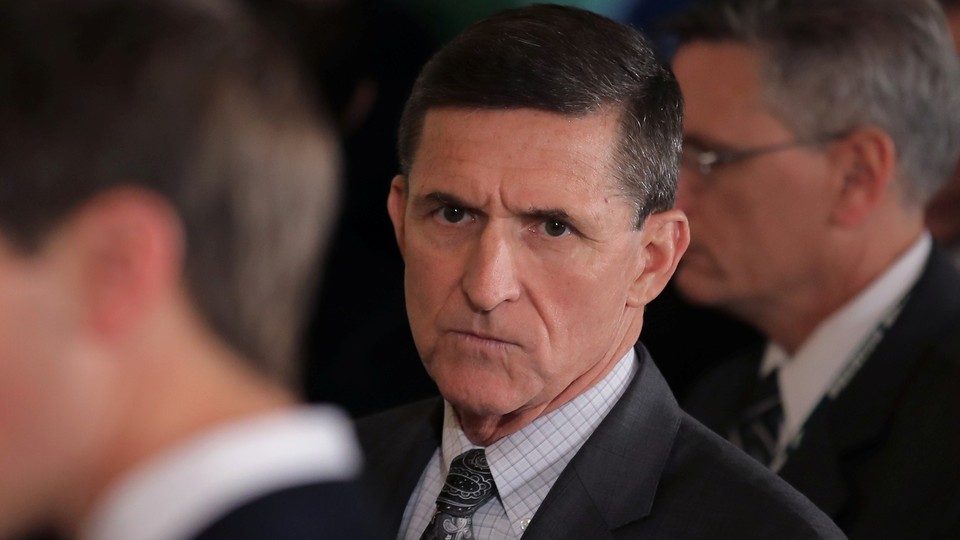 Updated on Tuesday, February 14, at 4:45 p.m.
Michael Flynn resigned as national security adviser Monday night,  after reports that he had spoken with Russia's ambassador to the U.S. about sanctions against Russia before Donald Trump was sworn in as president, and misled Vice President Mike Pence about what had been discussed.
In the wake of the announcement, House Speaker Paul Ryan and Senate Majority Leader Mitch McConnell appeared hesitant to criticize the administration, and declined to endorse or call for any kind of separate independent investigation into the circumstances that led to Flynn's resignation.
Senior U.S. officials believe that Flynn's conduct was improper and may have been illegal, according to The Washington Post. The Post has further reported that the acting attorney general warned the administration last month that Flynn might be "vulnerable to Russian blackmail." In January, the Senate and House Intelligence Committees announced their intention to probe potential links between the Trump campaign and Russia, but a key question is whether congressional Republicans will launch any kind of substantial new investigation into the circumstances that led to Flynn's resignation.
The Republican-controlled Congress may not conduct extensive additional oversight, despite lingering questions about the extent of Flynn's contacts with the Russian government, why his resignation arrived weeks after the Trump White House was warned about Flynn's misleading interaction with Pence, and whether Flynn was acting at Trump's direction during his conversation with Russia's ambassador. Republicans are divided on the matter, with GOP Senators indicating a greater willingness to look into Flynn's resignation than their colleagues in the House.
House Speaker Paul Ryan declined to call for any new investigation during a press conference on Tuesday. "I'm not going to prejudge the circumstances surrounding this, I think the administration will explain the circumstances that led to this," Ryan said when asked if he would support an independent investigation into Russian ties, noting that "The Intelligence Committee has been looking into this thing all along, by the way, just involvement with respect to Russia."
Ryan's comments reflect a deferential approach toward the administration that some high-profile members of the GOP-led Congress are taking, suggesting a reluctance to engage in aggressive oversight of the Trump administration. "I'll leave it up to the administration to describe the circumstances surrounding what brought to this point," Ryan said Tuesday.
The logic offered up by the House GOP leader suggests the Trump administration can be trusted to credibly explain what led to Flynn's departure, despite the fact that the administration has an established track record of relaying false and misleading statements. (Trump aide Kellyanne Conway's invocation of a made-up terrorist attack, and White House Press Secretary Sean Spicer's inaccurate claims about inauguration crowd size are two examples.)
Ryan's justification also fails to grapple with the problem that part of the scandal surrounding the resignation is that senior aides to Trump apparently provided inaccurate information to the public about Flynn's Russian contacts. Last month, Pence told CBS that Flynn "did not discuss anything having to do with the United States' decision to expel diplomats or impose censure against Russia," while a senior transition official told The Post that "during his call, sanctions were not discussed whatsoever."
In his resignation letter, Flynn acknowledged that he had "inadvertently briefed the Vice President Elect and others with incomplete information" about his communications with the Russian ambassador. He blamed the "fast pace of events" for the lapse.
Senate Majority Leader Mitch McConnell similarly declined to call for a separate independent inquiry into Flynn's resignation during a press conference on Tuesday. He did, however, suggest the Senate Intelligence Committee may probe the circumstances leading to the resignation as part of its ongoing investigation into Russia and the election. "The Intelligence Committee is already looking at Russian involvement … it's highly likely they'd want to take a look at this episode as well, they have the broad jurisdiction to do it."
Roy Blunt, a Republican member of the Senate Intelligence Committee, said during the briefing that he believes it is "likely" that Flynn will be asked to testify before the panel.
On Tuesday, House Oversight Chairman Jason Chaffetz reportedly indicated on that he would not pursue further investigation into Flynn's resignation. Devin Nunes, the chairman of the House intelligence committee, suggested that he would rather focus on why intelligence was collected on Flynn's contacts with Russia and subsequently leaked, than on what Trump may or may not have known.
"I expect for the FBI to tell me what is going on, and they better have a good answer," he said, according to The Post. CNN's Manu Raju reported on Tuesday that Nunes said his committee would not "look into discussions between Trump and Flynn, citing executive privilege."
Senate Intelligence Chairman Richard Burr offered only a muted response in a statement. "Mike Flynn served his country with distinction. The President needs a National Security Advisor whom he can trust and I defer to him to decide who best fills that role."
Senator Rand Paul even went so far as to suggest that it would be excessive for Republicans to closely scrutinize the actions of a member of their own party. "I just don't think it's useful to be doing investigation after investigation, particularly of your own party," the Kentucky senator said in an interview, according to CNN's KFILE. "We'll never even get started with doing the things we need to do, like repealing Obamacare, if we're spending our whole time having Republicans investigate Republicans. I think it makes no sense."
Other Republican Senators however, said Flynn's resignation deserved a closer look.
CNN reported that Senator John Cornyn "told reporters Tuesday that the Senate standing committees with oversight of intelligence need to investigate Flynn." Meanwhile, Senator John McCain reportedly called the resignation "a troubling indication of the dysfunction of the current national security apparatus." Republican Senator Lindsey Graham said during an interview with CNN that he wants to know: "did General Flynn do this by himself or was he directed by somebody to do it?"
Democrats will likely be unified in calling for further inquries. During a press conference on Tuesday, Adam Schiff, the top Democrat on the House Intelligence Committee emphasized the need for a "thorough investigation of any contacts between the Trump campaign and any Russian officials during the course of the campaign."
Specifically referring to what transpired with Flynn, Schiff criticized Ryan's remarks earlier in the day, saying that he was "very disappointed to see the Speaker today unwilling to commit to investigate these communications between Flynn and the Russian ambassador." He added that, if Ryan "is not willing to commit to this, he ought to allow the formation of an independent commission, and get out of the way."
Mark Warner, the top Democrat on the Senate Intelligence Committee, said in a statement that "the American people deserve to know at whose direction Gen. Flynn was acting when he made these calls, and why the White House waited until these reports were public to take action."