American Jews Confront a Wave of Bomb Threats
Jewish Community Centers around the country have been bombarded by menacing phone calls. For the most part, people are sad, not scared.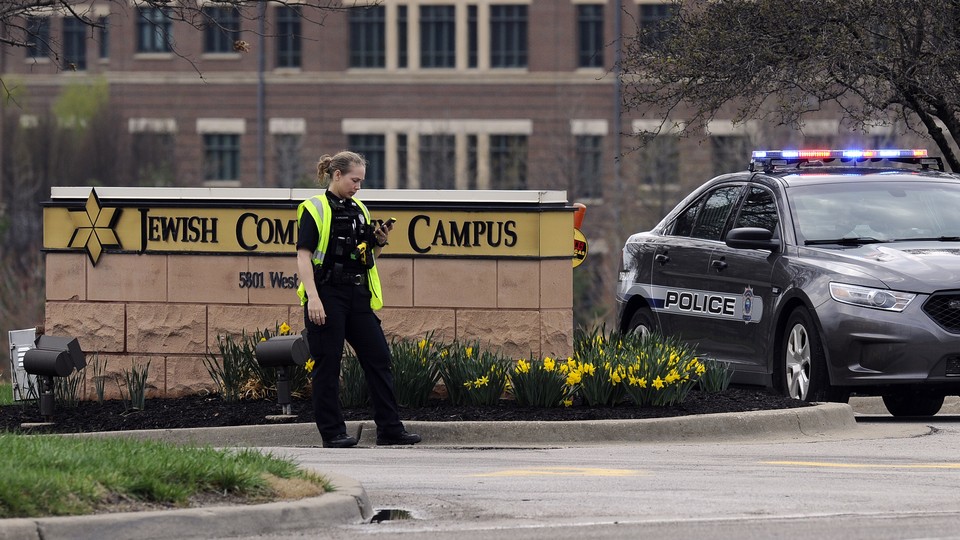 Updated February 21 at 10:58 pm EST
The Nashville Jewish Community Center has now gotten so many telephone bomb threats that the dates run together, said Leslie Sax, the executive director. The first call came on January 9, when Nashville was one of the first 15 JCCs to get threats. The next call was January 18, accompanying yet another national wave. The latest was just this weekend, on Presidents' Day, when 11 JCCs around the country were threatened, according to a spokesperson for the national organization. The Nashville facility, more full than usual with people exercising on the holiday weekend, was evacuated before security gave the all-clear.
"Most people just feel sadness—they're sad that this is happening," Sax said. "Everyone keeps saying they're disheartened and frustrated." But even though people are upset, they don't seem to be scared. "I haven't heard fear," she said.
Across the United States, Jewish communities are struggling to deal with this new wave of threats. While none of the bomb threats have led to violence, Monday's calls came around the same time as another attack: Roughly 170 Jewish graves in a Missouri cemetery were desecrated over the weekend, according to The Washington Post. The calls may be a novel form of intimidation, but the context around them is not. American Jews are victims of more reported hate crimes than any other group in the United States, and have been subject to the majority of religiously motivated offenses every year since 1995, when the FBI first started reporting these statistics. The phone calls may not result in violence, but they contribute to an atmosphere of anti-Semitism already well-established in the United States.
In total, the national JCC has tallied calls to 53 JCCs in 26 states in the last two months. On Monday, the calls came in to a wide range of locations: Albuquerque, Birmingham, two locations in Buffalo, Chicago, Cleveland, Houston, Milwaukee, Nashville, St. Paul, Tampa, and Tulsa, according to a list compiled by a national JCC spokesperson. "We are concerned about the anti-Semitism behind these threats, and the repetition of threats intended to interfere with day-to-day life," said David Posner, the director of strategic performance at the JCC Association of North America, in an emailed statement.
The calls seem to be connected: They are coordinated in timing and message, and often contain generic promises of violence. In one recording, posted by the Jewish Telegraphic Agency, the caller threatens, "In a short time, a large number of Jews are going to be slaughtered. Their heads are going to ... blown off from the shrapnel." Sax would not share exact details about the calls Nashville has been receiving, but confirmed that theirs have been similar to those recorded elsewhere.
On Monday night, President Trump's daughter, Ivanka, condemned the attacks on Twitter.
America is a nation built on the principle of religious tolerance. We must protect our houses of worship & religious centers. #JCC

— Ivanka Trump (@IvankaTrump) February 20, 2017
It's significant that she was the person who made a statement: Trump and her family are Jewish, so they arguably have a personal connection to the attacks. On Tuesday morning, the president condemned discrimination against Jews in a conversation with reporters: "Anti-Semitism is horrible and it's going to stop. It has to stop," he said. Previously, the president declined to explicitly condemn recent instances of anti-Semitic threats and violence, including the calls to JCCs. At a press conference on Thursday, an Orthodox Jewish reporter asked him about "an uptick in anti-Semitism and how the government is planning to take care of it." Trump asked him to sit down, saying that it was "not a fair question"—"I am the least anti-Semitic person that you've ever seen in your entire life," Trump added.
"He was given a softball question and an opportunity to denounce anti-Semitism, and he failed," said Dave Simon, the executive director of the JCC in Albuquerque, which received its second threatening call on Monday. "That's deeply disturbing to me, because he's president of all Americans, and he needs to stand up for our principles—the principles of America."
The dominant feeling in the Albuquerque Jewish community right now is anger, Simon said. "They're mostly pissed off at the morons who are doing this. Our JCC is known and loved in the community, and people are angry that it's being targeted and being disrupted." Sax said something similar about the frustrations in Nashville: "It keeps us from doing what we need to be doing every day. We're already very busy," she said. "It keeps us from doing the other work we had planned to do."
Both centers have seen an outpouring of support. Nashville has gotten letters and postcards from Massachusetts, Vermont, and Washington state, Sax said, and the neighboring Catholic parish and local Islamic center sent messages of support. The attacks have been widely denounced by Jewish organizations, and political leaders like Hillary Clinton took to Twitter over the weekend to condemn them as well.
In general, JCCs are equipped to handle these kinds of threats. Some, like Nashville, have full-time security staff, and members seem to understand the need for security, Simon and Sax said. People don't seem to be staying home; they're still showing up to community events, swimming classes, and pre-school, all of which are central parts of JCC life.
"This is the best time in history to be a Jew in the United States. Our country is so phenomenal, and Jews have come so far in this country, and we have so many blessings," Simon said. "There's no question—it's the best time to be alive, and the best time to be Jewish." At the same time, he is concerned about rising anti-Semitism in the U.S. and globally, including incidents of swastikas being painted in public spaces. "We can't tolerate anti-Semitism or hate and discrimination against anybody," he said.
I asked Simon whether he is scared by the threats. "Not at all," he replied. "The cowards who phone in bomb threats don't scare me … The people who want to do real harm don't phone ahead."