Will the Senate Block Betsy DeVos?
Two Republican senators announce their opposition to President Trump's nominee for education secretary. If all Democrats vote no, just one more GOP defection would defeat her.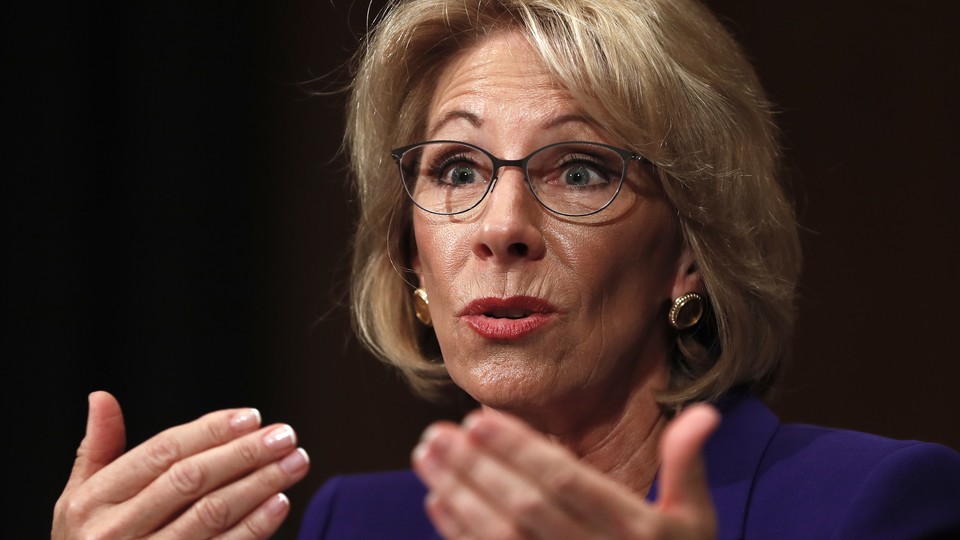 Two Republican senators announced on Wednesday they would oppose Betsy DeVos's nomination for education secretary, presenting the first serious threat to one of President Trump's Cabinet picks.
Senators Susan Collins of Maine and Lisa Murkowski of Alaska each supported DeVos in a committee vote but said Wednesday afternoon they would vote no when her nomination reaches the Senate floor. Because Republicans have a slim, 52-48 seat majority in the Senate and every Democrat is expected to oppose DeVos, the defection of just one more GOP senator would sink her nomination. As it stands, Vice President Mike Pence would need to cast a tie-breaking vote to put her over the top, exercising a power that his predecessor, Joseph Biden, never once had to use in his eight years in office.
A former chairwoman of the Republican Party in Michigan, DeVos is a longtime donor to conservative candidates and education causes. She is a staunch supporter of expanding charter schools and private-school vouchers, positions that have drawn the aggressive opposition of teachers unions and liberal activists who have lobbied senators against confirming her. In a speech on the Senate floor, Collins cited DeVos's inexperience with public schools and said she was "troubled and surprised" by the lack of familiarity DeVos displayed during her confirmation hearing with a landmark law guaranteeing education to students with disabilities. Under questioning from Senator Tim Kaine of Virginia, DeVos at first said that it should be "left to the states" whether any school that receives federal funding, including charter and private schools, should have to meet the requirements of the Individuals with Disabilities Education Act. She clarified her position later on, saying she "may have been confused" about the federal law.
"The mission of the department of education is broad, but supporting public education is at its core," Collins said. "I'm concerned that Mrs. Devos's lack of experience with public schools will make it difficult for her to fully understand, identify and assist with those challenges, particularly for our rural schools in states like Maine."
Speaking directly after Collins, Murkowski said she was inundated by calls from "thousands, literally thousands of constituents" urging her to oppose DeVos. The reference to public pressure is likely to energize progressive activists, who will now try to find one more Republican vote. A top target may be Senator Dean Heller of Nevada, who is one of the few GOP senators up for reelection next year in a state carried by Hillary Clinton. Vouchers have been a controversial issue in Nevada, where a law passed and implemented is now on hold due to a court order. Two other Republicans that DeVos critics might have hoped to sway, Senators Pat Toomey of Pennsylvania and Shelley Moore Capito of West Virginia, have already announced their support for her.
By withholding their opposition until DeVos advanced through the Senate Health, Education, Labor, and Pensions Committee, Collins and Murkowski may have actually helped her win confirmation. Had they voted against DeVos there, her nomination would have stalled. But they voted to advance her to the Senate floor, saying they wanted all 100 senators to have the opportunity to weigh in. Still, they are the first two Republican senators to formally oppose a Trump Cabinet nominee. (Senator Rand Paul of Kentucky voted no on the nomination of Mike Pompeo to become CIA director, a sub-Cabinet post.)
At the White House, press secretary Sean Spicer said he had no doubt she would win confirmation.  "I have 100 percent confidence she will be the next secretary of education," he told reporters after Collins and Murkowski came out against her. "I think that the games that are being played with Betsy DeVos are sad." Ed Patru, a spokesman for a group supporting DeVos, made a similar prediction. "She'll be confirmed," he said before noting that tie-breaking votes are likely to become more commonplace in the Senate because of the narrow GOP majority.