How Treaties Between States Could Keep Obamacare Alive
Interstate compacts could preserve programs initiated by the Affordable Care Act, or create new health-care systems from scratch.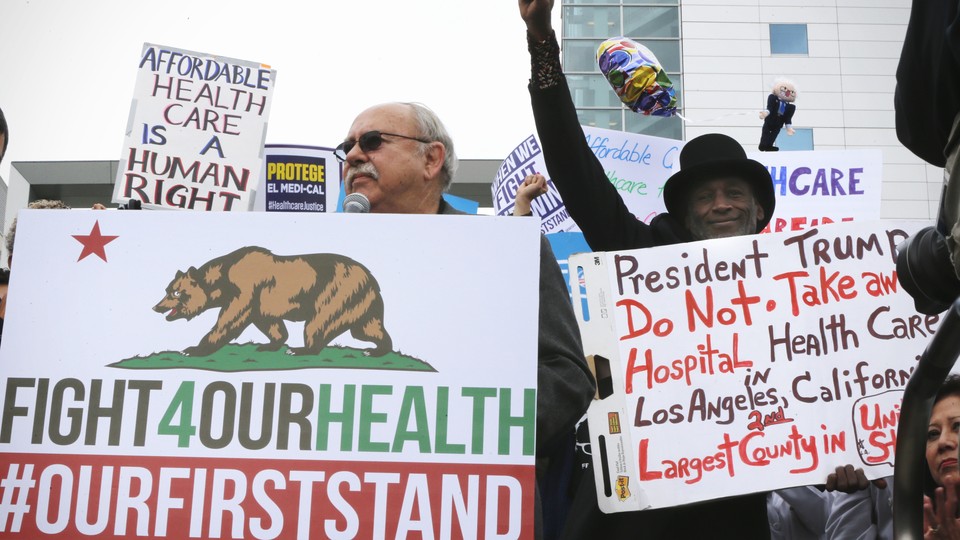 Across the country, Democrats have vowed to fight efforts from congressional Republicans and the White House to repeal the Affordable Care Act—a task that grows more complicated by the day. Yet even if the law is repealed, with or without a replacement, progressives could still have recourse at the state level. A widely used form of treaty between states could allow them to bond together and set up their own multistate health-care programs to fill the gaps created by the federal government. In an age of retreating federal programs, interstate compacts could be a tool for progressive states to enact a regional or even nationwide agenda.
Large states would have little trouble replacing the ACA, often called Obamacare, with a state-run program on their own. California has the resources and population to run its state health-care exchange, Covered California, from Sacramento, and could even fund the Medicaid expansion it implemented under the ACA. To the north, less populous states like Oregon and Washington would struggle to do the same without comparably sized economies. But if they join together with California in an interstate compact, they could potentially reap the benefits of the economy of scale—saving on costs through the sheer size of the enrollment pool and bargaining power.
Interstate compacts allow individual states to maintain consistency in their laws by coordinating on a multistate level. While they may not rival the power of the federal government, compacts may be a next-best option for states facing sudden cutbacks in support from Washington, D.C. States could use them to preserve ACA-initiated programs, or create new systems from scratch.
There are currently over 200 active interstate compacts, many of which are regional. Twenty-two agreements are national in scope, and each one addresses a different issue facing the states. The Interstate Compact for Adult Offender Supervision, for example, oversees the transfer of parole and probation between states. And the Gulf States Marine Fisheries Commission is one of roughly two dozen water-related compacts that govern everything from fish stocks to the fair use of river basins by adjoining states.
Agencies that monitor compacts have authority, delegated from the states, to generate revenue and engage in rule-making—that is, they can create regulations to enforce the powers granted by a given compact. The Port Authority of New York and New Jersey, the Delaware River Port Authority, and the Washington Metro Area Transit Authority are all interstate-compact agencies that run rapid-transit systems.
There are constitutional limitations on these agreements, even though some actually predate the Constitution and were used to settle land disputes between the colonies. But states can largely work around those constraints.
The Compacts Clause of the Constitution—Article I, Section 10—says, "No State shall, without the Consent of Congress … enter into any Agreement or Compact with another State." Despite that limiting language, states have regularly entered into these agreements without lawmakers' approval at all, and the Supreme Court has supported them, curbing the scope of federal involvement in the process. In 1893, the Supreme Court ruled that the federal government's authority to approve such agreements was only applicable when an agreement "may encroach upon or interfere with the just supremacy of the United States." It was not completely clear what constraints this left on the states.
Nearly a century later, the Court took up the issue again, building on their earlier ruling in U.S. Steel Corporation  v. Multistate Tax Commission in 1978. The Court found that the commission's policies, which were intended to reform state taxation of multistate businesses, could have been enacted individually by each state. As a result, the Court ruled that the Multistate Tax Compact did not require the consent of Congress. To date, the test for when states need approval remains murky, but in general, when states enact programs they each could have done on their own, congressional approval is not necessary.
"Congressional consent is not necessarily a legal judgment, it's a political one," said Colmon Elridge, director of the National Center for Interstate Compacts, a division of the nonpartisan Council of State Governments that provides information and assistance on how to establish and run compacts. So the standard for lawmakers deliberating whether they should approve a compact is usually, as Elridge put it, "Is this in my political best interest?"
Moreover, Congress rarely says no to states that want to enter into them. "When it gets to that level," he said, referring to agreements that are ready for congressional review, "especially in this climate, it's more dangerous politically to not respect the will of the states." Congressional approval can confer advantages, too, even if it's not necessarily required for compacts to take effect. Agreements that are backed by Congress carry the force of federal law, and once granted, Congress cannot take back its consent.
But there can be drawbacks for states that decide to enter into compacts without congressional approval. The Regional Greenhouse Gas Initiative, the Northeast's auction-based cap-and-trade program for reducing greenhouse-gas emissions, has been operating for years without congressional approval. Nine states are currently members of the compact: Connecticut, Delaware, Maine, Maryland, Massachusetts, New Hampshire, New York, Rhode Island, and Vermont.
As a mandatory program, the RGGI has claimed reductions in lifetime energy bills of $4.67 billion for 4.6 million residences. However, because it lacks congressional consent, the compact does not have the force of law that prevents state governments from interfering from term to term. The program relies instead on individual states for regulation, and their general willingness to continue to participate. Any dispute between states in a congressionally approved compact is brought directly to the Supreme Court of the United States, as part of the Court's original jurisdiction. But compacts that have not sought congressional approval have no easy mechanism to resolve disagreements.
This has exposed the RGGI to the whims of changing state governments. In 2011, for example, a dissatisfied New Jersey Governor Chris Christie withdrew from the compact, claiming that "it doesn't make any sense environmentally or economically." Even though the state legislature voted to bring New Jersey back into the program, Christie then vetoed the bills to rejoin the agreement.
While at this point only New Jersey has left—and will likely return after Christie leaves office—the ability of states to leave congressionally unapproved compacts creates vulnerabilities and makes long-term planning harder. As other states, including California, continue to build regional, and even international, climate initiatives without congressional support, New Jersey's example casts a shadow over their efforts.
Given the ACA's origins as a state-level initiative in Massachusetts, interstate health-care exchanges could be operable without lawmakers' consent under the Supreme Court's holding in U.S. Steel Corporation  v. Multistate Tax Commission, though they would be exposed to the same vulnerabilities as the RGGI. But given Republican support for states' rights, they might even get congressional approval. A recent Republican plan to replace Obamacare would permit states to "keep the Affordable Care Act if it is working for their residents," as Senator Susan Collins described. While its future is unclear, the plan is a sign that there's appetite for honoring states' health-care decisions, which could include interstate agreements.
Elridge is not even certain that multistate exchanges would be seen as controversial as interstate compacts go, despite the charged political climate. "If Kentucky and Tennessee, North Carolina, South Carolina, and West Virginia said, 'We understand the health challenges in these states, we're going to develop some kind of interstate compact that works in terms of expanding access to care, making it quality, and making it affordable,' they can absolutely do that,'" he said.
Phil Scott, the new Republican governor of Vermont, has already suggested as much. Scott ran on a platform promising to merge Vermont's exchange with that of another state, possibly New Hampshire, to save money on maintenance and operating costs. This could be the first step toward creating regional health-care exchanges that build on the ACA.
Even with congressional approval, there could still be some limitations on multistate exchanges. The Constitution puts limits on the ability of individual states to hamper interstate commerce or discriminate against out-of-state economic interests. For instance, a climate compact that bans the importation of electricity from a state outside the compact could violate the Constitution. State legislatures may also be wary of approving expenditures that are tied to the actions of other states, even if they isolate their own revenue, as is done with RGGI.
Administrative agencies that oversee enforcement of the compacts may also fall prey to political meddling and corruption, because appointees who run them are often friends of elected officials and there can be lax oversight of their activities. Governor Christie's own woes involving the New York-New Jersey Port Authority's links to the Bridgegate scandal point to such a reality.
Like all legislation, compacts appear likely to succeed where participants are eager to join. On health care, the first states to consider them in recent years have been red states looking to dodge Obamacare—not blue states. In 2014, nine largely conservative states put forward their own Health Care Compact to get around the health-care law. The proposal promised to let the participating states use federal funds to run health-care programs, while allowing each member state to define priorities and administer programs at the state level. It stalled because of the unclear language of the legislation and the wariness of governors to give up states' rights.
Elridge sees new state leaders taking up health-care compacts again, but not before they know more about what a Trump administration plans to do. For now, he said, they seem to be "taking a wait-and-see approach." When they choose to act, they may see fit to take matters into their own hands, but do so together.