How Stephen Miller's Rise Explains the Trump White House
The young policy adviser became the public face of Trump's controversial travel ban—and is paying the price for it.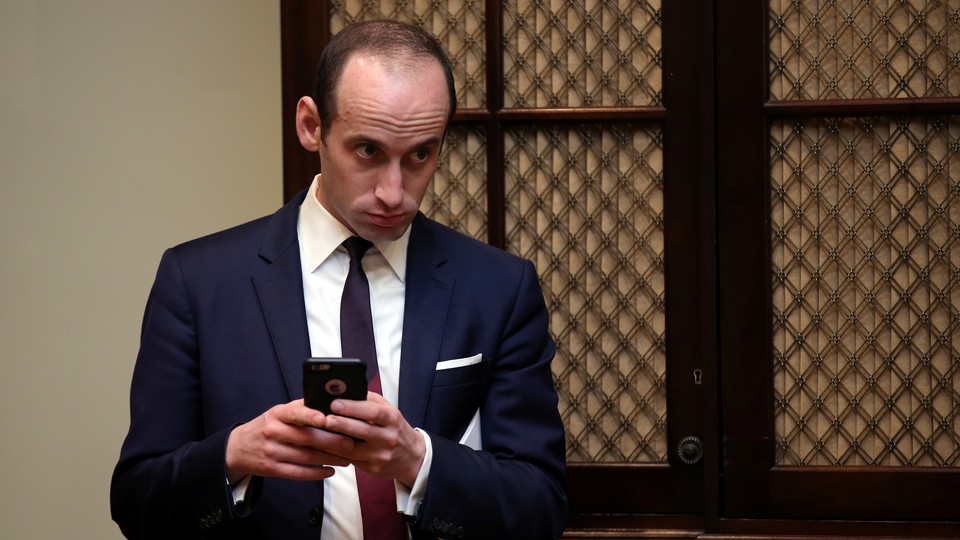 I
t's not an easy gig to be the face of one of the first major controversies of Donald Trump's presidency. But after Stephen Miller played a key role in drafting and rolling out Trump's immigration executive order that unleashed global chaos last weekend, he found himself with a degree of public prominence that is unusual for someone in a policy role.
It's not the first moment in the spotlight for Miller, senior adviser for policy at the White House. During the campaign, the 31-year-old often gave the warm-up speech for Trump at rallies. But the controversy surrounding Miller highlights the unusual degree to which the Trump White House is structured around competing ideologies, producing the infighting that has always characterized Trump's milieu.
Miller, along with chief strategist Steve Bannon, are the key figures of what could be called the Breitbart wing, one ideological grouping within the White House; the other, the Washington wing, is represented by chief of staff Reince Priebus and press secretary Sean Spicer, both longtime Republican hands and experienced political insiders. Miller's public profile, especially in the wake of the tumult over the travel ban he helped engineer, puts a target on his back—but also confirms how influential he has become in the early days of the Trump administration.
The immigration ban itself shouldn't have come as a surprise. It was one of Trump's signature campaign promises. Yet the rollout led to waves of fallout. Several key figures in the administration (including, reportedly, top officials at the Department of Homeland Security and the Pentagon) were left in the dark,  not being informed until Trump was signing the order, which led to mass chaos and protests at airports around the country. As with any crisis originating in Washington, the search for a scapegoat began early, and it quickly targeted Miller.
Miller seemed unprepared for the scrutiny and criticism that have come his way. MSNBC host Joe Scarborough has made a point of attacking him repeatedly on his daily televised news program Morning Joe and on Twitter. On Sunday, Scarborough tweeted: "The incompetence on the NSC release and Miller's refusal to get interagency sign off on the refugee order are fireable offenses." On Monday on his show, Scarborough said: "You've got a very young person in the White House on a power trip thinking that you can just write executive orders and tell all of your cabinet agencies to go to hell." Scarborough also made note on Twitter of having met with President Trump over the weekend, along with his co-host Mika Brzezinski. Press accounts have noted the displeasure of other White House officials with Miller; a Politico story described Priebus as "wary" of the young adviser.
The gossip in Washington is that this is a classic palace intrigue story; two axes of power in a dysfunctional White House, taking aim at each other in the press. The unusual bit is that instead of the same old set of operators, this crew includes nationalist ideologues like Miller and Bannon who took unconventional paths to power. The pair came together over their ideological harmony on immigration, and their background in a no-holds-barred kind of politics aimed at uprooting exactly the kind of Republican Priebus represents: establishment Chamber of Commerce types who, after 2012, tried to push immigration reform and legalization of undocumented immigrants as a way to bring more voters of color into the party.
"You put the ideologues on one side of the office and the statists on the other, what the fuck do you think is going to happen?" asked one source close to Miller, who spoke on condition of anonymity. Miller, this source said, is essentially being outplayed: "He doesn't know anyone in our world. Reince, of course, knows everybody."
Leaks out of the administration have also been unflattering to Miller. The explosive lede of a recent New York Times story asserted that Department of Homeland Security chief John Kelly and other top DHS officials were kept in the dark on the executive order until Trump was signing it, and a Los Angeles Times story reported that Miller "effectively ran" a National Security Council meeting about the order—an extremely unorthodox move, and one sure to ruffle feathers among more experienced officials. (Miller has denied this.)
"They're totally outmaneuvering him in the press," the source close to Miller said. "I think he feels totally under assault. He's not politically astute, he's not ready for this."
But in an interview, Miller batted down the idea that he's in conflict with Priebus and his allies, and instead emphasized what he says is a close relationship with him.
"I've had the enormous privilege to get to know Reince throughout the campaign, then the transition and now the administration," Miller told me. "We've spent hours and hours together flying across the country all during the general election. I developed a close relationship with him. My respect for him has only deepened as time has gone on."
Miller's White House role is in policy, but his background is as a communications staffer on the Hill, and his political patrons have made full use of his polished appearance on-camera. In recent days, Miller has been on MSNBC and Fox News defending the order and its rollout while also downplaying his role in the incident.
"I get a lot more credit than I deserve," Miller told Tucker Carlson on Carlson's Fox News show on Tuesday night. "The immigration orders were drafted by a team of some of the most qualified and talented lawyers in the United States of America."
"My main responsibility at the White House is to advise on policy matters," Miller told Carlson. "I'm just one voice, I'm blessed to have the opportunity to be a voice."
Miller says he's more than happy to publicly defend the executive order.
"I'm thrilled to have the opportunity to go on TV as a member of the White House staff to explain and advocate for a policy that we believe will be enormously beneficial to the country," Miller told me.
Miller was initially more circumspect. Reached on Tuesday for a request for an interview, he said over email "Did you see the presser today from Kelly?"
I responded affirmatively and asked what had struck him about it.
"It was tremendous," MIller said, and left it at that. In Kelly's press conference, Kelly had denied having been caught off guard by the executive order, saying: "We knew it was coming. It wasn't a surprise."
M
iller, a native of Santa Monica, developed his right-wing beliefs early. The roots of his activism date back to high school — according to a profile in Politico Magazine, his political awakening came in the form of National Rifle Association president Wayne LaPierre's book Guns, Crime and Freedom, and flowered at Duke University, where he wrote flame-throwing columns in the Duke Chronicle.
The Duke lacrosse controversy, in which a black woman accused white members of the lacrosse team of raping her at a party, was Miller's first entrance onto the national political scene. Miller was early to spring to the defense of the lacrosse players, writing in March 2006, that "not only have many already convicted the lacrosse players, but they have also diffused that conviction across the entire team. Being a white, male lacrosse player was all it took." Miller appeared on television several times to discuss the case, which became a national controversy. The charges against the players were eventually dropped.
"Miller had two very well earned reputations: as an aggressive self-promoter and as a bomb thrower," said one friend of Miller's from Duke who holds him in high regard and requested anonymity for professional reasons. "He was extremely effective at both. He sustained himself on liberal tears and hysteria. Some Duke [College Republicans] used to call him the 'Miller Outrage Machine.'  You might say he was the Trump campaign 10 years before the Trump campaign."
Miller parlayed his experiences as a conservative activist at Duke into a job on Capitol Hill, where he worked for former Minnesota Representative Michele Bachmann, then for Alabama Senator Jeff Sessions, Trump's choice for attorney general. It's in Sessions's office where he came into his own in Washington.
Miller was someone on whom Sessions "relied very heavily," said Andrew Logan, who worked as Sessions's press secretary while Miller served as communications director. "He sort of necessarily became involved in all of the policy areas as well." According to Logan, Miller was involved in writing nearly all of Sessions's speeches.
Miller quickly became associated with the hardline anti-immigration, anti-globalist views that characterize Sessions and which became a main theme of the Trump campaign.
"I think that was one thing he and Andrew Breitbart had in common, was a belief that if the left controls, if they win the culture war, then it's going to be impossible to convince the public of the rightness of conservative ideas on any number of discrete policy debates," Logan said.  "So I think that is something that is sort of innate in him. Obviously immigration is probably the most, in Stephen's view, one of the most existential issues facing us right now."
Miller's hardline views on immigration track closely with some of the other thought leaders of the Trump movement, like conservative commentator Ann Coulter.
"Someone with Miller's gargantuan IQ could have been making millions on Wall Street, hundreds of thousands as a lawyer—but he's been working in the Senate because he loves this country and the people who live here," Coulter wrote in an email.
Asked whether she influenced Miller on immigration, Coulter referenced how in California, even some liberals had begun to worry about the issue: "1) his enormously high IQ and patriotism and 2) growing up in california. look at marxist Mickey Kaus!  Look at DiFi — at least until her personal political interests dictated a different course.  they've seen the ghost of christmas future for america."
"I wish I could claim credit but I can't," Coulter said.
Miller developed a close relationship with Breitbart News staffers during his years on the Hill, and especially during the battle over the Gang of 8 immigration-reform bill that emerged in the aftermath of Mitt Romney's 2012 defeat. The bill would have provided a path to citizenship for unauthorized immigrants—something Bannon and Sessions were both implacably opposed to. During that period, Breitbart became one of the loudest mouthpieces for the forces working against the bill, and Miller was instrumental in feeding them.
"There were a few people [in Sessions's office] who had really close connections or good relationships with Breitbart reporters," Logan said. "Stephen was one of them."
Though Miller preceded Bannon on the Trump campaign, they got to know each other while Bannon was still running Breitbart.
"I know Bannon feels the same way that I do about him," said one Breitbart News staffer who spoke on condition of anonymity. "Always expressed a lot of admiration for him."
The staffer referred back to a speech Jeff Sessions gave at a Breitbart-sponsored CPAC event two years ago in which Sessions spoke about being a populist, and tied it to Miller.
"That Sessions speech at CPAC was basically Breitbart laying down the 'This is what we believe on immigration' and that's pretty much inseparable from Miller," the staffer said.
Asked to describe Bannon and Miller's relationship, a former Breitbart News staffer said "Sponsor-client relationship from what I can tell, or mentor-mentee, which is the policy Bannon regularly adopts with younger people."
"You could not get where we are today with this movement if it didn't have a center of gravity that was intellectually coherent," Bannon told Politico Magazine last year. "And I think a ton of that was done by Senator Sessions's staff, and Stephen Miller was at the cutting edge of that."
"Steve and I got to know each other very well during the 2013 immigration debate," Miller told me. "He and I and Sessions would spend an enormous amount of time developing plans and messaging and strategy; also him just covering what we were doing, pushing out narrative and copy. I got to know him, I got to know a lot of his staff, a lot of people who came in to the Breitbart embassy." Miller referenced a "memorable night" in 2014 at the Breitbart "embassy," a Capitol Hill rowhouse used by the site, involving Jeff Sessions and Nigel Farage, the right-wing British leader.
Miller's close relationship with Breitbart and Bannon continued during the campaign. According to one political consultant who was targeted by Breitbart during the campaign, it was known among Republican operatives that Miller could serve as a backchannel to Breitbart to smooth over conflicts. Miller has made multiple appearances on Breitbart's SiriusXM show, including joint appearances with Bannon during the campaign.
And now, look at where they've ended up: Bannon on the cover of Time magazine, Miller as the young face of the White House. Miller came onboard the Trump campaign early on, before any primary votes had been cast, and rose quickly. But in an environment like Trump-world, where anyone who outshines the principal is at risk, that might not be the safest position.
"Stephen's passion for drawing attention to the plight of middle Americans—men and women of all ethnicities and backgrounds—is unmatched, as he believes (correctly in my opinion) that elites in both culture and government who disdain them have left them behind over recent decades––and Stephen is determined to change course," Garrett Murch, a former fellow Sessions staffer who is now an editor at Laura Ingraham's website LifeZette, told me in an email. "It is only fitting that some of those responsible for the elevation of the elites and the plight of the middle class may wish to damage him."