Gorsuch Calls Trump's Attacks on the Judiciary 'Disheartening'
The president's choice to fill a Supreme Court vacancy offered a harsh assessment in a meeting with a senator on Wednesday.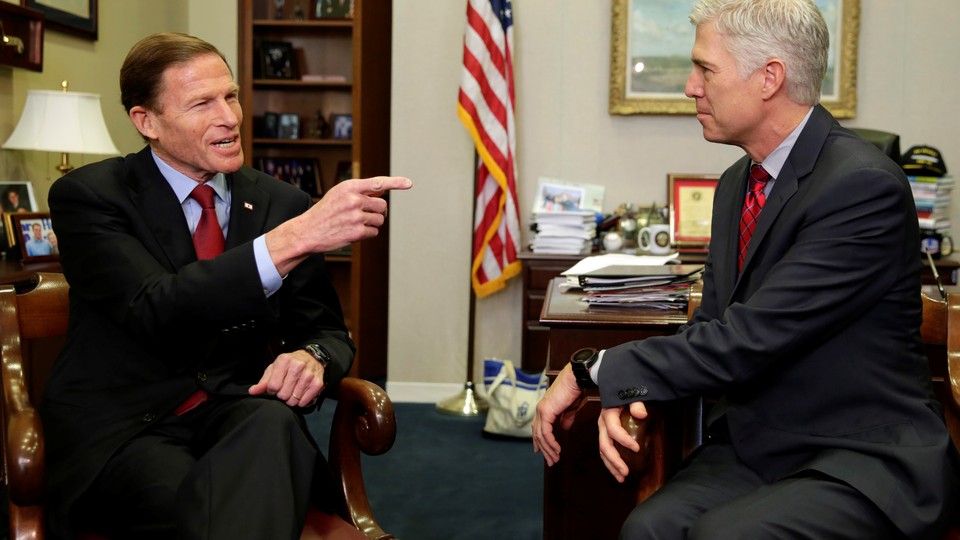 President Trump's harsh words for the federal judges weighing his controversial immigration ban received criticism from an unlikely source: Neil Gorsuch, Trump's nominee for the vacancy on the U.S. Supreme Court.
Gorsuch, a federal appeals judge, told Connecticut Senator Richard Blumenthal that Trump's attacks were "demoralizing" and "disheartening" for the federal judiciary during their meeting at the Capitol, Blumenthal said Wednesday afternoon.
"I told him how abhorrent Donald Trump's invective and insults are towards the judiciary. And he said to me that he found them 'disheartening' and 'demoralizing'—his words," Blumenthal told the Washington Post. A spokesman for Gorsuch told reporters that Blumenthal's characterization of their discussion was accurate.
The Trump administration has yet to publicly respond to Gorsuch's remarks. Presidents and their Supreme Court picks don't always see eye-to-eye on major issues—President Eisenhower later described his nominations of Chief Justice Earl Warren and Justice William Brennan as mistakes, for example. But those differences are rarely aired during the confirmation process, where the nominee still faces a gauntlet of probing questionnaires, private meetings with key senators, and hours of highly publicized hearings.
The judge's private remarks could foreshadow his response during those hearings. Supreme Court nominees have faced increasingly pointed questions from legislators about their stances on abortion, LGBT rights, and other hot-button issues in recent decades. But Gorsuch will likely also face detailed questioning from Democrats about his views on the scope of executive power, a crucial topic as Trump asserts his control over the vast powers of the federal government.
If Gorsuch's criticism is extraordinary, so too is Trump's approach to the judiciary. After federal district-court judge James Robart issued a nationwide injunction Friday blocking the Trump administration from enforcing key portions of the executive order, Trump took to Twitter on Saturday to denounce the "so-called judge" who had ruled against him. On Wednesday, one day after a three-judge panel in the Ninth Circuit Court of Appeals heard oral arguments about Robart's order, Trump then described the courts as "so political." Clashes between the president and the judiciary are nothing new in American history, but never in the modern era have the barbs from a thwarted chief executive been so personal and petty.
Whether Trump will lash out at his chosen nominee for the nation's highest court remains to be seen. The president's willingness to criticize almost anyone with a sharply written tweet was a key feature of his rise to the Oval Office. At the same time, he has also occasionally brooked dissent from his nominees.
"All of my Cabinet nominee [sic] are looking good and doing a great job," he tweeted in January after some of his Cabinet nominees contradicted his policy positions during their confirmation hearings. "I want them to be themselves and express their own thoughts, not mine!"