Who Will Be the First Victim of White House Chaos?
Michael Flynn reportedly misled the vice president about conversations with Russia. Sean Spicer has never found his stride. Kellyanne Conway is in Congress's sights. Welcome to Survivor: West Wing.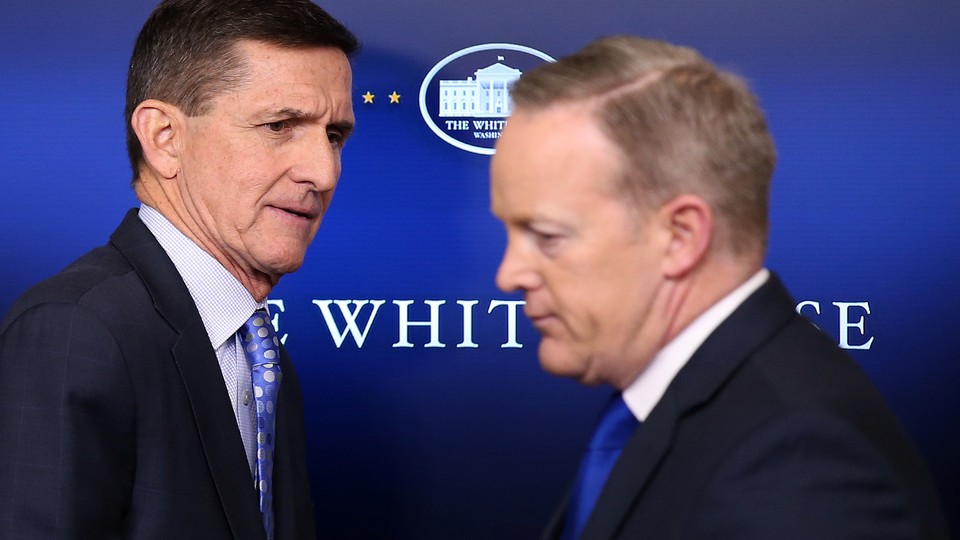 It is a truth universally peddled by wisemen and -women in Washington, though not necessarily obeyed by presidents, that when the White House is in trouble, the best cure is to hoist the head of an adviser on a spike of the fence encircling the executive mansion.
Firing—sorry, accepting the resignation of—an adviser makes for an easy way to demonstrate that the administration understands it has a problem and is working to fix it. That person doesn't necessarily need to be the root of the problem, though it's helpful if they're at least somewhat involved. Other times, some bad press offers a useful pretext for pushing out someone who was already on thin ice.
If President Trump wants to find a sacrificial lamb, he's got options. There's Sean Spicer, whose bumbling performances as press secretary have earned him a brutal mockery on Saturday Night Live and, reportedly, the dissatisfaction of the president. There's Kellyanne Conway, who has proven a more effective spokesperson for the Oval Office but is also more prone to major blunders, and who finds herself in the crosshairs of congressional overseers after exhorting people to buy Ivanka Trump's line of clothing.
But as of Thursday evening, the betting pool for who gets voted off the island first has a new favorite: National Security Advisor Michael Flynn. It had long been known that Flynn had spoken with Russian Ambassador to the United States Sergey Kislyak prior to Trump's inauguration. That raised eyebrows, given Trump's positive comment about Vladimir Putin's regime, Putin's more or less open cheerleading for Trump, and what the U.S. intelligence community says was Russian hacking intended to help Trump during the campaign. Flynn confirmed the conversations, but insisted he had not discussed sanctions that the Obama administration levied on Russia in retaliation for that hacking. Such a conversation would risk violating the Logan Act, which bars citizens from negotiating with foreign governments without authorization.
The Washington Post now reports that Flynn did, in fact, discuss the sanctions with Kislyak. The paper's sources are anonymous but numerous: "Nine current and former officials, who were in senior positions at multiple agencies at the time of the calls, spoke on the condition of anonymity to discuss intelligence matters." They told the Post that Flynn explicitly discussed elections-related sanctions, and some of them said that Flynn had given the impression that the penalties would be reversed or lightened once Trump entered office.
Flynn long denied any discussion of sanctions, including as late as Wednesday. What he should have known, as a former intelligence official, is that American intelligence operatives track phone calls by people like Kislyak, so they were listening in. On Thursday, a spokesman told the Post that while Flynn "had no recollection of discussing sanctions, he couldn't be certain that the topic never came up."
Even worse for Flynn, he seems to have allowed Vice President Mike Pence to make misleading statements publicly. Pence, prior to the inauguration said that there had been no contact between campaign officials and Russia during the campaign, and as for Flynn's talks with Kislyak, "They did not discuss anything having to do with the United States' decision to expel diplomats or impose censure against Russia." It now appears both those statements are false. (The Kremlin, for whatever it's worth, says sanctions were not discussed.)
The retired general has always been a lightning rod. He was fired as head of the Defense Intelligence Agency during the Obama administration for, reportedly, being a mercurial and difficult manager, though most people who have worked with him agree he is a brilliant intelligence officer, if one prone to conspiracy theories. He was a strange fit on the Trump campaign, a registered Democrat, but one who was willing to say what other Trump allies would never say publicly or in such blunt terms. ("Fear of Muslims is RATIONAL," he once tweeted.) On the campaign trail, he happily led "Lock her up!" chants.
Since the national security adviser position is not subject to Senate confirmation, Flynn avoided the same gauntlet that other top Trump aides have faced, but his spell in the White House has already been rocky. His son, also Michael Flynn, was pushed out of the Trump transition team after spreading bizarre conspiracy theories. Flynn père reportedly clashed with Secretary of Defense James Mattis, another former general, over staffing at the Pentagon. When senior Trump aide Steve Bannon was added to the National Security Council—a move that drew a sharp backlash, given Bannon's lack of national-security expertise—some reports said the move was mostly intended to backstop Flynn's poor management of the council. David Ignatius reported earlier this week that 60 positions on Flynn's staff are still open, a fact "that may reflect wariness at the State Department and CIA, where many career officials are reluctant to work for Trump."
Given the widespread reservations about Flynn, his reversal—and the fact that he allowed Pence to make a false denial on national television—might present a good opportunity to push him out and move on.
But Flynn is hardly the only candidate for scapegoat. Take Sean Spicer, the press secretary. Spicer's shaky tenure began on January 21, when he trotted out, or was trotted out, to insist that the crowds at Trump's inauguration the day before had been of record size—despite copious, clear evidence to the contrary. That may have been the low point, but Spicer hasn't yet found his sea legs. Recently, for example, he said of a raid in Yemen, "I think it's hard to ever say something was successful when you lose a life." But when Senator John McCain criticized the same raid, Spicer said that anyone who criticized the raid as a less than a success was doing a "disservice" to the life Ryan Owens, the Navy SEAL who died in the raid.
It's hard to imagine Spicer is having much fun defending a president whose views can change from day to day, and who has no compunctions about lying or simply making things up. Meanwhile, there have been so many leaks about Trump's views on Spicer that it's impossible to recall them all. The New York Times reports that Trump thought Spicer's post-inauguration performance was too strong; the Post reports Trump thought it too weak. Axios reports that Trump just hates Spicer's wardrobe. CNN says Trump regrets choosing Spicer for the job, and is seeking to layer over him with a new communications director. One Politico report so outlandish it beggars belief said that Trump was rattled by SNL's spoof of Spicer—more than anything because a woman was portraying him. With so many leaks directed at Spicer, it seems practically futile to try to suss out which are real and which are not. But the gusher shows that Spicer has enemies who are seeking to undermine him with the leaks.
The White House seems to have two major power centers, one an establishment pod around Chief of Staff Reince Priebus and the other an insurgent pod focused on Bannon. The two men recently gave a painfully protesting-too-much dual interview to New York denying any rivalry. Flynn hails from the Bannon side of the White House, while Spicer, who previously worked for the chief of staff at the Republican National Committee, is part of the Priebus orbit. A firing of either man would represent a victory for the rival team in the power struggle.
That brings us to the third potential scapegoat, Conway, who publicly at least seems to have avoided the factional war. She's also been subject to few of the sniping leaks that have afflicted Flynn and Spicer. Her problems are essentially public. It was Conway who defended Spicer's inauguration debacle by insisting he was offering "alternative facts," which is one of the more creative terms for lies to emerge from Washington in decades. She's offered her own alternative facts, such as her invocation of a fictional "Bowling Green massacre" to justify Trump's immigration ban.
Somewhat improbably, the real danger to Conway right now comes after she recommended that people go and buy Ivanka Trump's line of clothing, following Nordstrom's decision to drop the line. That appears to violate a federal law that bars government employees from using their office to boost private companies. (Trump did the same, but as president, he is exempt.) Spicer said in Thursday's briefing that Conway had been "counseled" about her statement, and Conway herself declined to comment during a Fox News interview Thursday evening. But Representatives Jason Chaffetz and Elijah Cummings, the top Republican and Democrat, respectively, on the House Oversight Committee, sent a letter to the head of the Office of Government Ethics, expressing "extremely serious concerns" about Conway's statement and asking that OGE recommend a punishment.
As Chaffetz and Cummings acknowledged in their letter, it's a touchy situation, since the person who would have to execute any penalty would be Conway's boss—i.e., Trump. But the fact that Congress is getting involved, as it has declined to do in other cases so far, is notable, and puts some pressure on the White House, perhaps even to fire Conway.
Although the White House firing is a time-honored ritual, it seldom occurs this soon in an administration. George W. Bush's first major firing was Treasury Secretary Paul O'Neil, that came after nearly two years, and amid serious policy disputes. The Clinton administration fired several employees of the White House travel office in May 1993, amid the "Travelgate" scandal, though they were career employees, rather than political appointees. White House Counsel Vince Foster committed suicide in July 1993, apparently disconsolate over the scandal.
Of course, Trump could simply choose to fire no one. He shows little regard for public pressure and trusts his base to back him up. When he's not on the set of The Apprentice, he doesn't demonstrate a great appetite for firing people. Although he went through two campaign teams before settling on the Bannon and Conway duo that led him to victory in November, both previous campaign managers—Corey Lewandowski and Paul Manafort—were allowed to linger well past their expiration dates, and were finally pushed out after other insiders, and particularly Trump's son-in-law Jared Kushner, pushed for their firings.
In other words, a firing would likely require some sort of even more heated factional battle inside the White House, before a clear winner emerged. Given the pace of leaks from the West Wing, there could be plenty more anonymously sourced stories to come before anyone is forced off the island.