A Triumphant Moment for Elizabeth Warren
The Massachusetts senator is in the spotlight for criticizing the president's agenda. The louder she opposes Trump, however, the more she may find her own actions closely scrutinized, and harshly judged.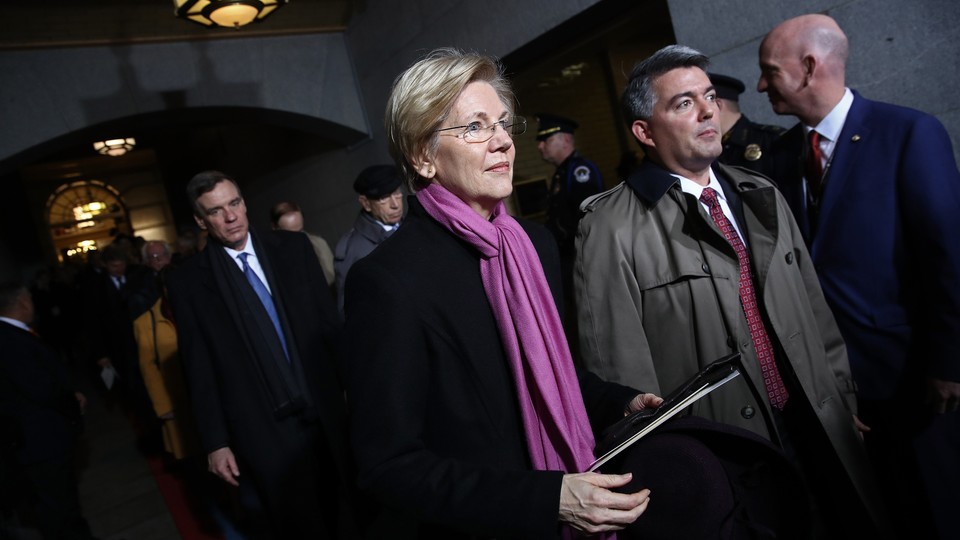 As the Democratic Party searches for a leader in an uncertain political era, Elizabeth Warren wants it known that she is at the front lines of the fight against President Donald Trump's agenda.
On Tuesday evening, the Massachusetts senator attempted to read a 1986 letter written by Coretta Scott King criticizing Jeff Sessions, the Alabama Senator Trump wants as his Attorney General, only to be silenced by Senate Majority Leader Mitch McConnell. Captured on video, the exchange on the Senate floor quickly turned into a rallying cry for the party out of power.
It was a triumphant moment for Warren, who has cultivated an image as an unwavering liberal champion, and progressive organizations raced to rally around her. MoveOn.org, Our Revolution, the group founded from the ashes of Bernie Sanders' presidential campaign, and Democracy for America all took to social media to show solidarity with Warren, while the hashtags #LetLizSpeak and #ShePersisted quickly went viral.
Warren, and other Senate Democrats, appear to have taken an increasingly confrontational stance during the vetting process for Trump's cabinet in the aftermath of massive nationwide protests calling for resistance to a president who lost the popular vote by roughly three million votes.
A number of congressional Democrats, including Warren and New Jersey Senator Cory Booker, showed up at airports in solidarity with protests against the administration's travel ban, which resulted in the detention of travelers from the affected nations. "It's time for Democrats to grow a backbone, and get out there and fight," Warren declared over the weekend during a speech in Baltimore. She spoke out forcefully against the nomination of Betsy DeVos and, along with every other Democrat who voted, opposed her nomination to lead the Education Department on Tuesday.
"All of DC was caught off guard by the level of intensity of opposition to Trump when he took office, but in the last two weeks Elizabeth Warren has been channeling that into a spine of steel to fight back in the Senate," Ben Wikler of the progressive advocacy group MoveOn.org, said in an interview earlier in the day on Tuesday. "It's clear that Senator Warren is rising to meet this moment of extreme peril and challenge."
Not long ago, however, the Massachusetts senator faced a liberal backlash of her own amid criticism that she hadn't gone far enough in declaring all-out political war against the president and his priorities. Last month, Warren triggered an outpouring of anger on social media when she announced support for Ben Carson's nomination to lead the Department of Housing and Urban Development.
"I am so incredibly disappointed in you, Senator Warren," one commenter wrote after Warren took to Facebook to defend her decision. "You have failed your people and complacently gone along with this insane charade. We look to our few sane leaders left to stand up for us and resist with us. Stop normalizing this administration."
Democratic voters may now feel a renewed sense of confidence in Warren's ability to go on the attack against Trump's agenda. Her willingness to take high-profile and resolute stands in defense of liberal causes is a key part of her appeal to progressives. And her confrontation with Mitch McConnell on Tuesday stands as a show of force that she remains committed to fighting the GOP in the age of Trump.
"This Coretta Scott King moment, and her leadership at Logan airport, re-confirms that Warren is one of the leading lights and main spokespeople for both the progressive movement and the Democratic Party," said Adam Green, a co-founder of the Progressive Change Campaign Committee. Green added that the event has "energized the grassroots base, and many others, and shown the public what a Democrat with backbone looks like, which is exactly the signal we should be sending."
At the same time, the very quality that bolsters Warren's credibility on the left creates peril for the Massachusetts senator. If progressives deem her insufficiently oppositional at moments when they want to see her take a stand, they may be more likely to criticize her actions or become disillusioned precisely because they expect her to be outspoken and unwavering in her defense of liberal causes in the first place.
Part of the reputation Warren has built as a progressive fighter comes from her  track record of opposition to Trump stretching back before his presidency. She was extremely outspoken against him during the 2016 presidential campaign, posting attacks to social media that went viral and rallied Democrats against the Republican presidential contender.
Still, the more the spotlight shines on Warren in the Senate, the more Democratic voters may look to her to escalate the fight against Trump's agenda. There will be plenty of tests ahead of whether, and to what extent, Warren will remain steadfast in her opposition. For now, she is likely to face intense pressure from progressives to do everything she can to fight back as the Senate continues to vote on Trump's nominees, and gears up for consideration of the president's Supreme Court nominee, who Warren has already said she opposes, to fill a vacancy on the high court that Republicans prevented President Obama from filling.
"We want to see Elizabeth Warren, and the entire Democratic caucus, do everything in their power to resist for the next four years, and that means drawing out every fight against these nominees as long as they can," said Ben Schreiber, a senior political strategist at progressive environmental organization Friends of the Earth, adding: "We were absolutely disappointed by her support for Ben Carson."
Warren has already been highly critical of many of the Trump's cabinet choices. In addition to voting against the DeVos nomination, she voted against the president's choice for  Secretary of State, CIA director, Homeland Security Secretary, and was one of only six Democrats to oppose Transportation Secretary Elaine Chao. Warren hasn't opposed every cabinet nominee, but neither has any other Senate Democrat. Ben Carson's nomination, meanwhile, was unanimously approved by the Senate Banking committee of which Warren is a member.
The senator is often mentioned as a potential Democratic contender for the 2020 presidential nomination. If she is able to capitalize on the current desire for opposition to Trump among Democratic voters, and further cement her status as a leader within the party, she may be able to use her influence to push Senate Democrats further to the left, while continuing to build her national profile and base of support.
On the other hand, the more Warren exerts her influence, the more she may find her actions under scrutiny from a Democratic base that will judge her harshly if they believe even for a second that she's selling out the opposition. And the harder she fights, the higher those expectations may become.