Obamacare's Unlikely Defenders
The prospect of losing coverage and jobs has jolted a marginalized workforce into political organizing.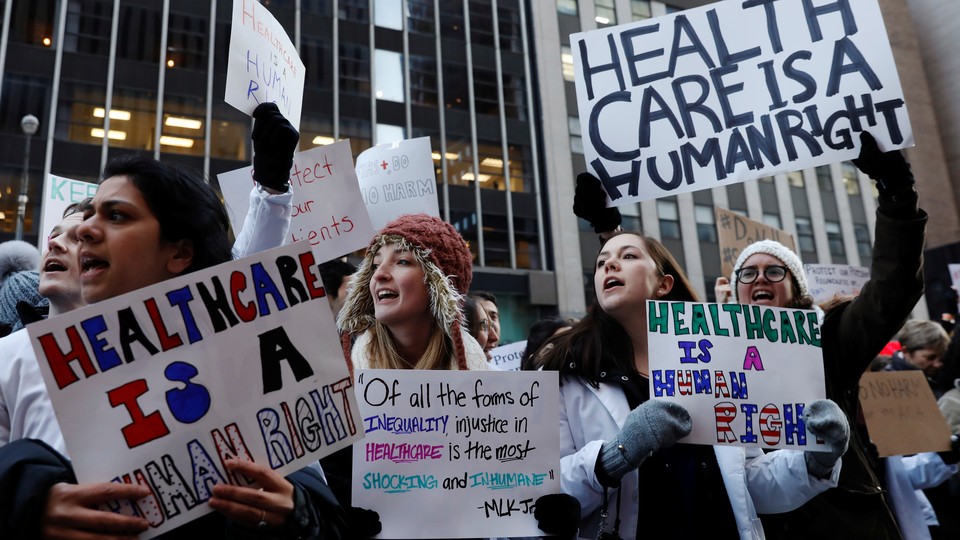 The story of the first days of Donald Trump's presidency has been one of protests. Through a whirlwind of two weeks of executive orders, lies, debates over crowd size, travel bans, confirmation hearings, and self-contradictory statements from the White House, the one constant in the narrative so far has been a new activation of opposition to the president's agenda; a mobilization that in terms of scale, volume, and diversity hasn't often been seen in American politics.
The health-care protests have been more low-key demonstrations than the women's marches or airport sit-ins, but have also been the most consistent sources of pressure at every level of government. There have been marches, rallies, town halls, and letter-writing campaigns across most states to save the health law that provided coverage for 30 million Americans. Just after the election, Californian patients and physicians rallied around a Los Angeles medical center to demonstrate their concern about the economic effects of repealing the law. In early January, coordinated Obamacare protests in several cities launched in advance of Trump's inauguration, and scenes of angry voters of all political persuasions at town halls since then have made the point clear: Any law that reduces the number of insured people will be met with fierce resistance.
On Tuesday, the pro-Obamacare protests reached the U.S. Capitol. A group of protesters, organized in part by the Service Employees International Union, launched a sit-in outside the offices of Senate Finance Chairman Orrin Hatch. They were demonstrating both in opposition to a potential repeal of the Affordable Care Act and against Trump's nomination of Representative Tom Price, an ardent Obamacare opponent, to run the Department of Health and Human Services. After a day of protesting and obstruction, Capitol Police arrested 47 demonstrators.
The striking thing about this group was not necessarily their raucous protests or their decision to choose arrest as an end to their demonstration—congressional buildings have seen more than their fair share of protesters and arrests over the last two weeks—but just who was doing the protesting. Among the people I talked to about the protest were several first-timers and people whose very lives and livelihoods were at stake with a new health law.
For Vernette Mahone, a Michigan-based home-care provider for seniors and people with disabilities, the protest was a chance to advocate both for herself and for her patients. "It affects the people I care for, and affects me as a worker because home-care workers don't usually have insurance," Mahone told me. Medicaid and other public insurance programs are essential for the health of low-income people with disabilities, and in turn those programs pay home-care workers for necessary services. Obamacare provides for the expansion of Medicaid to many low-income people, and also provides subsidies for private insurance for those in slightly higher incomes who don't have insurance from their employers. Often, home-care providers are in similar socioeconomic situations to their patients and also don't have guarantees for health insurance from employers, so programs like Obamacare both pay them and provide them with health insurance.
Tonia McMillian, a licensed family childcare provider and organizer from Los Angeles, agrees with Mahone, and also sees her protest as a fight for essential rights. "I happen to be one of those folks who has benefitted tremendously from the ACA, and it's extremely important for me to get out here and protect my health care," McMillian told me. "I have a pre-existing condition, I have a thyroid condition, and before I got my health care, I would sign up with a health care plan—Kaiser, blue cross—long enough to see a doctor, long enough to get a prescription, get my medication, and then I would drop that health-care plan." With her condition, premiums were too much of a monthly financial burden, and like many people who spend most of their time uninsured, McMillian only chose to seek coverage and care when in crisis—paradoxically, when coverage was most expensive. Subsidized health insurance through the ACA, McMillian said, not only provides the health-care security that she long sought, but also gives her financial stability.
Both Mahone and McMillian, as well as most of the protesters on the Hill Tuesday, belong to a growing movement of home-care workers in the United States. These workers provide vital in-home services for elderly people, disabled individuals, and children, but like all other in-home and domestic workers have historically faced challenges including low wages, exclusion from labor movements and labor regulations, lack of insurance, and abuse. Like most of this workforce, Mahone and McMillian are both women of color, and women of color are especially vulnerable to both labor exploitation and to being excluded from affordable health-care. They were also one of the major beneficiary groups for the benefits of Obamacare.
Beyond the policy specifics, protests like Tuesday's sit-in also signal the mobilization of groups of people who had not previously felt empowered in politics. Domestic workers and home-health workers form a rising constituency of vocal opponents of Trump, and they often do so at some personal peril. A large portion of the workforce is composed of immigrants—many of them undocumented—who fear reprisal or deportation for engaging in public protests. After decades of exclusion from other labor organizations, groups like the National Domestic Workers Alliance began to take root over the last few decades, but the organizers I spoke to see a new urgency in the current political moment, and cause to speak on behalf of their more vulnerable constituents. "I can't even imagine what it's like for folks who can't be out here and are going to lose more than I'm going to lose," McMillian told me.
With Price's likely confirmation  on the horizon and the prospects of some kind of Obamacare repeal still possible—and as Trump's daily threats to immigrants continue—these protesters say they'll keep protesting. They also see themselves as a vanguard for millions of other vulnerable and low-income people who have long lacked the social protections and resources for sustained activism. As Mahone said, "I'm here here standing for 30 million recipients of Obamacare, and soon they'll be standing here too."