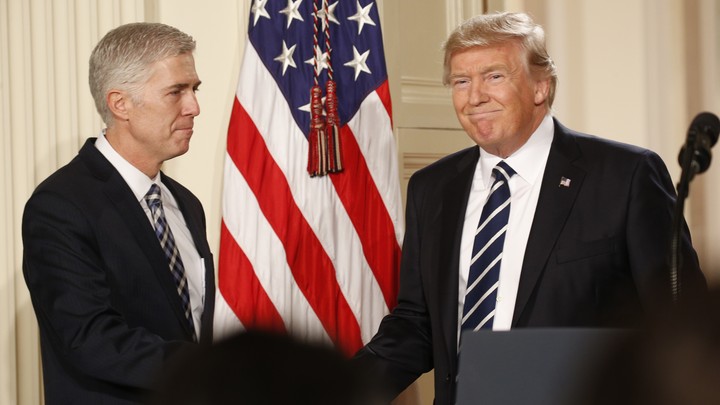 The rave reviews from the right began coming in within minutes of President Trump's announcement that he was nominating Neil Gorsuch to the Supreme Court. Senator Ted Cruz called the pick a "home run." Senator Lindsey Graham joked giddily that he was "mucho happy." Senator Ben Sasse tweeted, "Let's confirm him tonight."
And though it may have been a bit ungodly, former Arkansas Governor Mike Huckabee—a one-time Baptist minister who caught flack during the campaign from some fellow conservatives for supporting Trump—couldn't resist gloating. "Will the 'Never Trumper' skeptics now acknowledge that @POTUS is doing exactly what he promised?" Huckabee wrote on Twitter. "Gorsuch: another promise made, promise kept."
The general elation, and relief, among conservative Christians was understandable. For many of them, supporting Trump in 2016 had constituted a deal with the devil—and on Tuesday night it paid off.
According to Election Day exit polls, one in five voters identified the Supreme Court as "the most important factor" in determining who they would pull the lever for. Many of those people were white evangelicals who had winced at Trump's rhetoric, cringed at his Biblical illiteracy, sighed at his less-than-holy personal life—and then voted for him anyway, believing that the next president's most important responsibility was to replace Antonin Scalia with a conservative justice who would protect their religious freedom and fight abortion from the bench.
It was a risky bet. Yes, the Trump campaign had released a list of conservative-think-tank-approved jurists from which the candidate promised to make his Supreme Court selection. But his record had supplied the religious right with ample reason to distrust him.
Eric Teetsel, a Kansas-based evangelical and former faith adviser to Marco Rubio, was among the skeptics. "Donald Trump is a liar," he told me last year in an interview the week after the Republican convention. "He'll burn us like he has burned everyone else in his life." But when I checked back in with Teetsel on Tuesday night, he seemed humbled—and impressed. "I think it's fair to say that people who voted for Trump believing that the Supreme Court was the most important thing should feel vindicated tonight."
Indeed, it's hard to imagine how Trump could have given the right a more crowd-pleasing nominee than Gorsuch—a reliably conservative, 49-year-old jurist with impeccable credentials and an originalist bent. In his most famous ruling on the Tenth Circuit Court of Appeals, he voted in favor of Hobby Lobby, a family-owned chain of craft stores that argued the Affordable Care Act's contraceptive mandate was a violation of their religious liberty. If all goes according to conservatives' plans, Gorsuch could spend the next several decades on the bench extending Scalia's legacy, and building one of his own.
For Hogan Gidley, a Republican strategist who has advised Huckabee and Rick Santorum, Trump's pick was a rare instance in which a politician actually kept a campaign promise to religious conservatives. "I think that evangelicals have been used and abused in multiple election cycles at multiple levels of government," he told me. "They get courted, they get promised a lot of things, and once the guy is in office, the results never come."
In this case, he said, "we're in the second week of an administration, and evangelicals already have something they demanded in exchange for their vote. ... This is a huge win for evangelicals."
Even in celebration, some social conservatives cautioned that Trump would have to continue proving himself to count on their support. "It's a big deal, but not carte blanche for the next four years," Teetsel said. While the president "has won some capital and goodwill" with the religious right, he said the real test of Trump's commitment will be what he does if he gets the chance to shift the ideological balance of the court by appointing a justice to fill another vacancy. Similarly, former Louisiana Governor Bobby Jindal told me that "this appointment is an important step, but there is still much work to do to undo the damage of the past eight years."
Gidley, however, was less restrained in his enthusiasm. "The only person that evangelicals will unequivocally follow is Jesus—but this move has gone a long way to solidify support through the next cycle."
We want to hear what you think about this article. Submit a letter to the editor or write to letters@theatlantic.com.
McKay Coppins
is a staff writer at
The Atlantic
and the author of
The Wilderness
, a book about the battle over the future of the Republican Party.