Conservatives to GOP: Hurry Up and Repeal Obamacare
With progress stalled, hard-liners have a message for wavering Republicans in Congress: Buck up and get on with it.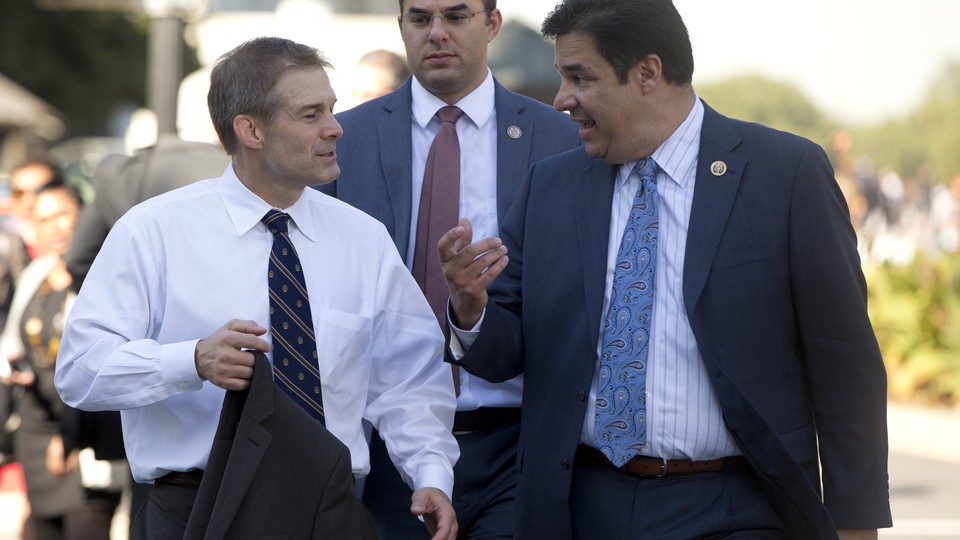 When it comes to the Affordable Care Act, Republicans in Congress right now are a bundle of nerves.
As Obamacare's supporters jam town-hall meetings across the country, GOP lawmakers in competitive states and districts are growing nervous about repealing the law without a replacement in hand. And conservatives in safer seats are getting nervous that their colleagues are losing their resolve.
"Members of Congress are scared. All the time," Representative Raúl Labrador of Idaho told reporters on Tuesday, by way of explaining why the Republican-led Congress seems no closer to keeping its pledge of repealing Obamacare than it was the day after Donald Trump won the presidency in November.
Sensing that the momentum for full repeal was slipping, conservatives in the House Freedom Caucus and the Republican Study Committee—which together comprise the bulk of GOP lawmakers in the House—this week adopted a position that they would not support legislation that fell short of the bill Republicans passed in 2015 that repeals most, but not all, of the key provisions of the 2010 law. Then-President Barack Obama vetoed the bill, but with Trump in the White House, its path should be clear.
In drawing that line, conservatives wanted to send a message both to House and Senate leaders and to rank-and-file lawmakers who may be going wobbly: Let's get on with it. "We believe we need to fulfill our promise we made to the American voters, which is we need to repeal the Affordable Care Act," Representative Mark Meadows of North Carolina, chairman of the Freedom Caucus, said in an interview. The easiest move, Meadows said, is simply to vote on the same bill nearly all Republican members supported in the past—whether or not the party has agreed on the law that would replace it. "Allowing a long debate before a repeal vote is taken," Meadows told me, "just postpones the difficult decisions that we all must make on what a replacement plan needs to look like."
The problem for conservatives is that what seemed simple in the abstract two years ago is far more complicated now that Republicans are confronted with the consequences repeal could have both on their constituents and on a teetering insurance market that is anxiously waiting to see what Congress will do. Republicans initially wanted to repeal the Affordable Care Act first and then delay its enactment while they wrote a new law. But under pressure from Trump, party leaders are now looking to include as many replacement policies as they can in the first bill while still adhering to Senate budget rules that would allow them to circumvent a Democratic filibuster.
"We need to try to replace as much as we possibly can at the same time," Senator James Lankford of Oklahoma said in an interview.
Conservatives want a speedy replacement for Obamacare, too, but they're increasingly concerned that the search for one will bog down the whole process. "These conversations are extraordinarily important and have to be grappled with, but they are slowing down the momentum for repeal," said Dan Holler, a spokesman for Heritage Action, the conservative group that has taken among the hardest lines against Obamacare over the last several years. Activists on the right have watched as Republicans have missed their early timetables for voting on repeal; at one point, conservative lawmakers had talked about legislation passing both the House and Senate in time for Trump to sign it in his first days in office. Now, House leaders want to vote by early March on repeal legislation, but it's not clear they'll meet that deadline. The Senate is even further behind.
"You're starting to see a lot of anxiety from folks on the Hill, folks on the outside, that repeal could be slipping away," Holler said. The delay, he argued, had allowed supporters of the law to get organized and flood Republican constituent events in a manner reminiscent of the Tea Party uprising eight years ago. Republicans, he said, had yet to respond in kind. "That's a problem," Holler said.
The anxiety of rank-and-file Republicans spilled out in a secretly recorded private strategy session at the party's annual policy retreat in Philadelphia last month, where members fretted about the potential political fallout of a rapid move to undo the law. Several key Republican members of the Senate aren't even talking about reviving the 2015 bill, which may no longer have the votes to pass even if Majority Leader Mitch McConnell were to bring it to the floor. Senators Susan Collins of Maine and Lisa Murkowski of Alaska voted against the legislation the first time around, and the loss of just one more Republican would defeat it now.
Some lawmakers in both chambers are discussing plans that would maintain the tax increases in Obamacare as a way to fund the eventual GOP replacement. And a few Republican governors are lobbying Congress to maintain the expansion in Medicaid that, they say, has worked to lower the uninsured rate in their states.
Both of those policies, however, are nonstarters for the Freedom Caucus, whose three dozen members have the power to effectively veto legislation in the House if they stick together. "We would vote against it," Meadows told me, referring to plans that maintained the Obamacare taxes or Medicaid expansion.
Top Republicans have been scrambling this week to keep the repeal push on track. Vice President Mike Pence hit the Capitol to meet with members of the Freedom Caucus and the moderate Tuesday Group, among other coalitions. And House Speaker Paul Ryan addressed concerns of Senate Republicans at their weekly lunch meeting on Tuesday. "The concern really is that there will be some bill that shows up the night before the vote and that everyone has to determine 'yes' or 'no' on repealing Obamacare," Lankford said.
GOP leaders have vowed to try not to jam legislation through Congress in the same way they accused Democrats of doing when they passed the Affordable Care Act in 2010. (In reality, the law underwent hours of hearings, several votes, and more than a year of debate.) But the warnings of caution from the Senate are clashing with the dwindling patience of conservatives in the House. "This is black-and-white for many of us, and we've got to move with some kind of urgency," Representative Mark Walker of North Carolina, chairman of the Republican Study Committee, told me. "It's just time to get this thing moving."
Lawmakers are also waiting on a long-promised health-care plan from the Trump administration, although they don't expect it to contain many details. Under newly installed Secretary Tom Price, the Health and Human Services Department announced a series of proposed changes sought by the insurance industry on Wednesday aimed at stabilizing the Obamacare marketplaces while lawmakers work to repeal and replace the law in full. If adopted, the rules would limit special enrollment periods and tighten eligibility requirements for enrollees—moves that the administration hopes will prevent more insurers from leaving the exchanges in 2018.
The question now is when Republicans in Congress will follow through with legislation to eliminate the Affordable Care Act entirely. And it's one that Republicans are asking not only in the Capitol, but on the other end of Pennsylvania Avenue as well. "We're working on Obamacare, it's going to be very soon," President Trump said on Tuesday afternoon as he signed an unrelated bill at the White House. Then, according to a pool report, the president turned to the man standing behind him, Speaker Ryan, and asked: "Right?"