One Press Conference, Two Audiences
Viewers who watched it themselves saw a rambling, misleading performance. But those who relied on conservative cable newscasts or talk radio hosts got a very different impression.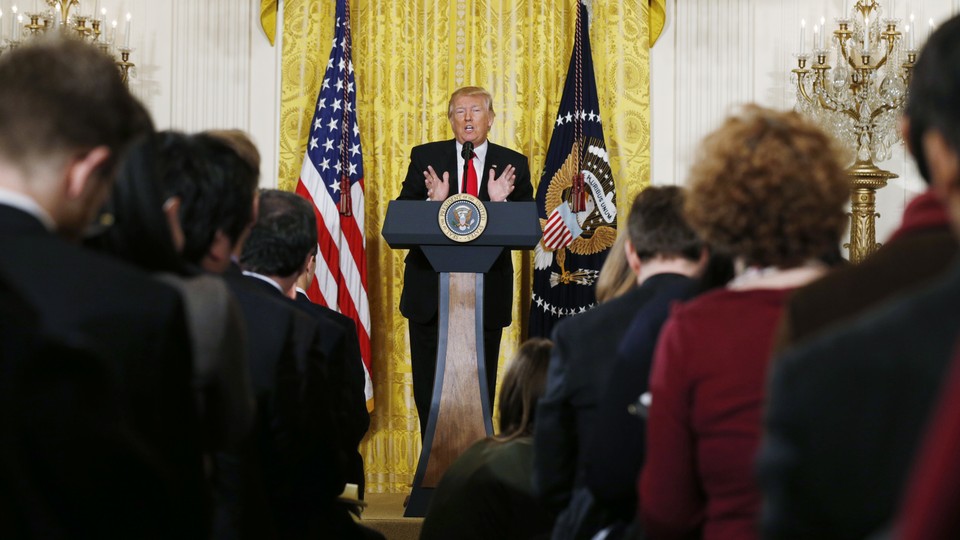 On Thursday, Donald Trump gave a press conference that was rife with untruths and evasions. Let's begin with specific examples of demonstrable falsehoods, so that readers who are favorable to the president won't have to trust my characterization:
Bragging about all the electoral votes he won, Trump said, "We got 306 because people came out and voted like they've never seen before so that's the way it goes. I guess it was the biggest electoral college win since Ronald Reagan." That is false. As CBS News notes, "In 2012, President Obama defeated his GOP rival, Mitt Romney, with 332 electoral votes. In 2008, Obama won the election against Sen. John McCain, R-Arizona, with 365 electoral votes. In 1996, President Clinton defeated Republican Bob Dole with 379 votes. In 1992, Clinton won against President George H.W. Bush, the incumbent, with 370 electoral votes. In 1988, Bush won the presidency with 426 votes." And Trump even misstated how many votes he won. It was 304.
"Let me tell you about the travel ban," Trump said, referring to the executive order that his press secretary, Sean Spicer, heatedly said wasn't a travel ban. "We had a very smooth rollout of the travel ban. But we had a bad court. Got a bad decision." Even apart from multiple unfavorable court rulings, the roll-out was anything but smooth. There was massive confusion about whether the surprise policy would affect permanent U.S. residents with green cards. Many were detained or turned away as protesters flocked to airports. Later the administration reversed itself. Ben Wittes went deep in the weeds on the rest of the incompetent, dysfunctional implementation of the order. Trump later said, "the only problem that we had is a bad court. We had a court that gave us what I consider to be, with great respect, a very bad decision. Very bad for the safety and security of our country. The rollout was perfect."
Trump was asked, "Can you say whether you are aware that anyone who advised your campaign had contacts with Russia during the course of the election?" He said aside from Mike Flynn, the answer is no. In fact, he went even farther. "Russia is a ruse. I have nothing to do with Russia. Haven't made a phone call to Russia in years. Don't speak to people from Russia. Not that I wouldn't. I just have nobody to speak to. I spoke to Putin twice. He called me on the election. I told you this. And he called me on the inauguration, a few days ago. We had a very good talk, especially the second one, lasted for a pretty long period of time … I have nothing to do with Russia. To the best of my knowledge no person that I deal with does. Now, Manafort has totally denied it. He denied it. Now people knew that he was a consultant over in that part of the world for a while, but not for Russia. I think he represented Ukraine or people having to do with Ukraine, or people that—whoever."
In doing so, Trump effectively denied the veracity of a recent New York Times report asserting, "phone records and intercepted calls show that members of Donald J. Trump's 2016 presidential campaign and other Trump associates had repeated contacts with senior Russian intelligence officials in the year before the election, according to four current and former American officials."
I don't know if Trump or his team are guilty of any wrongdoing with regard to Russia. But Trump's statement that he has "nothing to do with Russia" elides the fact that Trump made millions partnering with a Russian billionaire, Aras Agalarov, to host the Miss Universe pageant in Moscow in 2013. And in April 2016, when his campaign hosted an invitation-only campaign speech in Washington, D.C., that focused on foreign policy, Russian ambassador Sergey Kislyak attended Trump's speech and sat in the front row.
As for people that he deals with, Rex Tillerson, his new secretary of state, was longtime director of a U.S.-Russia oil firm, and was awarded the Russian Order of Friendship by Vladamir Putin. "Carter Page, an early foreign policy adviser to Donald J. Trump who was scrutinized by the F.B.I. on suspicion of private communications with senior Russian officials over the summer, was back in Moscow on Thursday," the New York Times reported in December. Page, Flynn, and Manafort all resigned over murky Russia ties.
Perhaps this is all a series of innocent coincidences. But Trump misleads Americans into thinking there is no valid reason for suspicion when he falsely claims outright that neither he nor any person he deals with has ties to Russia.  
After watching Trump tell untruths, exaggerate, and mislead, attacking reporters all the while as if they were the problem, rather than a White House with more leaks, backstabbing and dysfunction than any since Nixon, Shep Smith of Fox News got exasperated:
Even Fox News viewers tuning in at that time of day were apprised that Trump's press conference was unusually rife with misinformation of various kinds. If you're reading this article you've likely already come across other examples, or been exposed to analysis of the news conference that highlighted Trump's untruths.
But it is important to understand that millions of Americans got a vastly different impression of what happened. Here is how Rush Limbaugh summed it up for his listeners:
Folks, it was masterful. It wasn't scripted. It was nothing that the president had to think long and hard about. He didn't have to make notes and memorize them and go out. It was improv. It was spontaneous. We had a caller in the last half hour who mentioned how good that was. It was the truth. When you've got the truth and when you're telling people the truth of what you really think, you don't have to remember it.

It's in your heart. It's like anything else you believe, you don't need a cram course on what you believe. You don't really need advisers to tell you what you believe. You believe it, it's in your heart, it's in your mind, and you can easily explain it to people, you don't have to remember it. And that's who Donald Trump was today. And they came at him from everywhere.
Here is what Sean Hannity told Fox News viewers who didn't flip on their TV until later in the evening:
Limbaugh and Hannity have been misleading their sizable audiences daily for years. That is nothing new. Perhaps there are members of those audiences who also read The Daily Caller or The Federalist. But those outlets see their role as a counterweights to the mainstream media. Relatively little of their press criticism aims at the right, and both would also like to have their staffers invited onto Fox News regularly.
Here's how The Drudge Report spun its audience: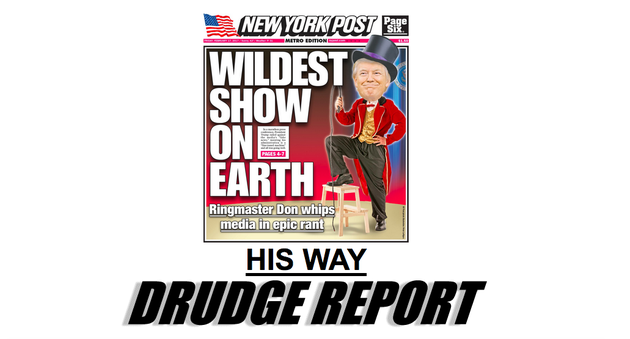 Inside the New York Post, in a column titled, "Sorry media — this press conference played very different with Trump's supporters," Michael Goodwin gave POTUS a good review:
Far from dead, he was positively exuberant. His performance at a marathon press conference was a must-see-tv spectacle as he mixed serious policy talk with stand-up comedy and took repeated pleasure in whacking his favorite pinata, the "dishonest media."

"Russia is a ruse," he insisted, before finally saying under questioning he was not aware of anyone on his campaign having contact with Russian officials.

Trump's detractors immediately panned the show as madness, but they missed the method behind it and proved they still don't understand his appeal. Facing his first crisis in the Oval Office, he was unbowed in demonstrating his bare-knuckled intention to fight back. He did it his way. Certainly no other president, and few politicians at any level in any time, would dare put on a show like that. In front of cameras, and using the assembled press corps as props, he conducted a televised revival meeting to remind his supporters that he is still the man they elected.

Ticking off a lengthy list of executive orders and other actions he has taken, he displayed serious fealty to his campaign promises. Sure, sentences didn't always end on the same topic they started with, and his claim to have won the election by the largest electoral college margin since Ronald Reagan wasn't close to true. Fair points, but so what? Fact-checkers didn't elect him, nor did voters who were happy with the status quo.
Back in October, in "How Millions of Good People Can Vote Differently Than You Will," I asked readers to imagine that they are someone else from a different family and city:
All your friends are totally different in their personal backgrounds, education levels, and political leanings. You've never once read any of the newspapers or magazines that you read, let alone the individual articles that have influenced you the most during this election; in fact, you get almost all your news from television, mostly from channels or shows that you've almost never watched in your current life. The unfamiliar hosts highlight totally different stories. Finally, imagine that your social media feeds are populated by media content and commentary from friends that is 97 percent different. You believe multiple lies you now know to be true and know truths you regard as lies.  
Since then, I have written a series of articles arguing that if members of the coalition that opposes Donald Trump want to persuade the public, they'll have to resist the temptation to vilify all his supporters, and to formulate a strategy that includes earnest efforts at loving outreach and persuasion.
Perhaps the divergent coverage of Thursday's press conference helps to illustrate that a great many of those people aren't seeing the same information as those who oppose Trump—they are being fed lies and untruths by coastal-dwelling millionaires like Hannity and Limbaugh; and they exist at a time when even more responsible right-leaning outlets that make up their information bubble are unlikely to target the lies they encounter, and in a culture where a columnist like Goodwin sees what's going on and celebrates it as Trump playing the game well.
The American right complains about the media as much as any ideological movement ever has, even as it wallows in a right-of-center media ecosystem far more dishonest and less rigorous than The New York Times on its worst day. Some of its most popular figures pander and mislead and constantly vilify the other side. Insofar as that other side writes off their entire audiences, the populist right-wing will keep winning. Its Achilles' heel is that it relies on blatant misinformation to win. Can conservatives or libertarians or liberals pierce the bubble? Are they even trying?