Arch-Troll Milo's Mini Apology Tour
The provocateur at the center of the controversy that engulfed the right this weekend offers a qualified mea culpa.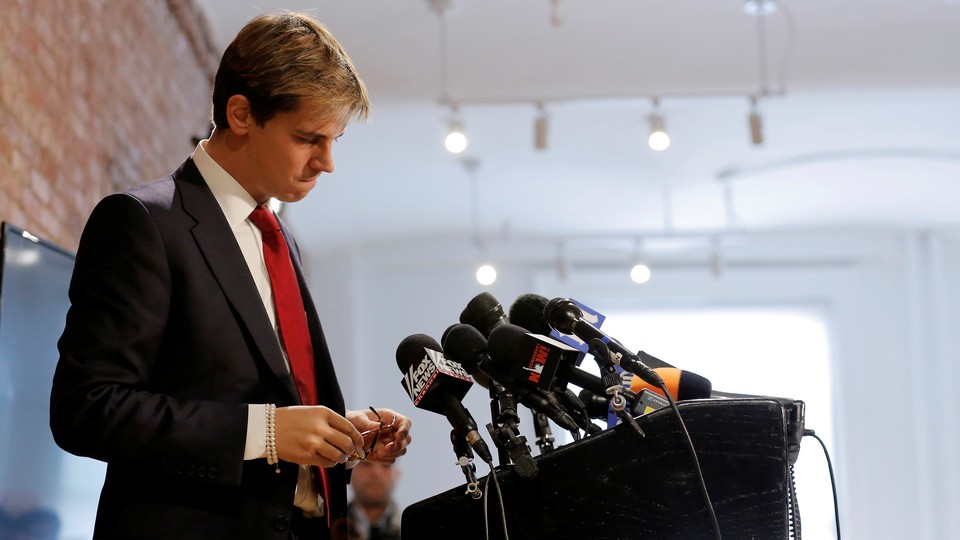 NEW YORK—Milo Yiannopoulos has a new mode, and it's contrition.
Yiannopoulos appeared before reporters on Tuesday in a rented Soho loft to announce his resignation from Breitbart News and apologize to abuse victims for over-a-year-old remarks on pedophilia that incited a political firestorm over the weekend. Wearing a conservative navy blue suit and sunglasses, which he switched to regular glasses shortly into the conference, Yiannopoulous read a prepared statement in which he said he had been the victim of sexual abuse between the ages of 13 and 16. Yiannopoulos said he was "partly to blame" for the remarks on the tape and that he was "certainly guilty of imprecise language."
"I haven't ever apologized before," Yiannopoulos said. "I don't anticipate ever doing it again. Name-calling doesn't bother me, misreporting doesn't bother me. But to be a victim of child abuse and for the media to call me an apologist for child abuse is absurd. I regret the things I said. I don't think I've been as sorry about anything in my whole life."
The mea culpa is an unprecedented climb-down for Yiannopoulos, a British-born media personality who has made a career of giving gleeful offense as Breitbart's technology editor and has become notorious for the protests he attracts at the stops on his "Dangerous Faggot" campus tour.  He was suspended from Twitter last summer during the Republican National Convention for leading a racist harassment campaign against comedian Leslie Jones, and turned up at a "Gays for Trump" party in Cleveland that same night wearing a bulletproof vest.
This week was supposed to be a triumphant one for him. Yiannopoulos was invited to give a speech at the Conservative Political Action Conference, the most important annual gathering on the right. Yiannopoulos' ideology mostly amounts to trolling the left—and he had even been on Bill Maher's HBO show this past weekend saying he doesn't know if he is a conservative. But that didn't seem to matter. The violent protests at the University of California, Berkeley that had shut down a recent tour date there had not only attracted support for Yiannopoulos from President Trump, but had cemented his status as a free-speech martyr on the right.
CPAC has always had a bent towards inviting outrageous speakers. It was at CPAC in 2007 that conservative pundit Ann Coulter called John Edwards a "faggot." But the Yiannopoulos invite was illustrative of the dilemma facing small-government conservatives right now as their movement struggles to stay relevant in the face of an ascendant nationalist right spearheaded by Trump. In CPAC's invitation to Yiannopoulos,, conservative critics saw a desperate ploy for relevance in embracing the white nationalist "alt-right" movement that many associate with him. The episode was yet another skirmish in the ongoing civil war that has gripped the right in the age of Trump.
Matt Schlapp, the chair of the American Conservative Union which organizes CPAC, at first offered an unqualified defense to those criticisms. "We think free speech includes hearing Milo's important perspective," Schlapp tweeted on Feb. 18 in announcing the speech. Responding to a critical tweet from National Review's Jonah Goldberg, Schlapp tweeted on the 19th, "Jonah 1st amendment is dead on campus. Conservatives should fight back. As radioactive as milo is he is fighting back."
The backlash to the invitation came quickly. On Feb. 19, a Twitter account called @ReaganBattalion tweeted a video of Yiannopoulos appearing to defend adults having sex with minors during an appearance on a radio show. The clip had been online for over a year but had not attracted widespread attention. On Sunday, Schlapp announced that Yiannopoulos' invitation had been rescinded. On Monday, Simon and Schuster, where Yiannopoulos had recently signed a reported $250,000 book deal, canceled the book's publication.
All eyes then turned to Breitbart, which had been silent on the scandal since it began. Some in the Breitbart rank-and-file, not all of whom are fans of Yiannopoulos, were unhappy; "people are struggling to know what to think," one Breitbart reporter who spoke on condition of anonymity told me on Tuesday, before the resignation. "The company hasn't been communicating with anyone over this." Two top editors mused about Milo's future while hosting Breitbart's satellite radio show on Tuesday morning, with editor-in-chief Alex Marlow calling Yiannopoulos' comments "indefensible." By Tuesday afternoon, it was clear that Yiannopoulos' position had become untenable.
Yiannopoulos declined to answer a direct question at his press conference on Tuesday about whether his resignation had been demanded, or if he had given it freely.
"Alex [Marlow] has been nothing but supportive," Yiannopoulos said, and said he would keep the specifics of his resignation process "confidential."
Yiannopoulos said that other publishers had expressed interest in his book,  that it would still come out this year, and that he intended to launch his own independently funded media venture. And he said he would add new dates to his college tour.
There were hints of a planned reinvention into something a bit less hard-edged; "my full focus is now going to be on entertaining and educating everyone, left, right and otherwise," Yiannopoulos said.
It's unclear how Yiannopoulos will fund his new venture, and on this topic he was vague, saying "We have some preliminary funding for that, I expect to be raising more." Yiannopoulos had appeared to be moving away from a day-to-day role at Breitbart for some time; his Facebook page, for example, mostly includes links to his own website.
Yiannopoulos' finances have mostly been opaque; last year he told Bloomberg that he had a staff of 30 costing $1 million a year, and that he was benefiting from political donors and family money. He told Bloomberg that his college tour would cost $1 million.
The timing of the tape that brought down Yiannopoulos reeked of a coordinated oppo dump, and the clip had been circulating in conservative circles for months. But it was sitting there on YouTube this whole time for anyone to find.
Yiannopoulos' allies, like "new right" blogger and Twitter personality Mike Cernovich and Infowars editor-at-large Paul Joseph Watson, complained of a coordinated plot to bring him down. "It's clear he never processed his molestation. Everyone is in attack mode," said Cernovich. "Concern for victims has disappeared. Amazing how this game works. It's a dirty game." Yiannopoulos himself referred to a "highly coordinated and very well planned and well funded attack on me" during his press conference. Another alt-right Twitter personality, Jack Posobiec, claimed that $250,000 had been spent on the effort to take down Yiannopoulos and alleged that conservative anti-Trump presidential candidate Evan McMullin had been involved.
There's no evidence of any of that. But who did order the code red on Milo? The incident raised questions about the Twitter feed responsible for injecting it into the Washington bloodstream this weekend, @ReaganBattalion. A person running the @ReaganBattalion feed told me in a Twitter direct message that it is a "handful of conservative-minded commentators who oppose the extreme crazies who try to hijack the movement."
"We were pointed to it by one of our followers," the account said. Asked if it had more on Yiannopoulos, it said, "we do," but added later that "We have no intention of releasing any of it as long as he does not present himself as a spokesman for conservatives."
On Tuesday, the Reagan Battalion started referring my questions to a spokesman, a pro-Trump New York political operative named Yossi Gestetner, who said that the account was run by "a group of four conservatives" who don't want to go public because they have received threats. Gestetner said he was being paid but that he didn't know details about the group's finances. The group's "focus is conservatism," he said. "When they see Trump doing Conservative things they praise; when he does not they speak out."
After speaking and taking questions for a little under 30 minutes on Tuesday, Yiannopoulos was whisked out of the building. He later updated his Facebook page again. "They have not killed me," he said. "They have only made me stronger."