The New Legislation Targeting Protesters
Republican lawmakers in more than a dozen states are mulling bills that target recent protesting tactics.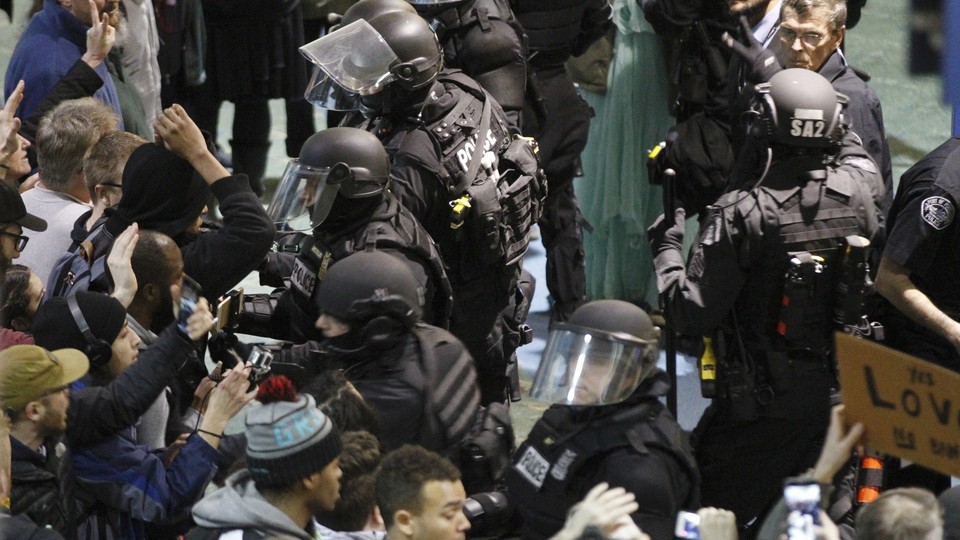 Political protests are often designed to provoke a response from elected officials. But in some states, the reaction from state legislators is turning hostile.
A wave of bills aimed at curtailing protests and demonstrations has started to make its way through state legislatures across the country. A Washington Post analysis found at least 18 states where Republican legislators have either proposed legislation that targets certain protest tactics, sought to increase penalties for illegal protests under existing law, or publicly discussed pursuing such measures.
The proposed measures come amid a revival of disruptive protests. High-profile police shootings led the Black Lives Matter movement to hold dozens of rallies in cities across the country over the past three years. Thousands of Native American activists gathered at Standing Rock, North Dakota, over the past year to protest the construction of the Dakota Access Pipeline near Sioux lands. (The Obama administration briefly halted construction in response to those protests; the Trump administration reversed that decision last month.) And crowd-size experts estimated last month that the Women's March on Washington and associated anti-Trump protests nationwide drew between 3.3 million and 4.6 million participants.
Some of the protest-related legislation has stalled in its early stages after public scrutiny. But other proposals, especially those in Republican-dominated state governments, could face an easier road to passage. The Arizona Senate approved one such bill in a party-line 17-13 vote last Wednesday. Senate Bill 1142 makes two key changes to state criminal laws: First, it expands the definition of rioting to include "damage to the property of another person." Second, it adds rioting to the list of offenses that could fall under racketeering.
State Democratic legislators warned that SB1142's provisions could theoretically be used in tandem to bring charges against peaceful protesters at a demonstration where other participants use violence. "I'm fearful that 'riot' is in the eyes of the beholder and that this bill will apply more strictly to minorities and people trying to have their voice heard," State Senator Andrea Dalessandro told the Arizona Capitol Times last week.
Their Republican counterparts disputed those claims, with State Senator John Kavanaugh telling the Capitol Times that it was aimed at "full-time, almost professional agent-provocateurs [sic] that attempt to create public disorder." He also indicated the bill's racketeering provisions could be used by police to investigate protest organizers ahead of time. On Monday, the Republican speaker of the Arizona House said he wouldn't hear the measure, effectively killing the bill.
Arizona's SB1142 isn't the only piece of legislation in statehouses targeting recent tactics. One popular act of civil disobedience used by both Standing Rock protesters and Black Lives Matter demonstrators is blocking highway traffic. But the tactic also drew criticism from conservative lawmakers who say it endangers lives. In North Dakota, the state House considered a bill that would shift the liability burden from drivers who unintentionally hit protesters with their cars to the protesters themselves.
"This bill puts the onus on somebody who's made a conscious decision to put themselves in harm's way," Representative Keith Kempenitch, a Republican and the bill's sponsor, told the Star-Tribune in January. "You can protest all you want, but you can't protest up on a roadway. It's dangerous for everybody."
While the bill eventually failed on a 50-41 vote, legislators are mulling similar bills elsewhere. Tennessee lawmakers introduced their own civil-liability bill in February. After a group of protesters blocked traffic on Interstate 94 in St. Paul, Minnesota, last year to protest the death of Philando Castile, state legislators drafted a bill in January that could send future demonstrators to jail for a year for obstructing highways. Iowa's Senate File 111 would make blocking highways a felony offense with a possible five-year prison sentence.
In Washington, a version of the highway-protest bills came in response to environmentalist-led demonstrations that had targeted the oil industry. State Senator Doug Ericksen introduced Senate Bill 5009, also titled the Preventing Economic Disruption Act. It allows prosecutors to seek longer sentences against defendants who commit crimes that cause "economic disruption," which it defines as obstructing commercial vehicles or interfering with pipelines or oil-related facilities. Misdemeanor offenses are eligible for two to six months of additional time behind bars, while felony convictions could include an additional year in prison.
Ericksen, who also served as communications director for the Trump administration's Environmental Protection Agency transition team, compared the bill to a federal law that bars protesters from blocking access to reproductive-health clinics. "We know that groups are planning to disrupt our economy by conflating the right to protest with illegal activities that harm the rights of others," he said in a statement in December. "We need this legislation to protect the rights of all citizens." The bill is currently pending in subcommittee.
It's not certain how many of these proposed bills will make it into law. Some, like North Dakota's civil-liability bill and a Virginia measure that would have ramped up criminal penalties for being at an illegal protest, have already gone down to defeat after facing public opposition. And some of the bills that pass could still face tough scrutiny in the courts. But the proposals as a whole point to a more enduring dynamic: As mass protests return to the political zeitgeist, so too will efforts to clamp down on them.