A Brief History of the Senate Rule That Silenced Elizabeth Warren
The prohibition on impugning a fellow senator dates back to a fistfight in 1902. But it's an edict that is rarely, if ever, enforced.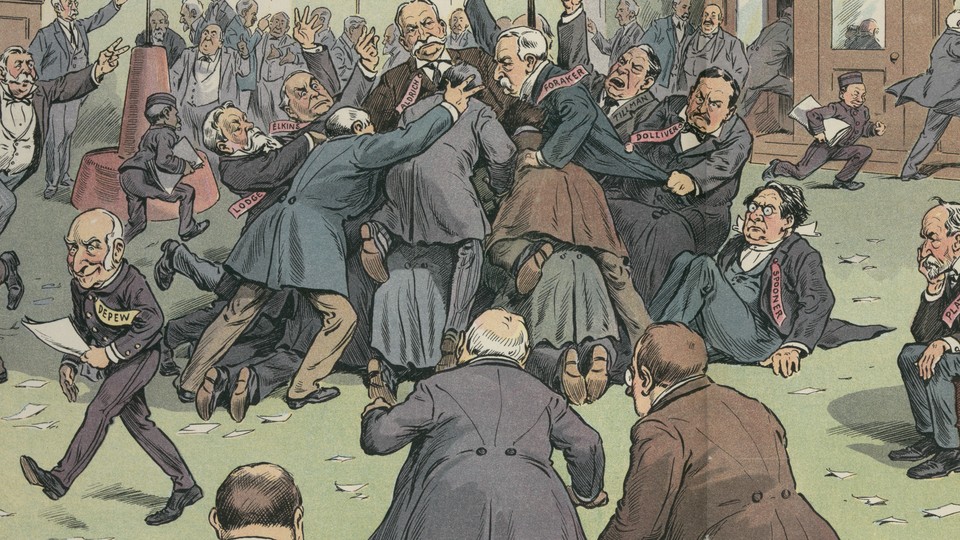 Updated on February 9 at 10:39 a.m. ET
Rule XIX—the suddenly infamous Senate edict that Republicans invoked Tuesday night to silence Elizabeth Warren—began 115 years ago with a fistfight in the Capitol.
In February 1902, the Senate was debating a bill related to the Philippines when Senator Benjamin "Pitchfork Ben" Tillman condemned his fellow South Carolina Democrat and onetime close friend, John McLaurin, for having switched his position to join Republicans in supporting the treaty that annexed the islands a few years earlier.* McLaurin, Tillman raged, had succumbed to "improper influences"; Republicans had showered him with perks and privileges, Tillman charged, and he had caved in return.
A former South Carolina governor whose statue still stands on the statehouse grounds, Tillman has drawn more recent attention for being a white supremacist who advocated until his death the lynching of black people who tried to vote. Back then, he was known for his outspokenness and his "less than courteous" manner of debating in the Senate. Alerted to Pitchfork Ben's comments, an incensed McLaurin "dashed into the Senate chamber and denounced Tillman's statement as 'a willful, malicious, and deliberate lie,'" according to a Senate history of the incident. Tillman responded by physically attacking McLaurin "with a series of stinging blows," the historians wrote, and efforts to separate the brawling Southerners "resulted in misdirected punches landing on other members."
When the dust settled, the Senate formally censured both men and passed a rule governing debate in the chamber that has stood to this day: "No Senator in debate shall, directly or indirectly, by any form of words impute to another Senator or to other Senators any conduct or motive unworthy or unbecoming a Senator."
The fight that led to Rule XIX was the not the first time fisticuffs had broken out in the Senate, nor even its most famous brawl. That would be the time in 1856 when Representative Preston Brooks—also, it turns out, from South Carolina—attacked the antislavery Senator Charles Sumner of Massachusetts after his "Crime Against Kansas" speech. (It is now also against the rules to impugn not only a fellow senator, but to "refer offensively" to any individual state.) But the 1902 quarrel is the one that's had the most lasting impact.
Jeff Sessions is President Trump's nominee for attorney general, but until the Senate votes to confirm him to that post, he is still one of its 100 sitting members—he remains, in the politesse of the world's greatest deliberative body, "the gentleman from Alabama." And as such, he is afforded a greater protection from insult than any of the president's other Cabinet nominees—even, in the case of Warren's words on Tuesday night, from accusations contained in a 30-year-old letter involving his conduct before he became a senator.
What it means to violate Rule XIX is, of course, highly subjective, and its enforcement is extremely rare. It is not uncommon for senators to receive warnings or informal reprimands for remarks that their colleagues consider over the line. Often senators withdraw their contested comments from the record. But on Wednesday morning, the Senate historian's office—which keeps extensive records on the chamber's proceedings—was searching to discover if the Senate had ever enforced Rule XIX as it did on Tuesday night, by voting to silence Warren for the remainder of the current debate. Gregg Giroux of Bloomberg uncovered an example that came close in 1979, when then-Majority Leader Robert Byrd of West Virginia worked out a truce between Senators Lowell Weicker of Connecticut and John Heinz of Pennsylvania after Heinz invoked Rule XIX against Weicker for calling him an "idiot."
McConnell said on Tuesday night that he sought a vote to silence Warren after she ignored warnings that reading from Coretta Scott King's 1986 letter about Sessions violated Rule XIX. But as Democrats quickly pointed out, the majority leader took no action in 2015 when he was the victim of an even more egregious breach of the rule. Then it was a fellow Republican, Senator Ted Cruz of Texas, who called McConnell a liar on the Senate floor. The Kentucky senator, Cruz charged, had told "a simple lie" when he said there had been no deal struck to reauthorize the Export-Import Bank as part of a broader transportation bill.
Burgess Everett of Politico reported that when Cruz attacked McConnell, other Republican senators wanted to invoke Rule XIX against him but that the majority leader urged them not to. Asked about that incident, McConnell spokesman Don Stewart said, "Rule 19 can't be applied retroactively." He also noted that McConnell wasn't on the Senate floor at the time and that it could not be applied in absentia. Two days after Cruz impugned McConnell, the Senate's presiding officer reminded members of the rule, but no vote against Cruz was taken.
Democrats cried hypocrisy. Senator Charles Schumer of New York, the minority leader, noted that senators had twice in the last week alone accused him of "fake tears" in responding to Trump's immigration order. And he referenced the words of Senator Tom Cotton of Arkansas—without naming him, of course—who last year called the leadership of Schumer's predecessor, Harry Reid, "cancerous" to the Senate.
"Every member on the other side of the aisle ought to realize that what they did to Senator Warren was selective enforcement," Schumer said. "It was the most selective enforcement of a rarely-used procedure to interrupt her, to silence her. And it was the only violation of the spirit of mutual respect and comity in this body that occurred last night."
As if to prove the point, another Democrat, Senator Tom Udall of New Mexico, rose on Wednesday to read the entirety of the very same letter against Sessions that Republicans rebuked Warren from reciting the night before. Before doing so, Udall asked for consent to enter the letter into the official Senate record. "Is there an objection?" the chair asked. No one spoke. "Without objection," the chair said, and it was done.
---
* This article originally misstated that the Senate had been debating the treaty to annex the Philippines at the time of the Tillman-McLaurin fistfight in 1902. We regret the error.