Can Women's Marchers Find a Way to Reconcile Their Differences?
Participants have confidence they can sustain the nascent movement's momentum. But racial and cultural divisions could threaten its future.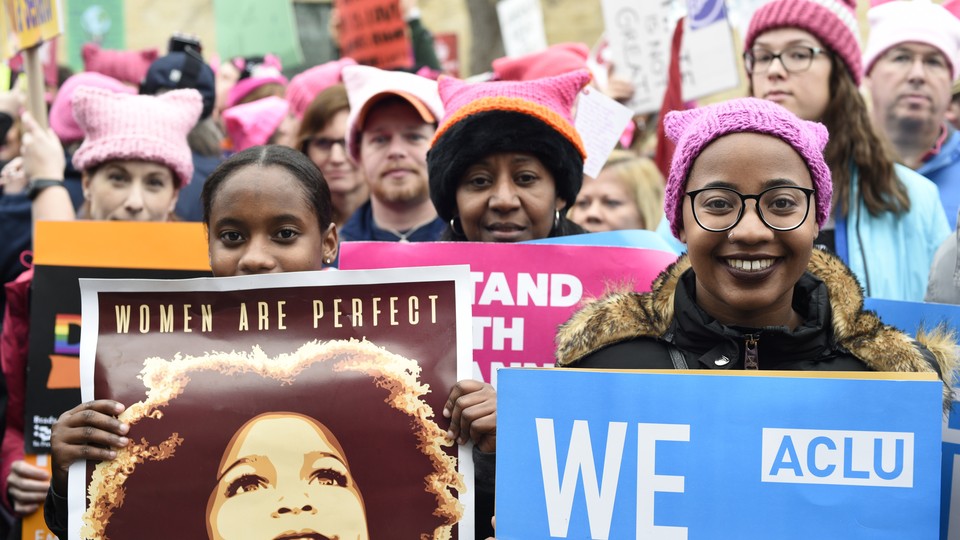 At the Women's March on Washington, one of the more striking moments came early on, during a speech from actress America Ferrera. She asked marchers, many of whom protested specifically against President Trump, to "refuse" his divisive rhetoric and the policy proposals that could disproportionately affect women, LGBTQ groups, and communities of color:
"The president is not America. His Cabinet is not America. Congress is not America. We are America, and we are here to stay. ... This is only day one in our united movement."
It was a call to action that forced listeners to consider what would happen after the march—a natural concern for pumped-up protesters bent on opposing Donald Trump, and one that hung over the event. The Women's March was unprecedented, with more than 3 million participants estimated worldwide. Yet the marchers face two major questions moving forward: Can Saturday's energy be sustained and channeled into political power? And could divisions among marchers weaken their efforts to fight against the new administration?
The principle issue among marchers is whether people will organize within their local communities after the excitement dies down. While Trump's victory triggered the event, liberal women's groups have long fought against conservative policies they believe limit women's reproductive and economic freedoms, among others. But they were unable to prevent the GOP from taking control of Washington and most state legislatures, so what makes the Women's March different? The activists I spoke with seemed confident that the reality of Trump's presidency will move more people to get involved.
"I don't think we are going to lose the momentum," said Terry O'Neill, president of the liberal National Organization for Women, one of the march's partner groups. "The people I spoke to at the march know we've got a long road. ... They know that we're going to lose a lot of battles in Washington, D.C. But they also know that there are really promising possibilities at the state and community level."
Community involvement could take different forms based on a person's options and interests. After the march, the organizers launched a "10 actions for the first 100 days" campaign, the first of which involved participants writing their senators, and Planned Parenthood held a training session for hundreds of activists. Some marchers also appear to be seeking out opportunities for activism on their own.
Abby Wright, 36, who traveled from Atlanta, Georgia, to march in Washington, was not involved in political activism prior to November. After the election, Wright said she wanted to contribute more to issues like education, which is an area she is passionate about. She has since joined her local parent-teacher association and is working on a website that seeks to keep residents of her district informed about local policies.
Sixty-two-year-old Cheryl Witmer was similarly inspired. A resident of York County, Pennsylvania—where 62 percent of the vote went to Trump—Witmer said the Washington march allowed her to connect with like-minded people in person and on social media to discuss the next steps.
But preaching to the choir of anti-Trump women is one thing—working to bridge divides with Trump supporters, in an era of staunch partisanship, is another battle entirely. Does a successful movement require cooperation with the other side, or can women effect the change they want through sheer resistance?
Opinions on that question are mixed. Margaret Huang, executive director of Amnesty International USA, another partner organization for the march, said one important next step for activists will be trying to facilitate conversations with the Trump coalition in a way that does not compromise their own position.
"If we're not open to talking with them and if we're not open to working with them, then it's going to make it harder for them to make that shift," Huang said. "We're going to need them to make that shift. We are going to need people who supported him to call it out when he undertakes steps that are harmful."
But that's easier said than done for many of Saturday's marchers. Holly and Leigh Houser, sisters who traveled to the capital from Colorado, said it has been difficult to see their parents and other close relatives back Trump. While they discuss their concerns about the president with family, they sometimes avoid talking politics to ease the tension. Sue Gibson, a resident of Jefferson City, Missouri, is a bit more strict in her approach. The 60-year-old is very open to discussing her opposition to the Republican Party, but there's "only so much you can do," she said. She added that she won't waste time with people who are unwilling to engage, an approach she said has caused her to sever some relationships with Trump supporters in her life.
Perhaps the most significant threat to the Women's March cause is not the stark ideological divide between liberals and Trump voters, but instead division within the group that marched last weekend. Intersectional feminism—the recognition of issues that affect women from different races, religions, economic statuses, sexualities, and abilities—was a major focus for the march organizers, who emphasized the diversity of womanhood in their official mission statement. Saturday's lineup of speakers reflected that: It included prominent activists Gloria Steinem and Angela Davis, immigration activist Sophie Cruz, trans writer Janet Mock, and Muslim civil-rights lawyer Zahra Billoo.
Most of the white marchers I talked to expressed solidarity with the diverse racial and gender groups represented at the rally—but not all of the women of color saw that solidarity in action. Stephanie Zhou, a 23-year-old living in New York City, said she failed to see much unity. She said the predominantly white group of marchers seemed disinterested in engaging with and learning from the other participants. In an opinion piece for The Huffington Post, Zhou's friend Chi Nguyen called out some of these white marchers for failing to chant "Black Lives Matter" and for ignoring non-white speakers during the pre-march rally.
Zhou said this dynamic highlights a major flaw in mainstream activism, which at times fails to advocate for non-white communities. Others also questioned the intent of their fellow marchers. In an essay for Vox, writer Arielle Egozi wondered if she would see an authentic or a "safe, trendy" display of solidarity among all the marchers. And actor Amir Talai asked on his march sign: "I'll see you nice white ladies at the next #BlackLivesMatter march, right?"
Ultimately, these skeptics say that inclusion requires showing up and speaking out for these groups beyond the Women's March. Black women have been shot in the streets and discriminated against for years. Trans women of color have been killed or otherwise brutalized for years. Native American and Alaskan Native women—an estimated 56 percent—have experienced sexual violence for years. In an essay explaining why she would not attend the Women's March, Jamilah Lemieux notes that many white women have not responded to the crises of minority communities with the same force they're deploying now, in response to perceived threats against themselves. NOW's Terry O'Neill said that women of color have every right to be skeptical. In order to succeed, she added, white women of the movement will have to reckon with this critique if they want to fulfill the march's goals of unified political resistance.
Zhou, for one, said she remains "hopeful, but cautious" about what's next for the marchers. In the first week of his presidency, Donald Trump has taken steps to limit abortion access worldwide, restrict refugees' and Muslims' entry into the United States, roll back the Affordable Care Act, reduce funding for environmental science, and plan for a wall along the U.S.-Mexico border. These are policies that will affect people at all levels of American society, and a united front in this women's movement could make a difference in how easily Trump and his party can carry out their plans.