The Women in Pink
A collection of woman-on-the-street interviews from the march in Washington, D.C.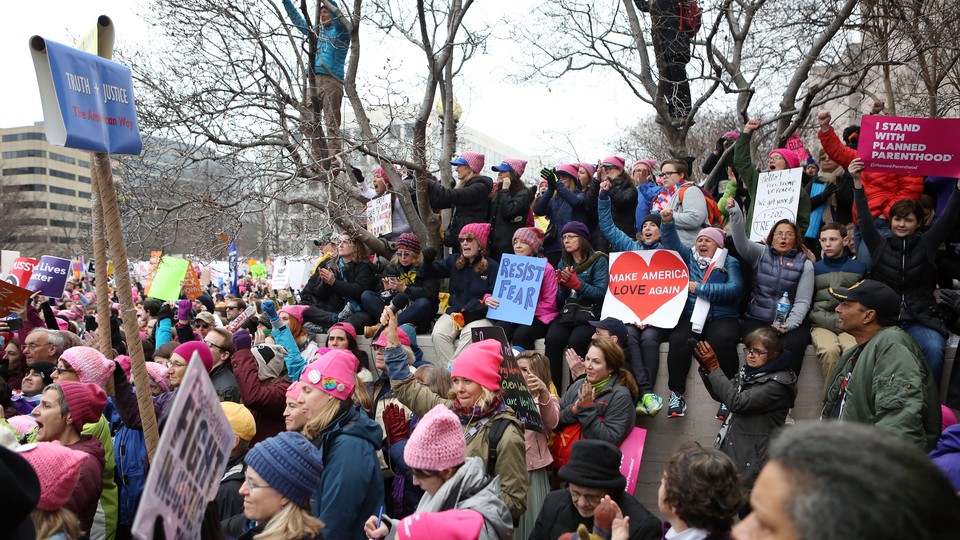 Hundreds of thousands of people streamed into the streets of Washington again  on Saturday, but this time they donned pink hats instead of red.
Wearing handmade knit hats with two points like cat ears, they gathered on and around the National Mall for a mass demonstration against President Donald Trump, one day after he was sworn into office. The hats, dubbed "pussyhats," allude to the new president's hot-mic comments from over a decade ago, whose reveal a month before the presidential election was, many thought, sure to doom his campaign. But the scandal—and everything else the pundits and pollsters thought would sink Trump—didn't, and so these women came to Washington.
"You can't just sit screaming at your screen," said Teresa Celemin, an illustrator from Weehawken, New Jersey. She still did a lot of that, though, writing many posts about the presidential race on Facebook, even though she knew she was preaching to the choir—many of her friends share her views.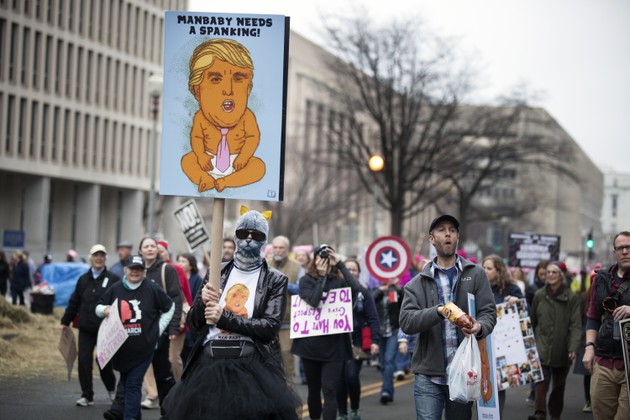 That's not the case for Deletha Abrams, who took a bus from Tuscaloosa, Alabama, to get there.
"I'm so glad that I'm here because I feel like I'm around a lot of people that think like me," Abrams said. "Where I live, I feel like—you're alone. I have very few friends that feel like I do."
Saturday's march grew out of several networks of women around the country on Facebook, including a group dedicated to Hillary Clinton and her trademark pantsuits. But there were no pantsuits on the Mall, and little mention of the candidate who almost became the country's first female president. The march, protesters said, wasn't about her. It was, as their signs shouted in bright colors, about equal rights for women, minority groups, LGBT people, and immigrants, and for health care, access to abortion, and stricter gun laws. It was about things they saw as under threat by the Trump administration.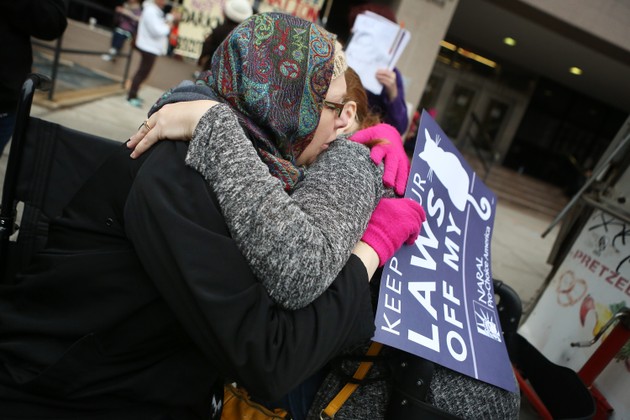 "If he takes my ACA away, I will die," said Heather Berry, referring to the president's vow to repeal Barack Obama's signature health-care law. Her wheelchair was parked on the sidewalk near the Mall, and she watched as the crowds swelled. Berry, who lives in Maryland, received health insurance under the Affordable Care Act in 2015 after she was laid off from her job. She has stage-four breast cancer that she says doubles in size every month if left untreated. I was speaking with Berry's friend, Beck Snyder, when Berry began to cry. As she comforted Berry, Snyder translated her tears: "She says she feels like it might be okay, if all these people are coming."
At a morning rally scheduled to precede the march, the mood was cheerful and buoyant against the din of speakers' voices from the main stage, inaudible in the street. Vendors sold t-shirts and totes out of shopping carts, and a group of girls smoked pot in a circle. A pair of protesters tried to shout down a man talking about Jesus and sins on a megaphone, but the verbal tussle dissipated quickly. For most women I spoke with, this was their first protest. Many said the outcome of the election drove them to call their representatives in Congress for the first time and ask them to keep the new administration in check. One Georgia woman said she calls one of her senators once a week, telling him what she's seeing on the news and what she doesn't like about it.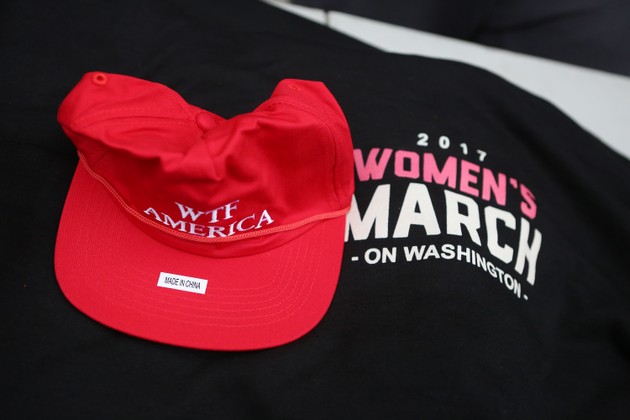 Sarah Sperry, who flew in from Charlotte, North Carolina, cracked up as soon as she saw the table selling red baseball caps like the ones Trump supporters wore during the inauguration ceremony on Friday. Instead of "Make America Great Again," these hats read "WTF America."
"That's exactly how I feel," she said, pointing to the $10 cap.
Many women came with their children. Virginia resident Pearl Monroe brought her 17-year-old daughter Ariana to the march to show her she can advocate for her rights. "We sort of accepted things," Pearl said, referring to her generation. Barbara McGraw, who lives in Pennsylvania, thought women "won" when she attended rallies and protests in the 1960s and 1970s, but here is she is, decades later. "I think a lot of younger women think that the feminist movement got won, and it hasn't," McGraw said.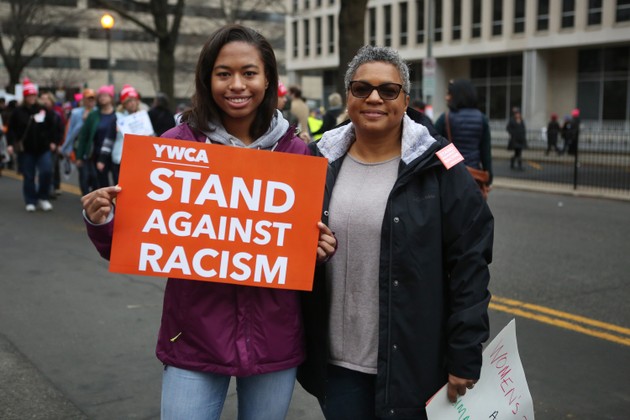 Eleanor Bailey can vouch for that. Bailey, 85, was sitting alone on a stone bench in front of one of downtown's federal buildings, people-watching from afar. She worked for the postal service in New York City for 35 years, and said sometimes things needed moving along. She joined her fellow workers on strike for higher pay, and convinced her bosses to let women wear pants instead of skirts on the job.
"Everything that this march is about, I have been on a protest for," Bailey said. "That was the '60s, '70s, '80s, and '90s. Hell, what I got to do, start this crap all over?"
After this march is over, Bailey said, she'll be rallying again.