Will Trump Cut Medicare and Social Security?
Mick Mulvaney, the nominee for budget director, told senators Tuesday that he'd recommend significant changes to entitlement programs—even if they contradict the president's campaign pledges.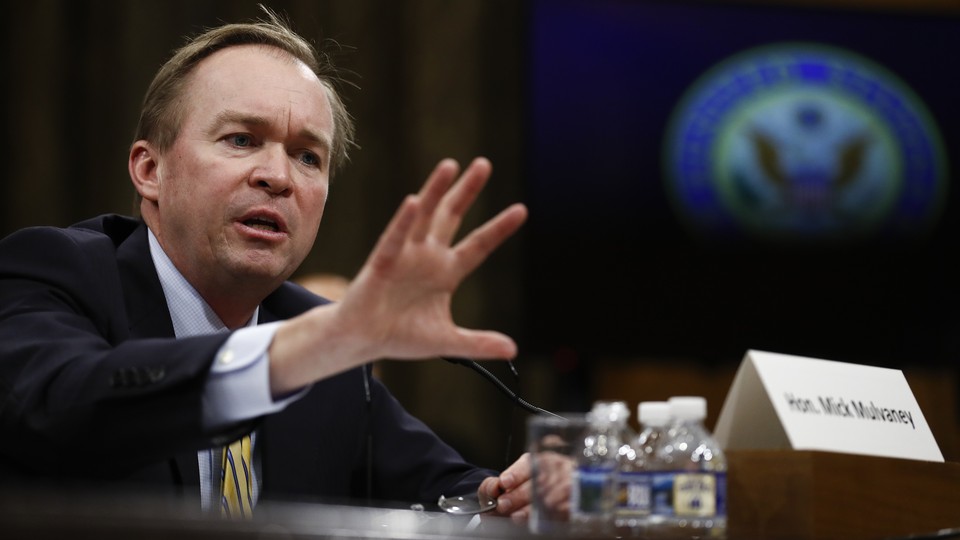 One of the most consequential decisions President Trump will make in the coming weeks and months is whether to pursue an overhaul of entitlement programs that Republicans have long championed.
Trump pledged repeatedly on the campaign trail not to cut Medicare or Social Security. But once his nominee for budget director, Representative Mick Mulvaney, takes office, he plans to advise the president that keeping that promise threatens the programs' survival.
"It's going to take difficult decisions today in order to avoid nearly impossible ones tomorrow," Mulvaney told the Senate Budget Committee, arguing that "fundamental changes" are needed to rein in a national debt that has grown to nearly $20 trillion.
During his confirmation hearing on Tuesday, Mulvaney became the latest Trump Cabinet pick to articulate a key difference of opinion with what the president outlined as a candidate. Under questioning from Republicans and Democrats, the South Carolina conservative stood firmly behind his long-held views supporting an increase in the retirement age and trimming Medicare benefits for wealthier recipients currently under age 55. And he said he would not shy away from presenting those views to Trump, even if they contradicted the president's position.
"I'd like to think that's why he hired me," Mulvaney told Senator Bob Corker of Tennessee at one point.
Trump's selection of Mulvaney to head the Office of Management and Budget surprised many in Washington, given that the third-term congressman had been one of the most outspoken debt and deficit hawks in the House. While Mulvaney has backed Speaker Paul Ryan's drive to partially privatize Medicare, Trump sought to differentiate himself from his GOP presidential rivals by denouncing that plan and pledging to protect entitlements. He's also vowed to pursue the kind of major spending package on infrastructure that Mulvaney and other conservatives in Congress opposed when it was proposed by the Obama administration. Trump has seemed to embrace another entitlement change proposed by Republicans on Capitol Hill—shifting Medicaid, which provides healthcare coverage to low-income people,  to a block-grant program in which each state would get a fixed sum of money, potentially less than what they currently receive from the federal government. Currently, the amount of money a state receives is based on how many people there enroll in Medicaid.
Mulvaney's supporters presented him to the Senate as a straight-shooter who would give Trump the unvarnished truth about the budget, and he embraced that characterization in his testimony. "I haven't exactly been a shy member of Congress in my six years here, and I don't expect to end that here today or if I am confirmed as director of OMB," Mulvaney said.
The entitlement question dominated the hearing, far more than another issue that had threatened to complicate Mulvaney's confirmation: his disclosure, in filings to the committee, that he had failed to pay more than $15,000 in federal income taxes on a household employee his family hired to help with their triplets in the early 2000s. Unpaid taxes have derailed nominees in the past, but after Chairman Mike Enzi of Wyoming gave Mulvaney the chance to explain, just one Democrat raised the issue again for the rest of his testimony.
He was contrite, telling the senators that he had considered the employee "a babysitter" and that it never occurred to him that he'd have to pay taxes on her until he saw a now-standard inquiry about household employees on a government questionnaire two days after his nomination.
"It became immediately clear to me that I'd made a mistake and that the IRS viewed our babysitter as a household employee for whom we should have withheld taxes," Mulvaney said. "I did the only thing I knew to do, which is simply tell everybody who I thought would care." That included Trump and the Senate. He reported having repaid the federal taxes and said he would pay any states levies, penalties, and fines he might owe.
Senators were far more interested in Mulvaney's position on entitlements, and as the hearing unfolded, both Democrats and Republicans pressed him on his differences with Trump. In this case, however, it was Republican senators who wanted Mulvaney to repudiate the president. Mulvaney stopped short of that, but when Graham asked him if he would warn Trump that ignoring the rising cost of entitlements would imperil his ability to drive down the debt, Mulvaney replied that he would. Corker went even further. "Mr. Trump did say some things during the campaign that I wish he had not said," he said. "Totally unrealistic. They make no sense whatsoever."
Democrats had already signaled they were unlikely to support Mulvaney based on his record in the House. But they were alarmed at his statements on entitlements. "After that exchange, I think folks on Social Security and Medicare should be really worried," Senator Debbie Stabenow of Michigan said. Worried that Mulvaney's comments would be misconstrued, GOP Senator Pat Toomey urged him to clarify that none of the party's plans called for cutting benefits for those in or near retirement, only younger people. "No, sir," Mulvaney said. "I'm not making my parents go back to work. They are 74 years old."
Mulvaney said he would present a full range of "fact-based" options to Trump, including the possibility of raising taxes, the choice preferred by Democrats that both he and the president have opposed in the past.
Mulvaney did please Democrats on one point: When Senator Jeff Merkley of Oregon raised the uproar over the attendance at Trump's inauguration and asked him to identify which of two photographs—from Obama's first inauguration in 2009 and Trump's on Friday—Mulvaney picked 2009.
But as on entitlements, he did not back down on other issues. Asked by Senator Tim Kaine of Virginia whether he believed it was "fact" that climate change partially caused by human activity represented a risk to the public, Mulvaney first questioned its relevance and then replied: "I challenge the premise of your fact." (He later said there was "some science" to indicate climate change was occurring but was not convinced human beings contributed to it.) And Mulvaney stood by an earlier remark that the Consumer Financial Protection Bureau, created under the 2010 Wall Street reform law, was "a sick, sad joke."
"We have created, perhaps inadvertently, the worst kind of government entity," he told senators, criticizing the CFPB's lack of accountability to Congress.
As budget director, Mulvaney will be in a position to influence Trump on almost every issue. But from a political standpoint, none is as potentially explosive as a debate over the future of Medicare and Social Security. Democrats have vowed to resist any effort to cut those programs, either now or in the future. Mulvaney made his position clear on Tuesday. Soon it'll be up to the president whether to pick that fight.