Will Mike Pence Be Trump's Bridge to Democrats?
Indiana Democrats weigh in on their experience with the former governor.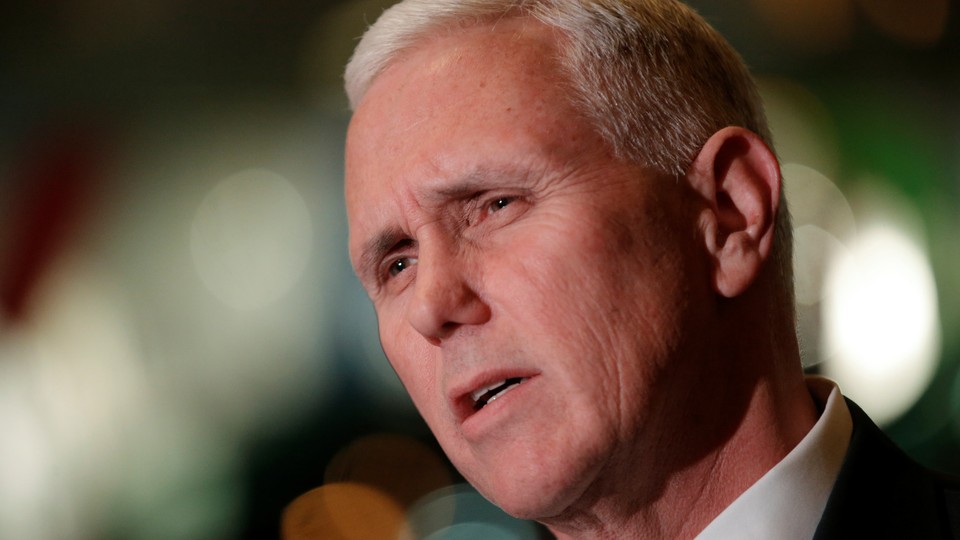 Though he has not yet been installed in the Oval Office, Donald Trump has already made life fairly complex for his Republican brethren in Congress. Most recently, in an interview with the New York Times this week, Trump singlehandedly threw the GOP's Obamacare repeal process into chaos, insisting that a repeal vote would come "probably some time next week" and a replacement "very quickly or simultaneously, very shortly thereafter." Neither was correct, but especially the replacement timeline: Congressional Republicans  are quietly insisting that it will be weeks before a replacement bill is ready—maybe even months (or years!).
The only person in the administration who seemed willing to acknowledge this reality is Vice President-elect Mike Pence.  In a press conference earlier this month, following a meeting with Republican lawmakers, Pence said: "The architecture of the replacement of Obamacare will come together, as it should, through the legislative process in the weeks and months ahead."
To be clear, Pence's comments regarding the replacement timeline were made before his boss announced the "very quickly, very shortly thereafter" timeline for repeal. But Pence is a former congressman himself and knows well the realities of passing legislation—especially in the case of Obamacare, where a replacement program will require 60 votes. In other words, Democrats will need to be part of the solution.
The question is: can Mike Pence mitigate the situation—bring his boss down to earth, and maybe even help with outreach to the opposition party? While Trump has made a point of sharing his excitements and proclivities to an almost pornographic degree—it's nearly impossible not to know what Trump's opinion is on everything from Vanity Fair subscriptions to Meryl Streep to the latest season of The Apprentice—Pence, constitutionally, remains more of a cipher.
Pence no doubt favors conservative policy: his opposition to gay rights and reproductive health services are well documented, his distaste for social welfare programs equally so. But as it concerns his temperament, his negotiating style, his leadership acumen, it's hard to know what kind of man Pence is, other than a relatively quiet one. Given Trump's inclination towards hostility, Pence maybe the minority party's best hope of breaking through to the White House—just as Biden before him, Pence may be able to speak to adversaries in Congress more effectively than the president himself.
In this, it's most useful, perhaps, to ask those who have worked with him. As my colleague Yoni Appelbaum reported at the GOP convention this summer, Indiana Republicans have only glowing assessments of the former leader: "The single most important thing is how good a guy he is," said one GOP state representative.
But what of Indiana democrats—faced with an uphill climb in a state legislature dominated by republicans? Congressional democrats will find themselves in a similar position, though in a narrower minority, and might use some guidance from those who have negotiated with Pence before.
State Representative Terry Goodin, of the state's 66th House District, was the most diplomatic of the democrats I spoke with. Goodin says he's known the former governor for four or five years and conceded that he was "a little more proactive" with Pence than most in his party. "Even being in the minority, I've had more personal dealings with him," he said, concluding nonetheless that, "the governor stands firm for some of those things he believes in."
The best way to get an issue resolved, he advised, was to appeal to Pence's sense of bipartisanship. "That makes it a little tastier," said Goodin.
I asked him about that appeal and how best to make it.
"No different than the way you'd deal with anyone else," said Goodin. "He's the kind of person who is not reactive to a loud voice or a scream. Be courteous."
This all seemed eminently do-able, if not necessarily characteristic of the Trump administration thus far: a focus on bipartisanship, courtesy and indoor voices. But then I spoke with former Indiana Democratic Party chair Ann DeLaney, who has known Pence since his Congressional campaign in 1990.
"What's he like?" she said. "One, he's quite personable. Two, he's not aloof. Three, he's easy to talk to."
But she continued: "He doesn't always think through the impact of what his positions will be."
DeLaney cited Pence's foray into the hornet's nest over the Indiana Religious Freedom Restoration Act (RIFRA), which was signed into law by Pence amid national outcry. "That was not only a PR disaster—and permitted discrimination— but he signed it into law as we were having the Final Four here," Delaney recounted. "The media from all over country was here—it got a tremendous amount of play that wouldn't have happened otherwise." Pence, she said was completely caught off guard.
DeLaney does not appear think particularly highly of Pence's management skills. "He ran the governor's office 9 to 5," she said. "That's hard to do. Crises don't always occur between 9 to 5. I don't think you can be an active Vice President and keep to that schedule."
For Democrats eager to use Pence as a backchannel to either the administration, (in the hopes that he might take their case to the president) or his own party (in the hopes that he might broker some bipartisanship), DeLaney was fairly grim. "He's pretty firmly an ideologue. He'll do what he's told," she said.
As it pertained to bringing his boss back to reality, Representative Charlie Brown, from Indiana's 3rd House District, was not optimistic. When Pence was in the governor's office, said Brown, "he did not want to rock the boat."
"He doesn't lay down the law," added DeLaney. "He's just not strong enough."
Brown went further, saying that Pence had a hard time corralling even his own party, back in Indiana.
"He had some tough times with his own caucus in both chambers," said Brown. "They had a super majority and they wanted to appear to be united." But, he said, intra-party problems arose, "Mainly because [Pence] put religion first. That whole debacle over RIFRA is what sunk him. They had a tiger by the tail. Those are his beliefs and you can't take that away from him. It created havoc with business community."
Still, members of the minority party might at least expect a less confrontational tone from the veep's office, especially compared to what may be issuing forth from the man in the Oval Office (or his Twitter account). "He will not want confrontation on an individual level, one-on-one," said DeLaney. "He'll be much more 'in sorrow than in anger.' He'll wring his hands, say [to democrats], I just can't bring [the rest of my party] along—so you're going to have to do this."
And according to Goodin, Pence's decisions are usually final: "After he makes a decision, he doesn't entertain much else."
Ultimately, said DeLaney, Pence may not be all that constitutionally suited for the hurly burly of the Trump administration—which, if the recent past is any indication, is likely to be a unpredictable and tumultuous ride. "He impresses me as someone who can deliver a message, speak well, hold his own in front of the mic," she said, "but he's much more comfortable with problems and solutions on index cards. And some of those problems and solutions don't fit so well on index cards."