The White House Can't Easily Repair Its Relationship With the Media
Press Secretary Sean Spicer continued to suggest on Monday that the media is attempting to undercut the president.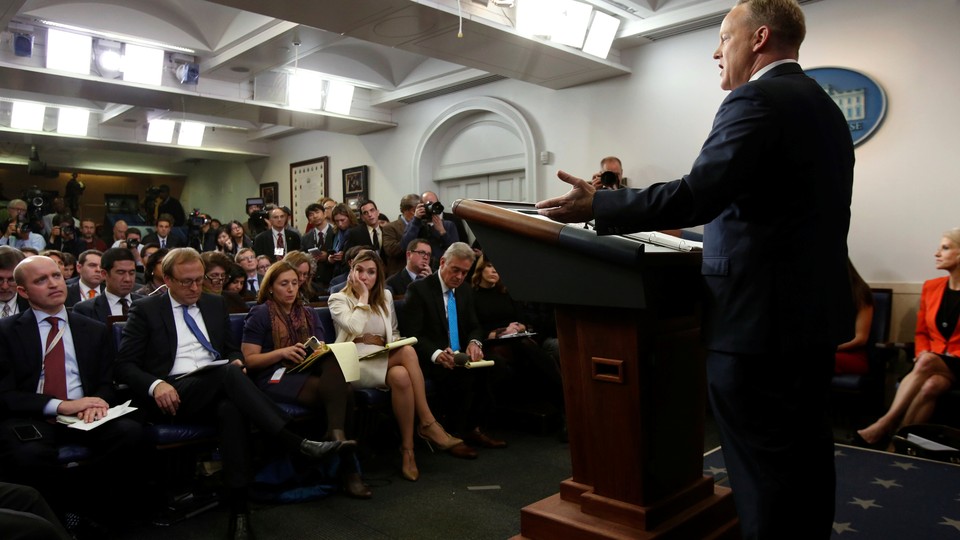 After harshly condemning the media over the weekend for its coverage of President Donald Trump's inauguration, White House Press Secretary Sean Spicer struck a less combative tone during a press conference on Monday. But he nevertheless continued to argue that the media is trying to undermine the president, and stood by a debunked statement that the inauguration drew the "largest audience" of all time.
"I believe we have to be honest with the American people," Spicer said at the briefing, responding to a reporter's question about his commitment to truth-telling. He added: "I'm going to come out here and tell you the facts as I know them, and if we make a mistake I'll do our best to correct it." Later, however, he lamented that there is a "constant theme to undercut the enormous support" he said Trump has. "There's an overall frustration when you turn on the television over and over again and get told that there's this narrative."
The press secretary's pledge to tell the truth may indicate that the administration hopes to improve its relationship with the media, or at least the appearance of it, following criticism and mockery of Spicer's hostile interaction with reporters over the weekend. At the same time, his insistence that the media treats Trump with a double standard, and his complaints that the media has created an anti-Trump narrative, highlights how difficult it will be to repair the relationship between the administration and the media.
Even as he talked up the value of honesty, Spicer seemed unwilling to say that facts are not open for interpretation or debate. "I think sometimes we can disagree with the facts," he said. He also suggested that sometimes the administration may relay incorrect information to reporters, but that misinformation on the part of the White House is not an indication of bad faith. "There are certain things that … we may not fully understand when we come out, but our intention is never to lie," he added. Every presidential administration puts a political spin on the facts, and no administration is infallible. But if reporters were looking for reassurances that the Trump administration will be truthful in its dealings with the press, they may have still walked away from Monday's press conference skeptical.
The new White House press secretary also defended an earlier assertion that Trump's ceremony commanded "the largest audience" there's ever been for an inauguration. On Saturday, Spicer accused the media of purposely understating the size of crowds that gathered to witness the president's inauguration. In the process, he made a series of false or misleading statements about the proceedings. Most notably, he claimed that "this was the largest audience to ever witness an inauguration, period, both in person and around the globe," an assertion that fact-checking website PolitiFact deemed "flat-out wrong." (Other fact checkers echoed PolitiFact's determination.) Side-by-side photographs of the National Mall at Trump's inauguration and Barack Obama's inauguration in 2009 indicate that last week's event drew smaller crowds. Meanwhile, Obama's first inauguration commanded a U.S. television audience of 37.8 million viewers, while Trump's inauguration drew only 30.6 million viewers, according to Nielsen data.
On Monday, Spicer made clear that he is standing by his original claim. "I'm saying it was the total largest audience witnessed in person and around the globe," he said. Spicer cited digital viewership as evidence for the claim, suggesting that CNN pulled in an online audience of 16.9 million viewers alone. In making his original claim on Saturday, Spicer did not cite audience-viewership stats—focusing chiefly on photographs of the National Mall, Metro ridership, logistical considerations, and crowd-size estimates to make his case.  The Washington Post Fact Checker's examination of his claims at the time noted that "we have not seen global data" on viewership, adding that it would update its post "as more data comes in, including viewership via live streams." But CNN reports that online viewership hit a peak of 2.3 million concurrent streams when Trump delivered his inaugural speech. The Washington Post's Philip Bump explains that the 16.9 million figure accounts for "streaming starts, meaning that someone popped into the stream and then left it."
At Monday's briefing, Spicer appeared to concede that not everything he claimed on Saturday was accurate. "The information I was provided by the inaugural committee came from an outside agency that we reported on. Knowing what we know now, we can tell that WMATA's [Washington Metropolitan Area Transit Authority] numbers are different. But we were trying to provide numbers that we had been provided. It wasn't like we made them up out of thin air." Over the weekend, Spicer claimed that "420,000 people used the D.C. Metro public transit" on the day of Trump's inauguration, saying that, in contrast, only 317,000 people "used it for President Obama's last inaugural." The Washington Post Fact Checker rated those claims false.
Monday's press conference focused on a range of other topics apart from the administration's relationship with media or the inauguration crowd size. Spicer called Trump's move to withdraw the United States from the Trans-Pacific Partnership trade deal "a strong signal that the Trump administration wants free and fair trade throughout the world," and said the administration will pursue "bilateral trade opportunities." He accused Democrats in Congress of trying to hold up confirmation of Trump's pick for CIA director, Republican Representative Mike Pompeo, who the Senate is expected to vote on Monday night. "It's time for Senate Democrats to stop playing political games with the core functions of government," he said. And he signaled that Trump would defend Social Security from cuts. "On Social Security … I think he's been very clear with his priorities in terms of preserving and protecting this really important benefit to our seniors," Spicer said.
Even so, it seems likely that the administration's treatment of the press will remain a topic of discussion, particularly because Trump himself has spent time attacking the media, even after his inauguration. "I have a running war with the media," the president said on Saturday during remarks delivered at CIA headquarters. "They are among the most dishonest human beings on Earth." On Sunday, Trump adviser Kellyanne Conway defended Spicer's weekend statement by saying that he had provided "alternative facts."
Republicans and Democrats, as well as internet meme-makers, took aim at Spicer's opening salvo against the press in the aftermath of Saturday's statement. Former George W. Bush press secretary Ari Fleischer commented that the interaction left him "uncomfortable and concerned," noting on Twitter that the press is right to be upset. Trump critic and conservative pundit Bill Kristol called the briefing "embarrassing, as an American, to watch." Former Hillary Clinton press secretary Brian Fallon said that Spicer should have resigned "rather than go out and take the podium." And social-media users mocked the administration by making illogical or obviously wrong statements tagged #SpicerFacts.
Trump takes office as president after registering historically low approval ratings during his transition, and so far has not managed to win over voters who opposed him during the election. Blaming the media for trying to undercut his presidency provides the administration with a convenient scapegoat for Trump's low favorability—during Monday's press conference, for example, Spicer suggested that the media has consistently underrated the extent of Trump's support. That line of argument allows the administration to wave away questions and concerns about a genuinely skeptical public, and may also pave the way for the White House to more easily dismiss future criticism of its agenda as unfair or fabricated by the press.
Spicer himself appeared to concede on Monday that the administration's relationship with the media won't be repaired anytime soon. "I know that Josh Earnest was voted the most popular press secretary by the press corps," Spicer said. He joked that he had emailed President Obama's former press secretary to let him know that "he can rest easy—that his title is secure for at least the next few days." The comments were clearly an attempt to inject levity into the press conference. But they also sounded like an acknowledgement of just how difficult it will be for the Trump administration to begin repairing relations with the media.