What Is Marine Le Pen Doing at Trump Tower?
The leader of a far-right French political party was seen in the building on Thursday, although it's unclear whether Trump knew she was coming.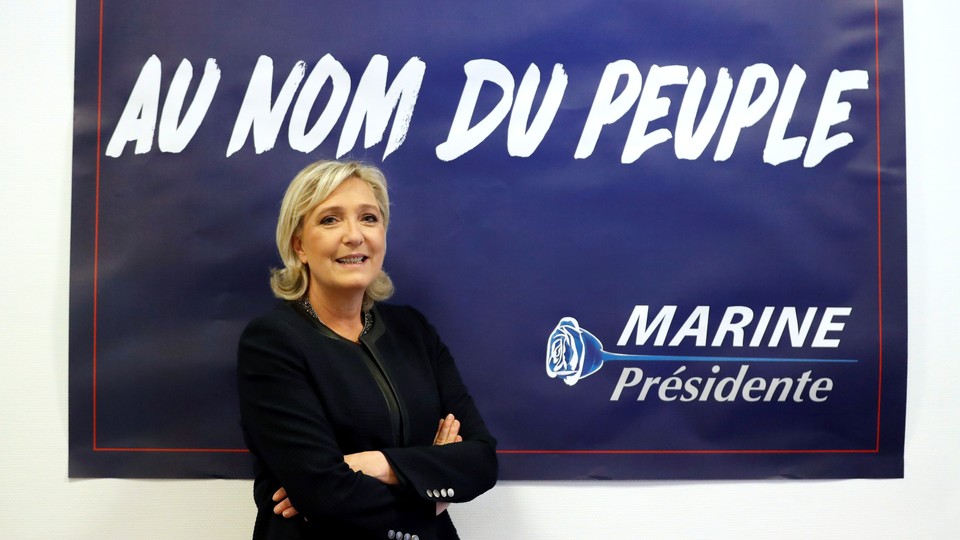 The French far-right leader Marine Le Pen made an unannounced visit to Trump Tower on Thursday for reasons that remain mysterious.
Le Pen, the leader of France's National Front, was spotted by the press pool having coffee with three men in the basement of Trump Tower. According to the pool report, Le Pen declined to answer when asked if she was meeting with the president-elect.
The visit comes at an important time for Le Pen, who is scheduled to officially launch her presidential campaign next month in Lyon and who is expected to reach the second round of the presidential election this year. Le Pen is one of the clarion voices of the European nationalist right, and has in recent years made efforts to reform her party's xenophobic image in a "de-demonization" campaign.
Despite Le Pen's presence in Trump Tower, a top Trump aide said she had not arranged a meeting with Trump. Asked about Le Pen's being in New York earlier on Thursday, incoming White House chief strategist Steve Bannon said he hadn't "seen anything nor seen a request." Asked if Le Pen was meeting with Trump following the pool spotting her at Trump Tower, Bannon said no.
Le Pen's spokesman told Bloomberg earlier that a potential meeting with Trump was "not on her public agenda."
According to the pool, Le Pen was sitting with her partner and deputy Louis Aliot, as well as George Lombardi, an Italian businessman who has arranged contacts between Trump and European political figures, according to Politico.
Lombardi later spoke to the reporters at Trump Tower and told them that Le Pen had not sought a meeting with Trump.
"We did not reach out to the Trump campaign. We did not reach out to Mr. Trump, even though he's a friend of mine," Lombardi said, according to the pool report. Lombardi, who lives in Trump Tower, said that Le Pen had attended a party there the previous evening, and that she had met people in New York who could help her raise money for her campaign but that she has not asked Trump for help in that regard: "That wouldn't be proper." Lombardi said Le Pen plans to go to Washington on Friday.
Trump has met with other European populists since being elected president, such as former UKIP leader Nigel Farage, one of the leading Brexit campaigners, and Matteo Salvini of Italy's Northern League.