What Donald Trump Owes Wall Street
New information on conflicts of interest that would challenge even a saint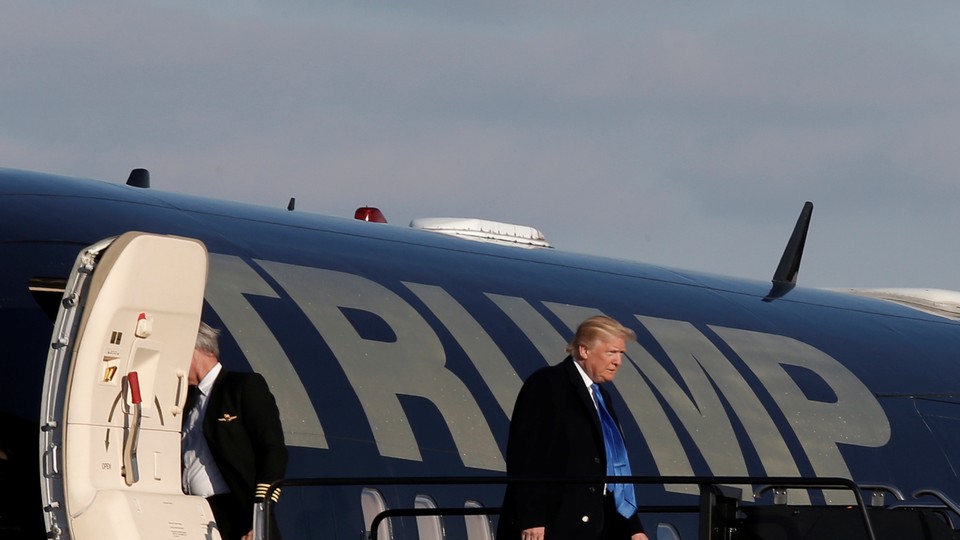 Wells Fargo. JPMorgan Chase. Fidelity Investments. Prudential PLC. Vanguard Group. These are among the major financial institutions that own business debt held by Donald Trump, according to an investigation just published by the Wall Street Journal.
While the president-elect's finances remain murky, due largely to his refusal to release his tax returns, the newspaper reports that he owes at least hundreds of millions of dollars, that the debt is held by more than 150 institutions, and that some of it is backed by his personal guarantee. "As a result, a broader array of financial institutions now are in a potentially powerful position over the incoming president," it states. "If the Trump businesses were to default on their debts, the giant financial institutions that serve as so-called special servicers of these loan pools would have the power to foreclose on some of Mr. Trump's marquee properties or seek the tens of millions of dollars that Mr. Trump personally guaranteed on the loans."
One wonders whether to be more worried about Big Finance using its leverage to influence the president or the president abusing his power in order to thwart his creditors.
Either way, Trump's decision to hold on to his opaque business empire while president, rather than liquidating his interests to focus on the good of the country, has created unprecedented conflicts of interest that even a saint would have difficulty navigating in office. In a prior column, I noted a New York Times investigation into a portion of Trump's business dealings in foreign countries, arguing that in India, China, Turkey, Saudi Arabia, Indonesia, Brazil, Argentina, and other countries besides, there will be countless occasions where the interests of the United States and the interests of the Trump organization diverge.
If the Times story was the best look we've gotten at specific conflicts of interest abroad, the Wall Street Journal article is the domestic analog, highlighting facts like this:
Wells Fargo & Co., for example, runs at least five mutual funds that own portions of Trump businesses' securitized debt, according to an analysis of mutual-fund data conducted by Morningstar Inc. for the Journal.

The bank also is a trustee or administrator for pools of securitized loans that include $282 million of loans to Mr. Trump. And Wells acts as a special servicer for $950 million of loans to a property that one of Mr. Trump's companies partly owns, according to securities and property filings.

Wells Fargo is currently facing scrutiny from federal regulators surrounding its fraudulent sales practices and other issues. Once he takes office, Mr. Trump will appoint the heads of many of the regulators that police the bank.
The article lists other specific conflicts.
And then there's this alarming detail: "It is impossible to identify all the firms or individuals that now hold Trump businesses' securitized debt, as these investments often don't have to be disclosed." As a result, it is easy to imagine Trump covertly benefitting or punishing one of his creditors (depending on his analysis of what's preferable). He needn't be in a position to directly appoint regulators to do so. He often posts tweets that laud or vilify corporations with huge consequences for their stockholders. How many corporate leaders would quietly forgive debt if the stock of their biggest competitor would be tanked, rather than their own?
This should concern even Americans who voted for Donald Trump. The underlying case here isn't that he is unusually corrupt, but that the extreme power of the presidency requires a responsible country to put anyone who rises to the position under a microscope. Trump's unusually big business conflicts create even more problems than usual, temptations to which the vast majority of humans might succumb. If Trump merely behaves as most people would, the country will lose, bigly.
Tens of millions of people will be harmed.
Trump is nevertheless offering less transparency than any predecessor in the modern era, and entering office with both houses of Congress controlled by Republicans who show no inclination to fulfill their responsibility to scrutinize his conflicts. Until members of Congress launch a full probe into Trump's financial assets and debts, so that at the very least they can understand where his interests and America's interests diverge, there is no way that they can adequately represent their constituents.
And it is particularly ironic that their historic abdication of responsibility is rooted in partisanship, given that it will benefit a man with no loyalty to the Republican Party.
---
Related Videos