What CNN's Report on Trump and Russia Does and Doesn't Say
The cable network reported Tuesday that intelligence officials briefed the president-elect and other top officials on purported claims by Russian agents that they possessed "compromising personal and financial information" concerning Trump.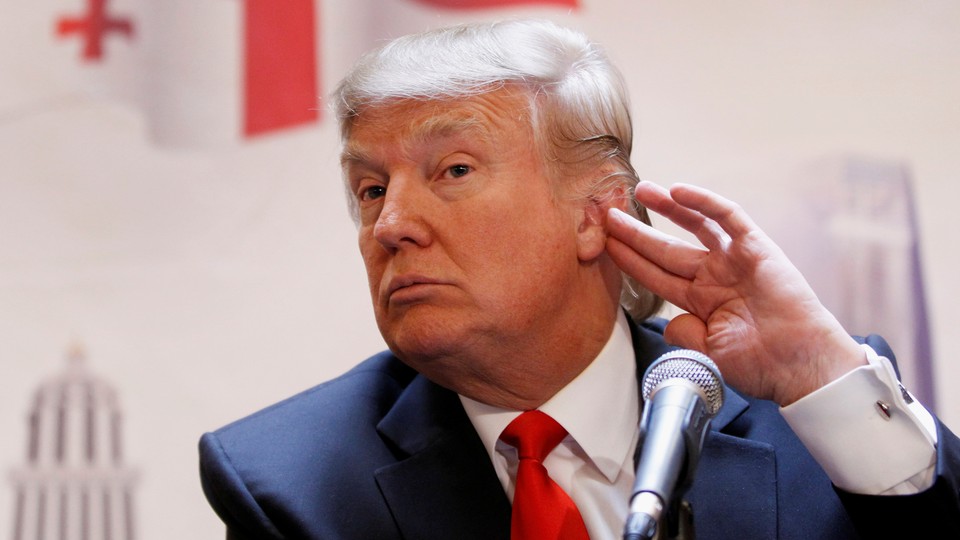 Updated on January 10 at 6:36 p.m.
Despite all of Donald Trump's best efforts, the question of whether and why Russia interfered in the presidential election continues to dog him.
The latest twist comes from a bombshell report published early Tuesday evening by CNN, with four bylines, including Watergate legend Carl Bernstein. The story is unsettling, because it touches on suggestions that the Russian government might have compromising information about the president-elect. But the story is significantly more nuanced than that, and requires a careful parsing.
Here's what CNN does say: When top intelligence officials briefed Trump last week on their conclusion that Russia interfered with the election to hurt Hillary Clinton and aid Trump's presidential hopes, they presented him a two-page classified memo that included allegations that Russian agents say they have "compromising personal and financial information" about him. It is not, clear, however, whether U.S. intelligence officials believe those allegations to be true.
CNN says:
These senior intelligence officials also included the synopsis to demonstrate that Russia had compiled information potentially harmful to both political parties, but only released information damaging to Hillary Clinton and Democrats …  The two-page synopsis also included allegations that there was a continuing exchange of information during the campaign between Trump surrogates and intermediaries for the Russian government, according to two national security officials.
That doesn't mean the claim that Russian agents possessed the information was necessarily true. The origin of the claim, in fact, is decidedly partisan. A major source for the report delivered to Trump was a set of memos prepared by a former British intelligence operative, who gathered the information while working as an opposition researcher for both anti-Trump Republicans and later for Democrats.
Some of the former operative's allegations were first reported by Mother Jones's David Corn in the final 10 days of the campaign. CNN also says they were what then-Senate Minority Leader Harry Reid was referring to when he sent FBI Director James Comey a letter stating, "It has become clear that you possess explosive information about close ties and coordination between Donald Trump, his top advisors, and the Russian government—a foreign interest openly hostile to the United States."
CNN says it is not reporting the details of the memos because it has not verified them. It adds that while the information was circulating for months, the intelligence community has now "checked out the former British intelligence operative and his vast network throughout Europe and find him and his sources to be credible enough" to use the information in briefings. However, intelligence officials also found the information sensitive enough to only provide it to Trump, President Obama, and the eight chairs and ranking members of the House and Senate intelligence committees, CNN says. Again, there's no indication so far as to whether the intelligence community believes the British operative's reports to be accurate. Even if the operative's sources are genuine, for example, they might be trying to sow misinformation, which the unclassified version of the report on alleged Russian hacking noted was a favorite Kremlin tactic.
Shortly after CNN's report, BuzzFeed posted what it says is the full 35-page memo on which the shorter memo delivered to Trump and others is based. BuzzFeed said it had not verified the report and that it contained some clear errors.
Trump has consistently rejected the idea that the Russians were behind the hacking, and he has dismissed the idea that the intention was to help him. His opponents, on both left and right, have for months spoken hopefully of some sort of Holy Grail of information that would fatally compromise him, but so far no such information has emerged. There have been more concrete reports linking Trump aides to Russia. Carter Page, a one-time foreign-policy adviser, is deeply enmeshed in business interests there, while Paul Manafort, who for a time managed Trump's campaign, had previously worked for a Kremlin client who was president of Ukraine and did business with a member of Vladimir Putin's inner circle.
During a hearing on Capitol Hill on Tuesday, Comey was asked by senators whether the FBI was investigating ties between Russia and Trump. Comey refused to say, saying he "would never comment on investigations, whether we have one or not"—a response that drew some embittered comments from senators who noted Comey's very public statements about his agency's investigation into Clinton's emails.
The report offers yet more grist for Trump's planned press conference Wednesday morning—his first in almost 170 days.