Is Trump's Presidency Off to a Successful Start?
Overshadowed by headlines about chaos and infighting, the new administration is notching a string of early victories.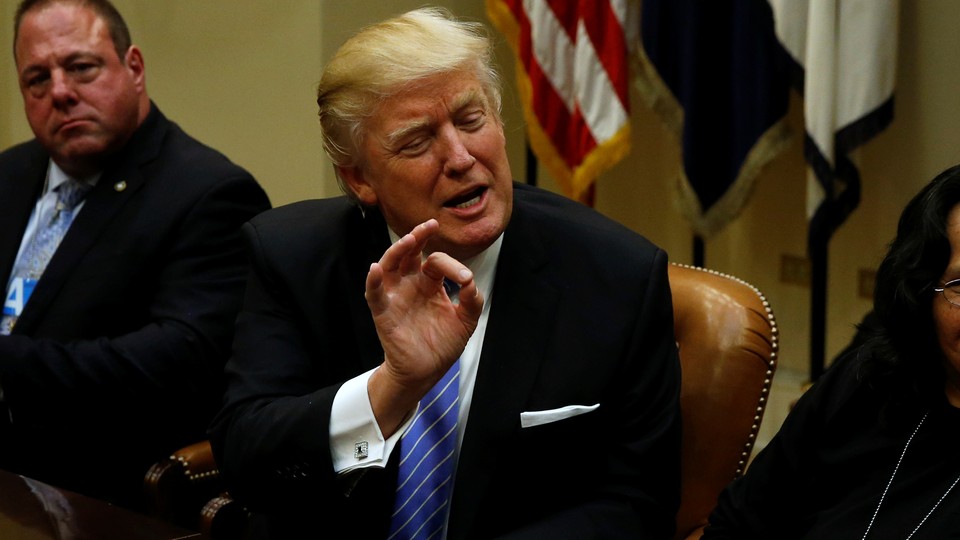 From some angles, the Trump presidency is off to a rocky start. There were the somewhat disappointing crowds at the inauguration, and then the needless lies about them, presented as "alternative facts." There's the controversy over Trump's remarks to the CIA, and precisely who in the crowd cheered his visit. On Monday, the president repeated a dumb and unnecessary lie about illegal ballots having cost him the popular vote during a meeting with members of Congress. The Washington Post reports in detail on White House infighting and an attempted reboot—just four days into the administration. ABC's The Note frowns, "He can't help himself, and he isn't helping himself."
But what if the Trump presidency is actually off to a surprisingly effective start? For months, Trump has shown a perverse ability to overshadow his own message with chaos and disorder, and the first five days of his administration fit right into that pattern.
Take his nominations. Trump started his presidency with unusually few confirmed appointees. That was in large part the fault of his transition team, which has been slow to nominate and slow to vet candidates for the jobs. Many of the nominees who have come to hearings have had a rough go of it. Secretary of State-designate Rex Tillerson stumbled through his hearing. So did Secretary of Education-designate Betsy DeVos, who seemed in some cases unversed in federal law on education. Attorney General-designate Jeff Sessions seems to have misrepresented his record on desegregation. Tom Price, the nominee for secretary of health and human services, is facing down stories about alleged insider trading. Ben Carson, nominated to head Housing and Urban Development, previously said he wasn't qualified to run an agency and has no experience in housing.
For all that, it seems possible that every one of Trump's nominees will make it through. None is in certain danger now, especially after wavering Senator Marco Rubio announced he would support Tillerson's nomination. James Mattis, who needed a congressional waiver to even qualify for the post of secretary of defense, won all but a single vote in the Senate.
That's better than Barack Obama's record at the outset of his administration, and he had a huge Democratic majority in the Senate. Tom Daschle (health and human services) and Bill Richardson (commerce) both had to withdraw after investigations. Tim Geithner (treasury) nearly went down over tax discrepancies. Judd Gregg (commerce again) withdrew over differences with Obama.
Or take Trump's promise to intervene to prevent jobs from leaving the country. That vow, particularly targeted at the air-conditioner manufacturer Carrier, was dismissed during the campaign. But Trump quickly swung into action after the election, and announced a high-profile deal with Carrier to keep jobs in Indiana. The devil was in the details, of course: Carrier was still moving jobs to Mexico; Trump had unusual leverage over Carrier's parent company, a major contractor; the deal cost taxpayers dearly; many of the "preserved" jobs might still be automated in the future.
But Trump got his symbolic win, and he's since collected a host of others. Companies have announced expansions of jobs in the U.S. that were already planned or already disclosed, and Trump has hastened to claim credit for them, whether they were his doing or not. CEOs, who are not eager to get on the wrong side of a new president, are in no hurry to set the record straight.
There are plenty of other minor political triumphs underlying all of this. On Monday, Trump met with union leaders at the White House, and even though labor leaders endorsed Hillary Clinton, the meeting apparently went well. Sean McGarvey, president of North America's Building Trades Unions, told Josh Eidelson "it was by far the best meeting I ever participated in" reaching back to 1999. The leaders of both Canada and Mexico have signaled they're willing to open negotiations on revising NAFTA.
Republicans in Congress, meanwhile, show little interest in investigating Trump's conflicts of interest.
Trump's conduct over the last few days has lots of observers scratching their heads. The Washington Post's James Hohmann homes in on Trump as a sore winner, and while it's impossible to disagree, the president's insistence on repeating obviously, provably false claims—he had the biggest in-person crowd at an inauguration, or he would have won the popular vote if not for illegal voters—are also arguably an essential political strategy for him. Trump has no apparent interest in policy details or in working the levers of Congress; he has approached the presidency more as a bully pulpit than as a demanding executive role. But it's a lot harder to use that bully pulpit if you're not always viewed as a winner, so Trump insists he's a winner even when he is not.
The result, paradoxically, is that he's coming out as a winner on many issues. Some of these victories may prove to be pyrrhic. Getting shaky and unprepared nominees confirmed is a good way to produce shaky and unprepared Cabinet secretaries. Retaining manufacturing jobs works well until companies start automating and laying people off anyway.  In other cases, it's simply too early to be too confident. The chaos within the West Wing that the Post describes bodes ill for an effective administration. Meanwhile, Trump's early steps in other areas may still fail, or undo him later. His foreign-policy moves continue to inspire queasiness, as do continued reports about ties to Russia. (Of course, predicting the impending collapse of Trump has produced some of the least-accurate forecasts since Millenarianism went out of style.)
But it doesn't require any alternative facts, only an alternative interpretation, to look at the Trump administration and see a presidency moving forward on many of its key goals and notching political victories. The optics may be bad, but then again, the optics of Trump's entire presidential campaign were bad, too. It's the results that mattered.