Trump's Detail-Free First Pitch to Republicans
"This Congress is going to be the busiest Congress we've had in decades, maybe ever," the president told lawmakers, before leaving without taking questions.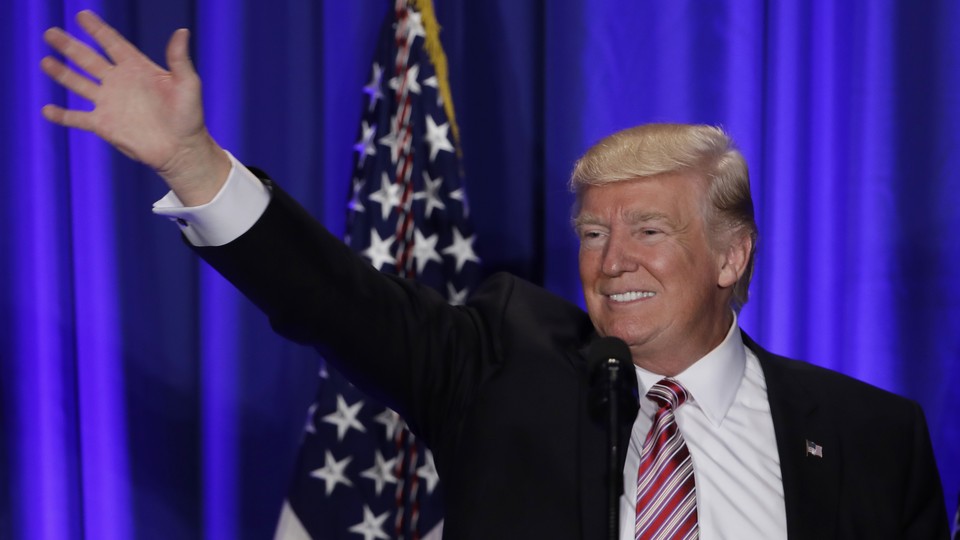 PHILADELPHIA—President Trump on Thursday made his first direct pitch to the Republican lawmakers he'll need to pass his agenda, drawing applause for his commitments to conservative policies and silence for his impassioned appeal for a major new infrastructure program.
"This Congress is going to be the busiest Congress we've had in decades, maybe ever," the president told congressional Republicans at their annual policy retreat, which was held at a downtown hotel as protesters denounced Trump on the streets outside.
Trump broke little new ground in a 25-minute speech in which he sought to align himself with the aggressive agenda party leaders laid out for their members a day before. He touted the executive orders he had already signed, drawing large applause for his crackdown on immigration and for reinstating a ban on foreign aid going to organizations that perform or promote abortion. He reiterated his commitment to repealing and replacing Obamacare, musing that while it might be politically preferable for Republicans to let the law languish on its own, "we don't want to do that. We need to get something done right." Trump backed Republican efforts to reform the tax code, saying the GOP needed to embrace its heritage as "the party of American industry and the American worker."
But through the entire freewheeling address, Trump offered few details for a party that is seeking direction from the newly inaugurated president on issues like healthcare and taxes. And while he drew warm applause at many points, he drew none for his extended pitch for an infrastructure proposal that many conservatives view with skepticism if not outright hostility. "We believe the world's best country ought to have the world's best infrastructure," Trump said. "It is what our people deserve and it is what we will ensure they get." Republicans remained silent, but when the president turned to his pledge to rebuild the military, the lawmakers resumed clapping.
Trump broke with recent precedent and left the retreat without taking questions from Republicans in a session that would have been closed to the media. "Can't answer that," Senator Jim Risch of Idaho told reporters inquiring why Trump didn't stay for questions. "I suspect he ran out of time." Trump had started his speech more than an hour after it was originally scheduled to begin. Nonetheless, Risch offered a positive review of his appearance. "That's as presidential a speech as I've heard from President Trump," he said.
The president alternately praised and needled lawmakers he occasionally criticized during last year's campaign.
House Speaker Paul Ryan, the president said, "is writing his heart out and we are actually going to sign the stuff you are writing. You are not wasting your time!"
And Trump reassured Senate Majority Leader Mitch McConnell, a longtime backer of free-trade deals, that even though he had withdrawn from the Trans-Pacific Partnership and wanted to renegotiate the North American Free Trade Agreement, he would pursue new bilateral accords. "Believe me, we're going to have a lot of trade deals," Trump said. "Mitch, don't worry about it!
The president also returned to his preoccupations of recent days, vowing to "protect the integrity of the ballot box" and railing about crime in Chicago. "What the hell is going on?" Trump asked rhetorically at one point. "Democrats!" shouted conservative Representative Louie Gohmert of Texas, eliciting an awkward laugh from the crowd.
At another point, Trump began praising the many members of Congress he had tapped for his Cabinet and momentarily appeared to forget that his newly-installed CIA director, former Representative Mike Pompeo, was no longer serving in the House and thus not in attendance at the congressional retreat. "Where the hell is he?" Trump asked. Then he answered his own question: "He's working."