A President Without an Administration
The Trump transition is behind schedule in vetting its nominees, and struggling to fill senior positions before the inauguration.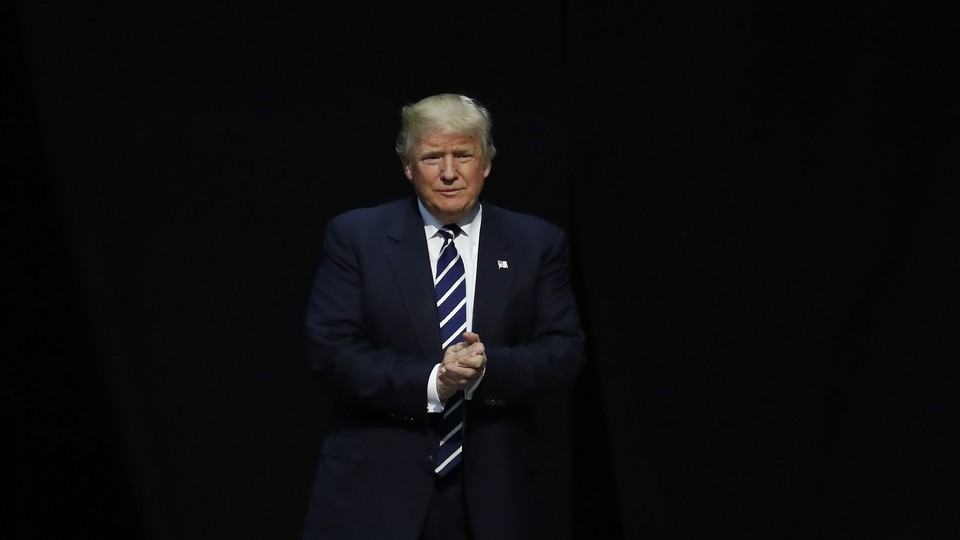 President-elect Donald Trump will take the reins of the federal government on January 20. How many people he will have by his side on that date is very much in question.
The Trump transition is substantially behind the pace set eight years ago by Barack Obama's team, and a late start to vetting Cabinet nominees for security clearances and financial conflicts of interest threatens to leave many senior posts vacant when Trump assumes the presidency in just two-and-a-half weeks. The delays, which were described by people familiar with the transition as well as several congressional aides, could hamper the new president's ability to deliver the swift change he has promised in Washington.
In the weeks after the election, Trump made a show of naming members of his Cabinet in rapid succession, giving the impression that his transition was proceeding speedily, faster even than many people expected after such a shocking result on November 8. But the slew of nominations obscured an important detail: Trump's team had done little or no vetting of those appointees before or immediately after the election, as the Obama transition had done. Potential picks were rarely asked to submit information for a standard FBI background check or financial documents needed for disclosure requirements and an ethics agreement. That meant that a process that takes weeks or even months did not begin until late November or December in some cases.
And for Trump, there's another complication: His Cabinet is stacked with wealthy executives whose vast and complex financial portfolios must be combed for potential business conflicts and then untangled before they receive Senate confirmation hearings. They include Rex Tillerson, the Exxon Mobil CEO nominated to be secretary of state; Steve Mnuchin for treasury secretary; Andrew Puzder for labor secretary; Wilbur Ross for commerce secretary; and Betsy DeVos as education secretary.
"With these billionaires, it's going to take a lot more time," said Richard Painter, who served as the chief ethics lawyer in the Bush White House from 2005 to 2007. Painter recalled that when he joined the government 12 years ago, it took him half a day to fill out the initial financial disclosure form. "But," he said, "I was just a law professor.  I have mutual funds. I don't even own any individual stocks, and it's really a pretty boring report."
By comparison, when Painter helped shepherd Hank Paulson to confirmation as treasury secretary in 2006, it took the Goldman Sachs CEO and a team of pricey outside lawyers two-and-a-half weeks to complete the same form. The task of vetting and then preparing ethics agreements for Trump's nominees now falls to the Office of Government Ethics, a relatively small federal agency with about 80 employees and an annual budget of $16 million. The office reviews each nominee's financial disclosure report for potential conflicts of interest and then instructs them what assets they must unload, among other steps they may have to take, to comply with the law once they take office. The result is a signed agreement that is sent to the Senate and posted publicly. Tillerson, for example, is expected to have to divest himself completely from Exxon Mobil, including forgoing any stock options to which he may be entitled.
While the office has been preparing for the presidential transition for months, it is likely to struggle to complete work for Trump's Cabinet in time for them all to be in place by inauguration. "It's a huge challenge for the office. Huge challenge," Painter said. "They need more funding." (The OGE, despite a late-November flurry of tweets directed at Trump, does not comment on individual reports, which are made public only when they are complete.)
By this time eight years ago, several of Obama's Cabinet picks had signed ethics agreements, said Norman Eisen, a senior fellow at the Brookings Institution who served as the president's ethics lawyer during the transition and his first years in the White House. None of Trump's nominees have them yet. "They are behind," Eisen said.
With a 59-seat Democratic majority in 2009, the Senate confirmed six members of Obama's Cabinet on the day he was inaugurated and another four within the next week. Republicans control the chamber now, and they want to have a similar number of Trump nominees in place when he takes office. Democrats, however, are worried that Republican leaders will try to rush through several nominees whose thin public record and thicket of potential financial entanglements deserve more time for scrutiny. Last month, the senior Democrats on 16 Senate committees demanded that no Trump nominee should receive a confirmation hearing until he or she has cleared an FBI background check, submitted a signed ethics agreement, and answered follow-up questions from committee members.
Because of a rules change engineered by Democrats in 2013, the 52 Senate Republicans can confirm Trump's nominees without Democratic votes, and a few committee chairmen have already set tentative hearing dates for the second and third week of January without receiving the completed paperwork for the nominees. "There is no indication that the schedule for hearings is going to be ticked back as a result of this slower pace," a senior Senate Democratic aide said.
While Democrats can't block the nominees outright without GOP defections, they can use parliamentary tactics to slow down the process and turn the Senate into even more of a bottleneck than it already is. In some cases they could delay confirmation hearings for nominees, or they could force the Senate to spend days debating each candidate on the floor—a move that would not only keep top Cabinet offices vacant but prevent Republicans from moving quickly to passage of Trump's legislative agenda. Senator Charles Schumer of New York, the new Democratic leader, warned that his members would "vehemently resist" any GOP effort to rush Cabinet nominees into office without proper hearings or before their financial disclosure and ethics agreements were complete. "If Republicans think they can quickly jam through a whole slate of nominees without a fair hearing process, they're sorely mistaken," Schumer said in a statement.
The other fear among some Democrats in and out of government is that with the help of a compliant Republican Congress, Trump's Cabinet nominees will simply follow the example of their would-be boss when it comes to ethics. The president-elect never released his tax returns during the campaign, and he has refused to fully divest from his businesses before taking office. Yet while the specifics ethics law that applies to government employees does not apply to the president, his appointees would be putting themselves in enormous legal jeopardy if they took office without resolving potential conflicts of interest. "They commit a criminal offense," Painter said. "That doesn't apply to the president and vice president, but they commit a criminal offense. The people working for him are going to have to play by the rules."
Republican chairmen say Democrats are overstating the delays and that they intend to follow Senate precedents in processing nominees, which vary by committee. Senator Bob Corker of Tennessee, chairman of the Foreign Relations Committee, has rejected demands from Democrats, for example, that the committee ask Tillerson to provide his tax returns, since it has not done so for past nominees. But he said Tillerson would not receive special treatment or exemptions from the traditional requirements. "Prior to his confirmation hearing, he will go through the same ethics and FBI checks as previous Secretary of State nominees," Corker said. "That has always been the plan, it is already in progress, and I am deeply disappointed my colleagues continue to imply otherwise. Our committee will carry out exactly the same procedures for Mr. Tillerson's nomination that have been carried out since well before I joined the committee 10 years ago."
Similarly, Republican spokeswomen for the Senate committees with jurisdiction over the Treasury, Labor, and Health and Human Services departments said they would not move forward with hearings until the nominees submit their completed paperwork, including signed ethics agreements. "Democrats are creating a red herring here—there is no concern that forms will not be filled out," said Margaret Atkinson, spokeswoman for the Health, Education, Labor, and Pensions Committee.
* * *
Where did things go awry for the Trump transition? Close observers of the process point to his decision, made just a few days after the election, to replace New Jersey Governor Chris Christie as chairman of his transition committee, along with some of the people who had spent months doing the prep work in Washington for a possible Trump administration. The president-elect had, by his own admission, given little thought to the transition before the election out of a sense of superstition. He and his inner circle took over the operation immediately after November 8, moving the power center from government-provided offices in D.C. to Trump Tower (and his other properties in New Jersey and Florida), where a parade of job seekers has traveled for job interviews.
Yet the formal vetting of those candidates has not, in most cases, begun before Trump selects them for a job. Take the case of Cathy McMorris Rodgers, the high-ranking Republican congresswoman who was poised to become Trump's nominee for interior secretary before the president-elect was persuaded to pick Representative Ryan Zinke of Montana instead. Over the course of about 10 days, McMorris Rodgers met twice with Trump and had phone calls with Vice President-elect Mike Pence and one of Trump's sons, Donald Jr., according to a Republican familiar with the process. Her name was leaked to the press, which reported that she was likely to get the interior job. Yet at no time did Trump officials collect paperwork of any kind from McMorris Rodgers. "We were not asked for anything at all, ever," this Republican said.
The Trump transition team did not respond to requests for comment on their vetting operation.
Several people familiar with the transition process said McMorris Rodgers's experience was not unique. In the case of Tillerson, Trump was not even considering, much less vetting, the oil magnate until his name came up in conversations with former defense chief Robert Gates and Condoleezza Rice, the former secretary of state, according to multiple published reports.
"It's dangerous to nominate first and vet later," Eisen said. Both he and Painter said numerous potential appointees in the Bush and Obama administrations had walked away from jobs before their names were made public once they found out how much they'd have to divest. Wealthy nominees have had to forgo millions of dollars in stock options as part of ethics agreements, for example. And that doesn't even account for the damaging personal or political revelations that could threaten Senate confirmation or, at minimum, surprise and embarrass an administration without preliminary internal investigations.
The slow pace of the Trump transition is not limited to the vetting of top Cabinet picks. Aside from a dozen or so senior White House advisers, ambassadors, and domestic agency heads, the president-elect's team has moved to fill hardly any of the 4,000 political appointee positions across the federal government, including 1,100 that are subject to Senate confirmation. Those include under secretaries, assistant secretaries, general counsels, chief financial officers, and agency administrators and directors, among other posts.
The Partnership for Public Service, a nonprofit that provides guidelines, job descriptions, and advice for presidential transitions, has said the new administration should aim to have 100 Senate-confirmed appointees in place on or around Inauguration Day. At its present rate, the Trump administration would be lucky to get a dozen. The transition has also thus far disregarded suggestions to name its Cabinet picks as part of larger slates, so that the secretaries do not spend weeks surrounded by empty desks and acting deputies who cannot operate with full authority. "The issue isn't how many people you announce," said Max Stier, president and CEO of the Partnership. "The issue is how many qualified people you get in place in real time and working effectively."
While the Obama transition in 2008-2009 is hailed as the modern gold standard for presidential transfers of power, the process in recent decades has more commonly been fraught and slow. Officials in both parties point in particular to 2000, when the month-long election recount shortened the transition period. Yet the concern over the Trump operation is heightened by the fact that not only the president-elect, but also many of his top Cabinet picks, have little or no experience in government. If they take office alone, they'll be relying heavily on career civil servants to carry out the enormous change they've demanded of the government. That alone might prove to be a significant obstacle. "You can't effectively change the government," Stier noted, "if you don't truly understand how it operates."