Trump Moves Closer to Announcing a Supreme Court Nominee
The president says he'll reveal his choice to fill the vacant high-court seat next week.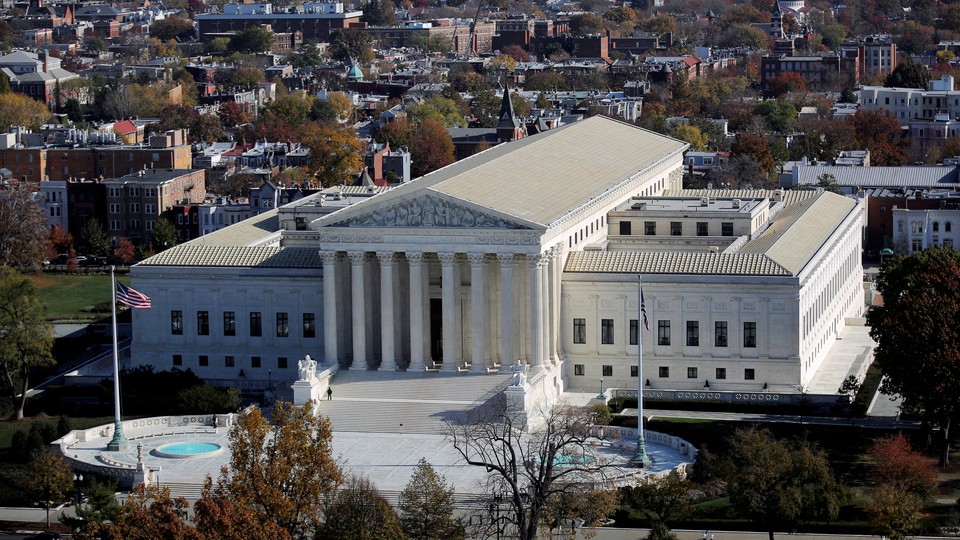 Updated on January 25 at 9:15 a.m. ET
Donald Trump is moving closer to naming a Supreme Court nominee to fill the late Justice Antonin Scalia's seat. The president told reporters Tuesday that he plans to finalize a decision on the nomination this week and make an announcement next week. On Wednesday, he took to Twitter to clarify his timeline: "I will be making my Supreme Court pick on Thursday of next week." According to a White House press-pool report, Trump assured reporters that the nominee will be "truly great."
So who will Trump nominate? Citing anonymous sources "familiar with the search process," Politico reported on Tuesday that Trump is trying to decide between three potential nominees: Neil Gorsuch, Thomas Hardiman, and Bill Pryor, with Gorsuch and Hardiman as the frontrunners.
All three names appeared on a list of potential nominees released by the Trump campaign in September—a list that, needless to say, did not mention former President Obama's own Supreme Court pick, Merrick Garland, whose nomination languished last year when Senate Republicans refused to even hold hearings on his possible addition to the court.
Here's more on the potential nominees:
Neil Gorsuch: Gorsuch was confirmed by the Senate to serve as a judge on the U.S. Court of Appeals for the Tenth Circuit in 2006 after being nominated by President George W. Bush. He earned a law degree from Harvard University and worked as a law clerk from 1993 to 1994 for Supreme Court Justice Anthony Kennedy, who often acts as the high court's swing vote. Gorsuch also worked in the Justice Department from 2005 to 2006.
He has also been compared to Scalia. In an article examining his Supreme Court prospects, the Los Angeles Times described Gorsuch as "a highly regarded conservative jurist best known for upholding religious-liberty rights in the legal battles over Obamacare." The report added that his proponents believe he has "a devotion to deciding cases based on the original meaning of the Constitution and the text of statutes, as did the late Justice Antonin Scalia."
Thomas Hardiman: Hardiman was nominated by the second Bush president to serve as a judge on the U.S. Court of Appeals for the Third Circuit and confirmed by the Senate in 2007. He received a law degree from Georgetown University and, prior to his current judgeship, served as a U.S. District Court judge for the Western District of Pennsylvania.
His judicial record might dovetail with Trump's controversial calls for "law and order." "A 2007 ruling Hardiman wrote upheld the constitutionality [of] strip searches of jail prisoners regardless of how minor an offense they were accused of," Politico noted earlier in the month. The report added that although "Hardiman has backed First Amendment rights in the context of political donations, he took a narrower view in a 2010 suit over an arrest for videotaping a police officer during a traffic stop, holding that there was no clearly established First Amendment right to record such an event."
Bill Pryor: Pryor has been a judge for the U.S. Court of Appeals for the Eleventh Circuit since 2004 and was also nominated by Bush. He was born in Mobile, Alabama; graduated with a law degree from Tulane University; served as the Alabama state attorney general from 1997 to 2004; and currently serves on the U.S. Sentencing Commission.
Pryor once called the Supreme Court's landmark Roe v. Wade decision, which protected a woman's right to an abortion, "the worst abomination in the history of constitutional law." During a confirmation hearing to consider his nomination to the Eleventh Circuit, Pryor told the Senate Judiciary Committee that he believes "abortion is morally wrong," though he added: "I am able to put aside my personal beliefs and follow the law, even when I strongly disagree with it." SCOTUSblog writes that Pryor "has been a strong proponent of religious freedom, [and] has been perhaps surprisingly receptive to claims of discrimination by LGBTQ plaintiffs," noting that he once joined an opinion "holding that Georgia officials violated the equal protection clause when they fired an employee for being transgender."
For now, other potential Supreme Court nominees may also be under consideration. But whoever Trump nominates could meet stiff resistance from Democrats, who've condemned their Republican counterparts' obstruction of Garland's nomination. "If the nominee is out of the mainstream, we will do our best to keep the seat open," Senate Democratic leader Chuck Schumer told CNN on Sunday, adding that he was "hopeful that President Trump may nominate someone who is mainstream and could get bipartisan support." If the nominee doesn't satisfy Democrats, Republicans will find themselves on the opposite end of a partisan battle over the vacant Court seat, which began almost immediately after Scalia died last year.