Are Democrats Prepared to Fight Trump's Supreme Court Nominee?
The party out of power has struggled to mount a unified opposition to the president's agenda, but Senate Democrats rushed to criticize his nomination on Tuesday evening.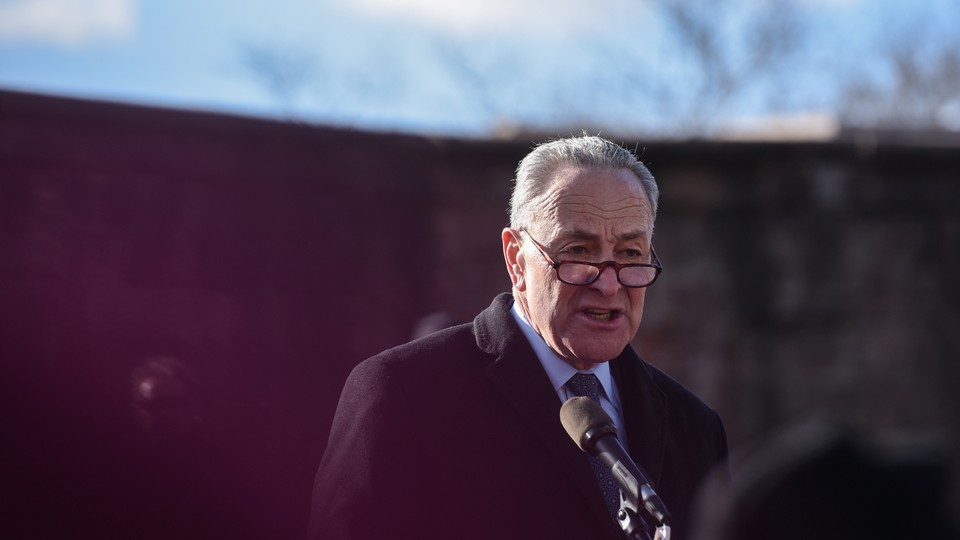 Democrats rushed to express alarm over President Donald Trump's announcement on Tuesday evening that he intends to nominate conservative judge Neil Gorsuch to the Supreme Court, one of the most important decisions of the opening days of his presidency.
Senate Democratic Leader Chuck Schumer warned in a statement that he has "very serious doubts" over the nomination, and promised "an exhaustive, robust and comprehensive debate," though he stopped short of announcing complete opposition.
Senator Elizabeth Warren of Massachusetts, a leading voice in the liberal wing of the party, stated outright that she will oppose the nomination, as did Senator Sherrod Brown of Ohio. "President Trump had the chance to select a consensus nominee to the Supreme Court," Warren said in a statement, "To the surprise of absolutely nobody, he failed that test." At least one of their Democratic colleagues who sits on the judiciary committee, meanwhile, was promising to support a vote for the nominee.
The range of responses on Tuesday evening indicated that Trump's nominee will face close scrutiny in the Senate. At the same time, the fact that some senators were willing to go further than others in taking a stand against the nomination signals that it may be difficult for Democrats to mount a unified opposition.
Senate Democrats must now decide how hard they are willing to fight over the high-court seat that Republicans blocked President Obama from filling after the death of Justice Antonin Scalia last year.
The fate of the Supreme Court hangs in the balance. Over the last two weeks, Democratic voters across the country have shown they're anxious, and ready to protest Trump's agenda. That's increased the pressure that Democratic Senators feel from their base to make a stand against Trump, even as some facing re-election in 2018 must work to maintain support from centrist voters.
It's clear, however, that Democrats are already attempting to build a case against the nomination, portraying Gorsuch as overly friendly to Wall Street and corporate interests and unsupportive of women's rights.
In his statement, Schumer accused the nominee of siding "with corporations over working people," and demonstrating "a hostility toward women's rights." In an interview following the announcement, Senator Richard Blumenthal of Connecticut said he had "deep, serious concerns," citing Gorsuch's "positions on privacy rights …  women's health care, worker and consumer protections, and public health and safety." Senator Ron Wyden of Oregon also laid down a clear marker, saying in a statement that "no Senator who believes that individual rights are reserved to the people, and not the government, can support this nomination."
It was clear even before Trump announced his decision that Democrats were gearing up for a fight. Schumer publicly declared earlier this month that "if the nominee is not bipartisan and mainstream, we will absolutely keep the seat open." Democratic Senator Jeff Merkley went a step further, threatening to filibuster any nomination that isn't Merrick Garland, Obama's pick to fill the seat who Republicans blocked from getting so much as a hearing in the Senate.
"I can only speak for myself, but I believe this is a stolen seat," Merkley said in an interview on Tuesday afternoon ahead of Trump's announcement. "There is no nominee who is a legitimate nominee unless the president plans to nominate Merrick Garland."
In a separate interview before news of Trump's pick had been made public, Democratic Senator Ed Markey of Massachusetts predicted a "battle royale" if Trump puts forward a nominee who "is not in the mainstream of American constitutional jurisprudence."
The degree to which Democrats put up a unified front—or splinter in the midst of the confirmation fight—and how quickly and forcefully they decide exactly how to respond to Trump's nomination could go a long way toward either reassuring or demoralizing voters who want to see stiff resistance to the Trump agenda in Washington.
Different lawmaker are sure to have different priorities, especially since a number of Democratic senators are facing re-election in 2018 in states that Trump won. And many  Democrats may ultimately stop short of declaring an all-out war on Trump's Supreme Court pick, even if they express concern over his nomination and ultimately oppose it.
"I have reached no conclusion yet," Blumenthal said on Tuesday evening when asked if he had reached a decision after Trump's announcement. "I remain very angry and outraged" at how Republicans treated Garland, the senator said, but added that Democrats "should not repeat the Republicans' wrong," vowing to "participate in a hearing and a committee vote." Still, Blumenthal promised to "use every tool at our disposal to block Judge Gorsuch's nomination if I conclude that he is out of the mainstream."
"The Republicans were wrong when they made a categorical statement before," Senator Gary Peters of Michigan said in an interview earlier in the afternoon on Tuesday. "The American people have the right to hear from a nominee and hear what they have to say, and so it's the same for this case. We're going to be consistent." Senator Tim Kaine of Virginia, Hillary Clinton's former running mate, added, also ahead of the announcement, that "the Judiciary Committee hearing will be really important," referring to the panel that oversees vetting of the nomination.
Senator Dick Durbin, who serves on the Judiciary Committee along with Senator Blumenthal, said in a statement that he would "meet with Judge Gorsuch and support a hearing and a vote for him," adding that he would work to ensure the voices of the American people "are heard in this debate."
Senator Dianne Feinstein, meanwhile, the top Democrat on the Senate Judiciary Committee, said in a statement that "it will take time to conduct a thorough review" of Gorsuch's record, but added that "at a time when public trust in our institutions is at an all-time low and our country is bitterly divided, a thorough and fair review is vitally important."
But anything less than complete and total opposition from the outset to the Supreme Court pick is sure to disappoint those Democratic voters looking for a sign of unflinching resolve.
"This is a crisis moment," Ben Wikler of the progressive advocacy group MoveOn.org, "If grassroots Democrats hear their elected leaders treating Trump's nominee as business as usual, it's not that they'll be disappointed or crestfallen, they'll be furious," he said, adding that Senate Democrats should have "a unified and morally crystal clear response to Trump's nominee as soon as we know who it is."
Part of what raises the stakes of the Supreme Court fight is the fact that under current Senate rules, Democrats have the ability to initiate a filibuster, which would require 60 votes to overcome. Since there are only 52 Senate Republicans, that could prevent confirmation absent Democratic defections. It is possible, however, that Senate Republicans could respond to that scenario by invoking the so-called nuclear option, which would allow the GOP to override any objections with 51 votes.
Christopher Parker, a political science professor at the University of Washington who has studied the Tea Party movement, warned that if Democrats aren't willing to do whatever it takes to attempt to sink the nomination, they do so at their own peril. "Democrats really need to push this fight to the brink," Parker said in an interview. "They need to show that they're willing to pull out all the stops. If they don't, they run the risk of losing the support of their base. These folks are fired up, and they need to know that there is someone willing to lead."
---
Related Videos