Trump Blames his Rift With the CIA on the Media
In his first speech after the inauguration Trump tried to patch things up with the FBI and CIA.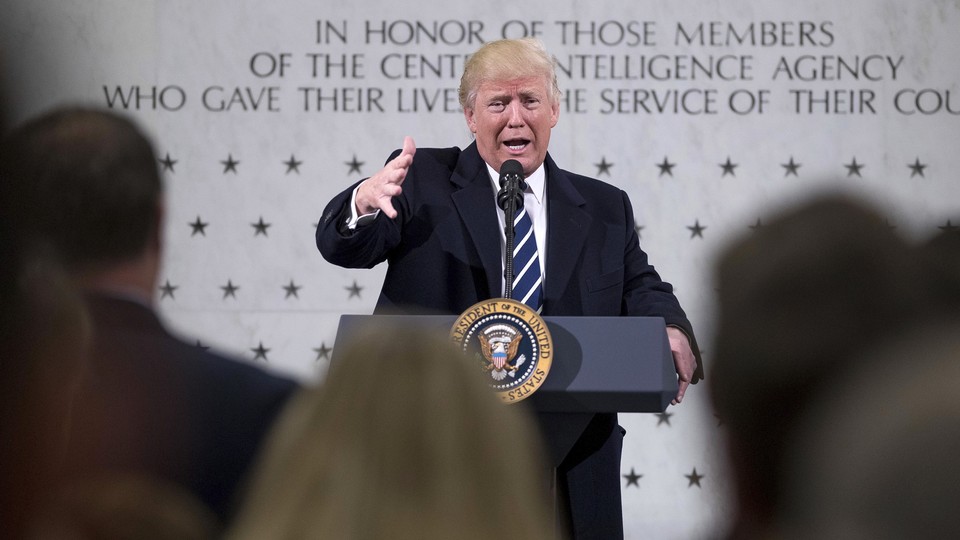 On his first full day in office, President Donald Trump spoke at the Central Intelligence Agency's headquarters, standing in front of the Agency's memorial to its fallen officers,  and sought to mend his tumultuous relationship with Langley. Yet he never said the word "sorry," to federal intelligence agencies for the many times he's berated them.
Trump has castigated both the CIA, as well as the Federal Bureau of Investigation, over everything from their investigation into Hillary Clinton's role in Benghazi and her private email server, to their inquiries into hacks on the Democratic National Committee's (DNC) emails. But in his speech, he sought to blame his rift with the intelligence community on the press, implying the conflict was simply the invention of a hostile media.
The speech started a little before 3:20 p.m., lasted about 20 minutes, and veered from topic to topic. Trump opened by saying he thought the intelligence community were "special, amazing people," then lamented how the U.S. never won wars anymore ("When I was young we were always winning things in this country"); he brought up ISIS ("It has to be eradicated—off the face of the earth!"); he mentioned the numerous occasions on which he's appeared on the cover of Time magazine ("I have been on that cover 14 or 15 times"). He seemed to spiral around why he had come, making political jabs at the media to mixed success.
CNN reported that the crowd of intelligence officials were broken into two sections, with the main area full of agency staff, and a separate section in front of the lectern full of senior agency leadership, including agents. There was some applause at times from the all-agency section, CNN reported, but the leadership stood, looking stoic, and did not applaud.
"I am so behind you," Trump said at CIA headquarters in Langley, Virginia.
"There is nobody that feels stronger about the Intelligence Community and the CIA than Donald Trump," he said.
They would "get so much backing" from his administration that they might beg him to stop backing them so much. They might even say, he suggested, "Please, don't give us so much backing."
Since winning the election Trump has chosen only to receive intelligence briefings once a week instead of each day, calling them repetitive, and leading some to question whether he held the agencies in much regard. At times, he has praised the intelligence community when they do something he approves of—like reopening their investigation into Clinton's emails—and scolded them in statements or via Twitter when they do something that might harm his image.
For example, after reports that the intelligence community had concluded that Russia was behind the DNC hacks, which were intended to influence the election in Trump's favor, Trump denied it. He seemed to take the news personally, as if it meant he'd not won the presidency on his own. In a statement, his transition team said, "These are the same people that said Saddam Hussein had weapons of mass destruction."
What Trumped seemed to be implying was what he's said many times before, which is that the agencies responsible for collecting intelligence across the world and keeping the country safe from threat are inept. Earlier this month, after numerous reports that intelligence agencies had linked Russia to hacking the DNC, Trump implied that Julian Assange, founder of WikiLeaks, had better intel than they did.
Julian Assange said "a 14 year old could have hacked Podesta" - why was DNC so careless? Also said Russians did not give him the info!

— Donald J. Trump (@realDonaldTrump) January 4, 2017
As early as last week, in fact, Trump seemed to be picking a Twitter fight with the intelligence community.
Upset over the leak and publication of a private dossier compiled by a former British intelligence official filled with unsubstantiated claims about his connections to Russia, Trump scolded the intelligence community, comparing them to Nazi Germany: "I think it was disgraceful, disgraceful that the intelligence agencies allowed any information that turned out to be so false and fake out. I think it's a disgrace, and I say that ... that's something that Nazi Germany would have done and did do."
It was at that same conference in New York when he acknowledged for the first time that Russia might, possibly, have been behind the DNC hacks.
A few days later and Trump was criticizing the outgoing CIA director John Brennan, who resigned Friday, for comments he made that questioned Trump's comprehension of Russia's capabilities and intentions.
.@FoxNews "Outgoing CIA Chief, John Brennan, blasts Pres-Elect Trump on Russia threat. Does not fully understand." Oh really, couldn't do...

— Donald J. Trump (@realDonaldTrump) January 16, 2017
much worse - just look at Syria (red line), Crimea, Ukraine and the build-up of Russian nukes. Not good! Was this the leaker of Fake News?

— Donald J. Trump (@realDonaldTrump) January 16, 2017
All of this had led some to believe there might be a four-year war brewing between Trump and the intelligence community, something that could lead to an unprecedented amount of leaks, departmental fighting, mass flight from intelligence jobs, or weakened intelligence gathering on threats to the country.
Indeed, earlier this month The Wall Street Journal reported that Trump's transition team planned to hack the CIA's budget, rearrange its personnel, and leave it a shell of itself.
It seems the press conference Saturday—though at times rambling—was meant to salve the the wounds Trump has himself created with intelligence agencies. He spoke casually at CIA headquarters, in his typical fashion, winking and joking. Besides, he said, he's never had anything against the CIA. The entire thing was made up by the press.
"They sort of made it like I had a feud with the intelligence community," he said, shrugging, as if it were ridiculous to think he'd ever done anything to disparage such "special, amazing people."