The Trump Administration Pledges Allegiance to Pro-Life America
"We will not rest until we restore a culture of life in America," vowed Vice President Pence at the March for Life on Friday.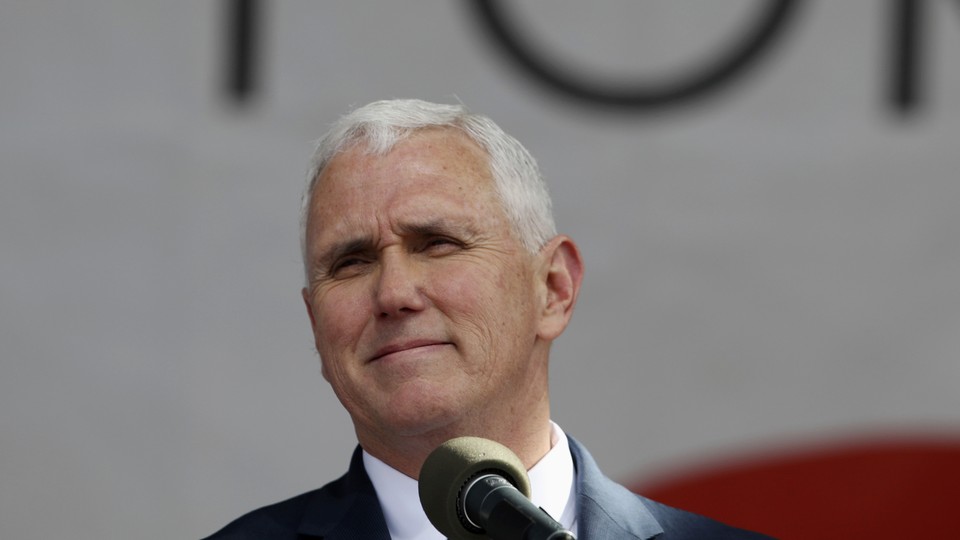 Vice President Mike Pence took the stage at the March for Life on Friday and faced a hopeful crowd. Many of them gave their vote to this man and his presidential running mate in November, making a somewhat reluctant bet that President Trump would protect their agenda. Within one week, Pence said, the administration has proved its steadfastness: "At 1600 Pennsylvania Avenue, we are in the business of keeping promises."
After years of coming to the March for Life in a defensive posture, pro-life activists are finally feeling a sense of hope, largely thanks to Trump. Before the event began, there were whispers that Trump himself would call in to the March and broadcast his well wishes to the crowd, said Marjorie Dannenfelser, the president of the pro-life group Susan B. Anthony List. Backstage before the speeches, one man described his fantasy that Trump's chopper would appear on the horizon, and the president himself would drop onto the stage to show his support.
While the president himself didn't show up, Pence said Trump personally asked him to attend the March along with Trump's counselor Kellyanne Conway, who agreed to join weeks ago. "He asked me to thank you for your support," Pence said, winning only modest cheers from an otherwise boisterous crowd. But when Pence got to Trump's signature line—"I know he will make America great again!"—the crowd went wild. Even the Trump skeptics present seemed to believe the president will further their vision of a great America: a country without abortion.
"He's been shockingly, and perhaps even ironically, the most pro-life president in the history of the republic," said Eric Metaxas, a Christian talk-show host who spoke at the March, in a conversation backstage. "He is widely perceived as being anything but a social conservative. Somebody who has had three wives and who has been pro-choice most of his life … is not the kind of person you would expect to advocate for the unborn. But he's 70 years old. I think he has a sense of the weight of his new position."
As the March showed, Trump also has the backing of longtime pro-life advocates in his administration—people who speak the language. Pence spoke of "a culture of life" and called on the pro-life movement to be loving and compassionate: "There is nothing stronger than gentleness," he said. "I believe we will continue to win the hearts and minds of a rising generation." There were no louder cheers than when Pence talked about the Supreme Court: Trump's nominee, who will be announced this week, "will uphold the God-given liberties enshrined in our Constitution. Life is winning in America," Pence said.
For her part, Conway seemed to channel the newly optimistic mood in the movement, affirming that pro-lifers have the ear of the White House: "March for life 2017, let me make it very clear," she said. "We hear you. We see you. We respect you. And we look forward to working with you."
Many high-profile champions of religious and pro-life causes seemed eager to gather and socialize. Backstage, the Little Sisters of the Poor, an order of nuns who championed a high-profile suit against the Obama administration concerning the birth-control mandate in the Affordable Care Act, chatted with Kansas Governor Sam Brownback, who proudly talked up all the pro-life legislation he's fought for. There was high praise for Trump all around, from the nuns to the governor to all the legislators who came to speak: Before going on stage, Iowa Senator Joni Ernst told me Trump has "been doing phenomenal." New Jersey Representative Chris Smith said the president has "done extraordinarily well." Utah Representative Mia Love was less lavish with her praise, however, noting that he's done "well" but "that the time to look to Washington to solve all of our problems is gone."
In just his first week, Trump has signaled that he will be loyal to the pro-life movement, whose members arguably helped him carry the White House. The March for Life showed that he's not just amenable to pro-life policies—he's aligning his White House with the culture of the pro-life movement, as well.