The Senate Delays a Key Nomination Hearing
The move pushes back the examination of Betsy DeVos, Trump's nominee for education secretary. But three other Cabinet picks are still set to receive confirmation hearings before they have obtained ethics agreements.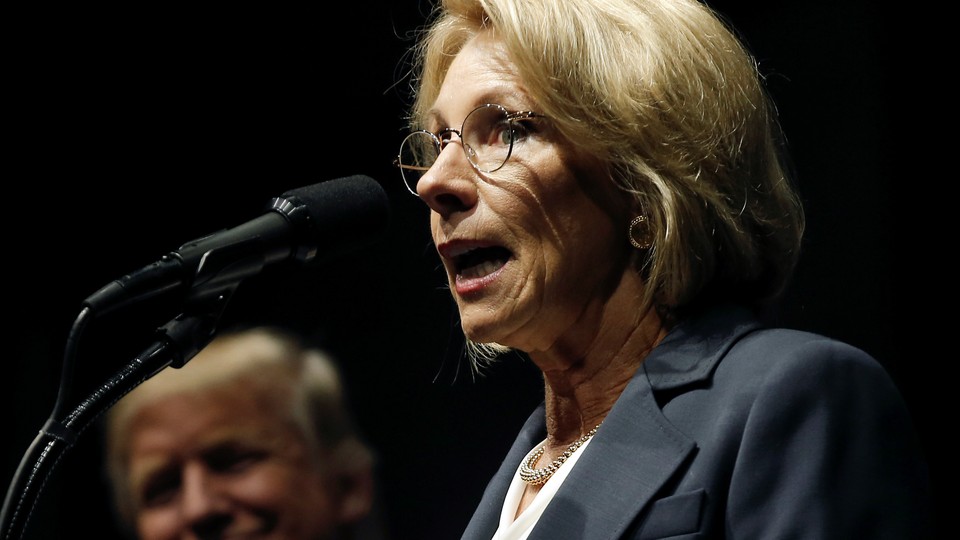 This story was updated on Monday, January 9 at 11:27 pm
Senate Republicans have delayed the confirmation hearing for President-elect Donald Trump's nominee for secretary of education amid mounting criticism from Democrats that the GOP is rushing to install Trump's Cabinet without sufficient vetting.
The Senate hearing for Betsy DeVos will now occur on the afternoon of January 17, the leaders of the Health, Education, Labor and Pensions Committee announced late Monday night. DeVos, a conservative education activist and wealthy philanthropist, was set to testify on Wednesday along with four other Trump nominees even though she had yet to sign a certified ethics agreement detailing how she planned to resolve potential conflicts of interest—a step that traditionally occurs before a nominee receives a confirmation hearing.
Senators Lamar Alexander, a Republican of Tennessee, and Patty Murray, a Washington state Democrat, said the change was made to accommodate the Senate leadership. In addition to highlighting the ethics issue, Democrats had complained that Republicans had jammed several confirmation hearings into a single day to dilute public attention and make it easier for Trump nominees to survive a rocky hearing.
Alexander, the HELP committee chairman, said in a statement that the panel still plans to vote on DeVos' confirmation on January 24, which would set her up for a final vote on the Senate floor in the first weeks of Trump's presidency. Republicans have prioritized confirming the president-elect's national-security team by the time he is inaugurated on January 20. Democrats could use procedural tactics to disrupt that schedule, but they do not have the votes to block Trump nominees without Republican defections. "Betsy DeVos is an outstanding nominee who has complied with all of the committee's requirements and no one doubts that she will be confirmed as education secretary," a Senate GOP aide said late Monday, speaking on the condition of anonymity. An aide to Senator Murray said the Democrat "is hopeful that this additional time will allow Ms. DeVos to complete the required ethics paperwork in time for the Office of Government Ethics to submit it to the HELP Committee before her hearing."
Even with the delay in DeVos' hearing, as many as three top Cabinet picks will receive confirmation hearings this week without having completed financial disclosure reports and ethics agreements. In pushing ahead, Republican leaders are brushing aside a warning from the director of the independent Office of Government Ethics that their aggressive hearing schedule is "cause for alarm."
Senate committees have scheduled confirmation hearings for seven nominees over a three-day period beginning Tuesday. As of Monday night, DeVos was one of four scheduled for this week who did not have signed ethics agreements. The others are retired General John Kelly, the nominee for homeland security secretary; Ben Carson, the nominee to lead the Department of Housing and Urban Development; and Wilbur Ross, the nominee for commerce secretary.
The nominees are behind schedule because the Trump transition did not follow the usual practice of pre-clearing the president-elect's choices for potential ethical conflicts or security issues before sending their names to the Senate. As a result, the relatively small federal agency charged with reviewing their financial portfolios has been overwhelmed—in part because so many of the nominees are wealthy executives with vast holdings they may need to divest or unwind.
"The announced hearing schedule for several nominees who have not
completed the ethics review process is of great concern to me," wrote Walter Shaub, director of the Office of Government Ethics, in a letter to senators late last week. "This schedule has created undue pressure on OGE's staff and agency ethics officials to rush through these important reviews."
He added: "I am not aware of any occasion in the four decades since OGE was established when the Senate held a confirmation hearing before the
nominee had completed the ethics review process."
Democrats have used Shaub's letter as ammunition to demand that Republicans slow down. But in an appearance Sunday morning on Face the Nation, Senate Majority Leader Mitch McConnell dismissed their protests as "little procedural complaints" stemming from the party's frustration at losing the election. He said that while the hearings would proceed, the nominees would not receive final votes on their confirmation until all of their paperwork had been completed.
After meeting with Trump in New York on Monday morning, McConnell reiterated his desire to see "up to six or seven nominees" confirmed by the inauguration. "Everyone will be properly vetted as they have been in the past," he told reporters.
As with so many of the early skirmishes of the Trump administration-in-waiting, this fight is about setting a tone as much as substance. Can Democrats force the incoming president to play by the rules after he campaigned as a candidate who would shake up the conventions of Washington? And will Republicans defer to Trump's wishes or the Senate's institutional traditions?
McConnell is using the Obama transition as a benchmark, noting that the Democratic-led Senate at the time confirmed seven of his nominees immediately upon his inauguration. But Democrats argue that because Trump has stacked his Cabinet with nominees from the private sector who have both a slim public record and a greater potential for conflicts of interest, the details of their ethics agreements are more important. While Democrats can use procedural tactics to slow-walk the actual confirmation votes, the lack of complete financial records will limit their ability to press the nominees during their public hearings.
Norm Eisen, who served as the top ethics lawyer in the Obama White House, has also unearthed a letter that McConnell sent eight years ago, when he was minority leader, insisting on the same standards for Obama's nominees. But as McConnell's spokesman, Don Stewart, noted on Twitter, McConnell raised those concerns after the Senate had already confirmed most of Obama's Cabinet. Nevertheless, on Monday afternoon the Democratic leader, Senator Charles Schumer, made a point of sending McConnell's 2009 letter right back to him with names and dates switched.
Democrats were particularly concerned about DeVos, a conservative activist and philanthropist tapped for education secretary. "Given Ms. DeVos' very significant financial resources and the high position of public trust to which she will be nominated, it is essential that our committee fully understand in advance of the hearing what are the potential conflicts of interest and the steps she will take in order to comply with federal ethics laws and regulations," Senator Patty Murray, the top Democrat on the Senate Health, Education, Labor and Pensions Committee, wrote in a letter to Shaub seeking an update on the status of DeVos' ethics forms.
Politically, Democrats have little hope of blocking Trump's nominees without help from Republicans. The 52-member GOP majority can confirm all but one of them on a simple majority vote, thanks to a rule change Democrats made when they were in power in 2013. So far, no Republicans have announced opposition to any Trump nominees, and none have joined Democrats in raising concerns about the swift hearing schedule.