The White House Clings to False Claims of Massive Voter Fraud
Trump announced a new investigation, and his team has cited "studies" suggesting millions of non-citizens cast ballots in November. Little evidence supports this claim.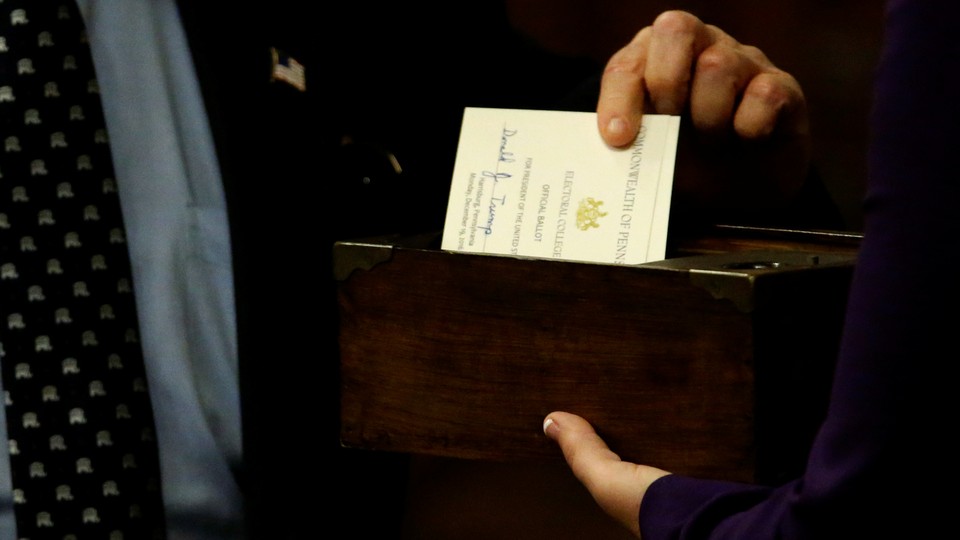 Updated on January 25 at 9:30 a.m.
Two and a half months after the 2016 election, Donald Trump is still concerned about voter fraud—even though he has yet to produce credible evidence to substantiate his claims. During a press conference on Tuesday, a reporter asked his press secretary, Sean Spicer, whether the president believes "millions" of people voted illegally in this election, as he reportedly claimed in a closed-door meeting with congressional leaders on Monday. That would be enough votes to erase Hillary Clinton's margin, handing Trump a popular-vote lead to go along with his Electoral College victory.
"The president does believe that," Spicer said. He "stated his concerns [about] voter fraud and people voting illegally during the campaign, and he continues to maintain that belief based on studies and evidence that people have presented to him." Later, Spicer incorrectly claimed that a 2008 Pew Research Center study shows that 14 percent of people who had voted "were non-citizens."
Then, on Wednesday, Trump announced via Twitter that he would be "asking for a major investigation into voter fraud":
I will be asking for a major investigation into VOTER FRAUD, including those registered to vote in two states, those who are illegal and....

— Donald J. Trump (@realDonaldTrump) January 25, 2017
even, those registered to vote who are dead (and many for a long time). Depending on results, we will strengthen up voting procedures!

— Donald J. Trump (@realDonaldTrump) January 25, 2017
While it may be Trump's belief that voter fraud is a significant problem, there is no evidence to support that claim. Spicer is right that this isn't a new issue for Trump—the Republican championed the topic on the campaign trail, right up until Election Day.
After he won, though, and Democrats attempted to challenge his victory in the key states of Wisconsin, Pennsylvania, and Michigan, Trump reversed his position. In a filing in the Michigan case, his campaign argued that "all available evidence suggests that the 2016 general election was not tainted by fraud or mistake." Even after winning the election, getting inaugurated president, and arguing in court that voter fraud didn't affect the outcome of the 2016 election, Trump still can't let this issue go, suggesting that he's still bothered by his incomplete victory.
Voter fraud is a ghost-like issue, cyclically raised by politicians to cast doubt on the legitimacy of electoral outcomes. But concerns about voter fraud are not founded in credible evidence. "By any measure, voter fraud is extraordinarily rare," wrote Justin Levitt in a 2007 Brennan Center report on the issue. Most cases of purported voter fraud actually involve typographical errors or other technical mistakes made by citizens who are eligible to vote, he reported. And the kind of fraud Trump has alleged—that millions of non-citizens voted in 2016—is practically non-existent. As Levitt wrote:
We are not aware of any documented cases in which individual non-citizens have either intentionally registered to vote or voted while knowing that they were ineligible. Given that the penalty (not only criminal prosecution, but deportation) is so severe, and the payoff (one incremental vote) is so minimal for any individual voter, it makes sense that extremely few non-citizens would attempt to vote, knowing that doing so is illegal.

Although there are a few recorded examples in which non-citizens have apparently registered or voted, investigators have concluded that they were likely not aware that doing so was improper.
During the press conference on Tuesday, Spicer was most likely referring to a Pew Report published in 2012—it's one Trump cited on the campaign trail. In that report, Pew's researchers argued that the voting system is inaccurate, costly, and ineffective, and that voting rolls contain millions of incorrect entries or registrations for dead people. But those are issues with registration; they don't indicate that invalid votes are actually being cast. Their findings do not support the claim that widespread voter fraud has taken place; after Trump pointed to this report on the campaign trail, one of the report's authors disagreed on Twitter with the conclusions he'd drawn from it. Trump's other favorite piece of evidence for widespread voter fraud—an article on a Washington Post blog written by Old Dominion University professors—has widely been debunked.
Trump announced his intentions to open an investigation on Wednesday only after journalists—including NPR's Mara Liasson and CNN's Jake Tapper—asked why he had not sought to investigate claims that would amount to the most massive electoral fraud in American electoral history. Spicer hinted that an investigation might be a possibility on Tuesday: When repeatedly pressed by reporters, he said only, "Maybe we will [investigate]," later adding, "let's not prejudge what we may do in the future."
Although the details of such an investigation are still unclear, Trump's tweets suggest he's largely intending to look at voter-roll irregularities, which are different from voter fraud. Registration duplications and non-updated voter rolls may be signs of inefficiencies in the system, as Pew found in 2012. But they are not evidence that fraud is taking place. To prove that, Trump would have to show that people who are not entitled to vote—whether they're non-citizens or they're voting in the name of someone who's dead—are willfully voting anyways. After all, the Sarasota Herald-Tribune reported that Stephen Bannon, Trump's chief strategist and senior counselor, is currently registered to vote in Sarasota County, even though he cast an absentee ballot in New York City—where he's also registered to vote—in November.
Other Republicans are not backing Trump up on this issue. On Tuesday, The Hill reported that House Speaker Paul Ryan told reporters he has "seen no evidence" that 3 to 5 million non-citizens voted in November, as Trump reportedly claimed. Mike Huckabee, the former Republican presidential nominee who has been very supportive of Trump, told Fox News he has "no evidence whatsoever, and I don't know that anyone does, that there were that many illegal people who voted, and frankly it doesn't matter." Mitch McConnell, the Senate majority leader, was more circumspect, saying only that voter fraud happens, and that "there are always arguments on both sides about how much, how frequent and all the rest," according to The Hill.
In the lead-up to the election, voter fraud was a major topic of discussion. Republicans and Democrats in various states filed dueling lawsuits over Trump supporters' efforts to deter fraud by monitoring polling stations, which Democrats saw as an attempt to intimidate voters. Now that he's won, Trump is still using fraud claims to cast doubt on the election results; he wants to make his victory appear even bigger than it actually was. Trump is "very comfortable with his win," Spicer said at the press conference Tuesday. The fact that he's obsessed with voter fraud, despite all the evidence, suggests otherwise.