A Dramatic Showdown at the Department of Justice
Donald Trump dismissed the acting attorney general for insubordination, after she refused to defend his immigration order in court.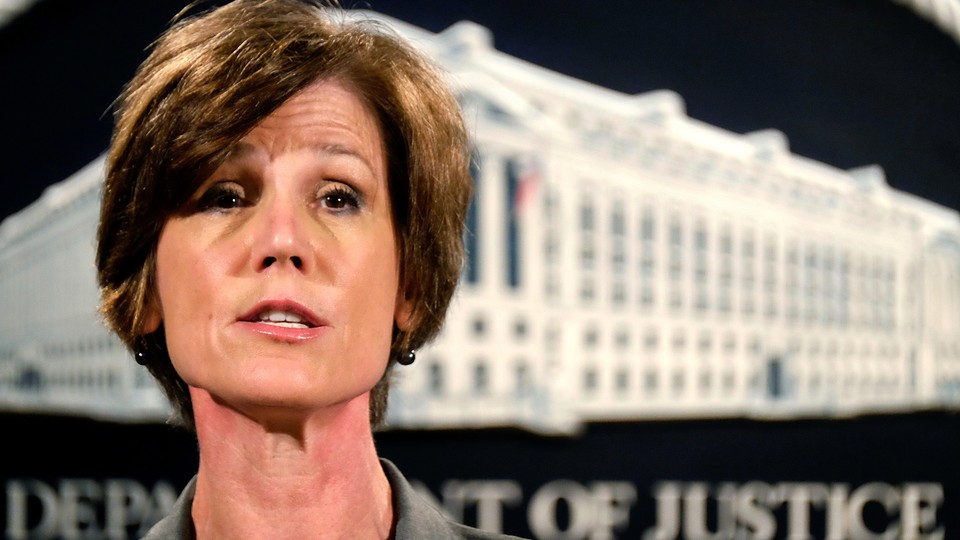 President Trump fired Acting Attorney General Sally Yates only hours after she instructed Justice Department lawyers not to defend his controversial executive order restricting Muslim travel and immigration to the United States, escalating a growing political crisis that has consumed his early presidency.
In an extraordinarily personal statement announcing the dismissal, the White House said Yates had "betrayed the Department of Justice by refusing to enforce a legal order designed to protect the citizens of the United States" and denounced her as "an Obama administration appointee who is weak on borders and very weak on illegal immigration."
Replacing Yates as the leader of the Justice Department will be Dana Boente, the U.S. attorney for the Eastern District of Virginia, until the Senate confirms Alabama Senator Jeff Sessions to be attorney general.
Events unfolded rapidly after Yates, a holdover from the Obama administration who took over the department's reins on January 20, sent a letter to Justice Department lawyers and staffers instructing them not to defend Trump's controversial order. Among the order's provisions were the suspension of the U.S. Refugee Admissions Program for 120 days, a permanent ban on admitting Syrian refugees, and a temporary ban on visa travel by foreign nationals from seven Muslim-majority countries.
The order's sudden issuance on Friday night led to chaos at major airports throughout the country as U.S. customs officials detained and deported travelers without warning, including some permanent U.S. residents with green cards. By Saturday, throngs of volunteer lawyers and demonstrators arrived to protest the ban and free those held under it. Federal judges in five states issued orders blocking parts of the order from being implemented.
"At present I am not convinced that the defense of the executive order is consistent with [my] responsibilities nor am I convinced that the executive order is lawful," Yates wrote on Monday night. "Consequently, for as long as I am the acting attorney general, the Department of Justice will not present arguments in defense of the executive order, unless and until I become convinced that it is appropriate."
Lawyers facing off against the federal government in court quickly praised Yates's intervention. "This is a remarkable but welcome development and sends a powerful message that there's something very wrong with a Muslim ban," said Lee Gelernt, deputy director of the ACLU's Immigrants' Rights Project.
Within a few hours of her letter became public, the White House removed Yates from her post. Senator Ted Cruz of Texas, Trump's onetime rival for the Republican nomination, released a statement on Facebook about the move: "After eight long years of a lawless Obama Department of Justice, it is fitting—and sad—that the very last act of the Obama DOJ is for the Acting AG to defy the newly elected President, refuse to enforce the law, and force the President to fire her."
Yates's sudden ouster raises the stakes significantly in what was already the most contentious confirmation battle of Donald Trump's nascent administration. Sessions's record as an Alabama senator and longtime immigration hardliner raised serious concerns among Senate Democrats, who feared he would roll back civil-rights protections and show too much deference to law-enforcement agencies. With Yates's dismissal, his confirmation also becomes a proxy battle for the broader political clash over Trump's controversial Muslim immigration order.
"Donald Trump can try to silence heroic patriots like Sally Yates who dare to speak truth to power about his illegal anti-Muslim ban that emboldens terrorists around the globe," the Democratic National Committee said in a statement. "But he cannot silence the growing voices of an American people now wide awake to his tyrannical presidency."
Jack Goldsmith, a former Bush-era official in the Office of Legal Counsel, which reviews executive actions to determine their legality, said he found Yates's reasoning unpersuasive, and that she should have resigned instead of instructing Department of Justice attorneys not to defend the executive order. "[S]he wrote a letter that appears to depart sharply from the usual criteria that an attorney general would apply in deciding whether to defend an [executive order] in court," Goldsmith wrote in a Lawfare post. "As such, the letter seems like an act of insubordination that invites the president to fire her. Which he did."
Yates was confirmed as deputy attorney general by the Senate in January 2015. Before taking the number-two position at the Justice Department, she worked as a career prosecutor who served as the U.S. attorney in the Northern District of Georgia. Former colleagues described her as someone who worked well with both sides of the aisle.
By placing the Justice Department in direct defiance of the president, albeit perhaps only briefly, Yates's decision evoked parallels to other major clashes between the White House and the government's lawyers. Perhaps the most infamous incident was the Saturday Night Massacre in 1973, when President Richard Nixon fired Watergate special prosecutor Archibald Cox and forced the resignations of Attorney General Elliot Richardson and Deputy Attorney General William Ruckelshaus.
"Now that's she's been fired, it does resemble it even more," said David Greenberg, a Rutgers University history professor.  "There's still differences: She was a civil servant who was filling in because Trump's appointee hadn't been confirmed.
"But I think it also needs to be weighed against the fact we're only 10 days into Trump's presidency and we already have this kind of behavior," Greenberg said. "It suggests the same kind of out-of-control need to assert power that Nixon showed and that Trump has always showed, but that I think he's demonstrated more vividly than ever with this."
Matthew Miller, a former spokesman for the Justice Department during the Obama administration, said the decision to fire Yates would have troubling consequences.
"It says that if you exercise your independent legal judgment and it contradicts what the president wants you to do, he will fire you," Miller said. "This is a major violation of Justice's traditional independence that will send chills down the spine of everyone there."
Observers on Twitter quickly noted an exchange between Sessions and Yates from March of 2015, during her confirmation hearing.
"It tends to be a political world at the top of the Department of Justice," Sessions noted at the beginning of his questioning. "Do you think the attorney general has a responsibility to say no to the president if he asks for something that's improper? A lot of people have defended the [Loretta] Lynch nomination [by President Obama] for example, by saying, 'Well, he appoints somebody who's gonna execute his views, what's wrong with that?' But if the views he wants to execute are unlawful, should the attorney general or the deputy attorney general say no?"
"Senator, I feel the attorney general or the deputy attorney general has an obligation to follow the law and the Constitution, and give their independent legal advice to the president," Yates said.
Later, Sessions recounted Bush-era Attorney General John Ashcroft's refusal to sign off on a surveillance program deemed illegal by the Justice Department. "I hope you feel free to say no in the character of John Ashcroft and others who said no to President Nixon," he told Yates.