Trump Manhandles the Media
Trump took full advantage of a weakened and divided press corps in his first news conference as president-elect.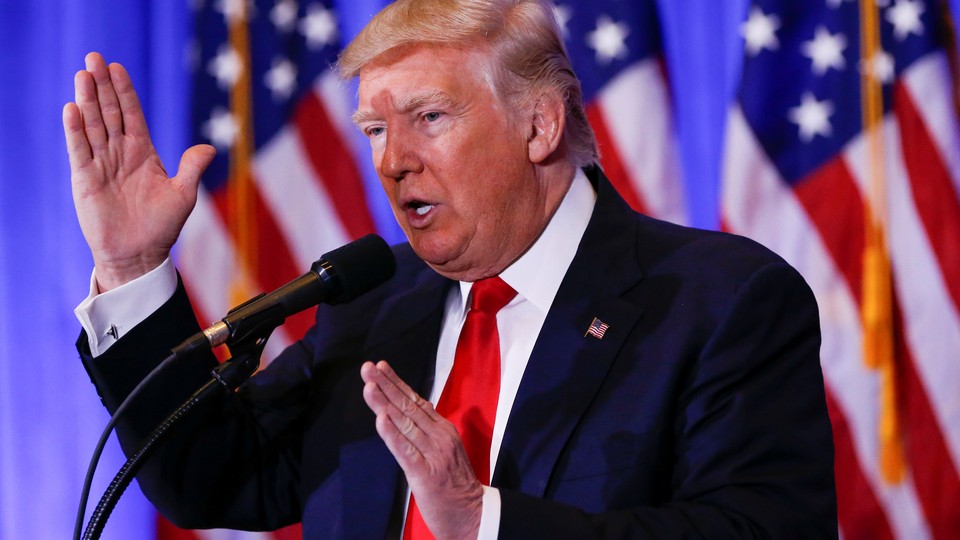 NEW YORK—Donald Trump's first press conference as president-elect was still hours away, but the scene at Trump Tower was already turning hostile.
Hundreds of journalists had crammed into the too-small atrium Wednesday morning, and many were grumpily jockeying for position and power-outlet access. Coiffed TV correspondents elbowed notebook-toting scribblers out of their live shots; producers grumbled about CNN unjustly colonizing a swath of prime seating up front; camera operators barked at each other on the risers. The atmosphere at Trump's press events often has a zoo-like quality. At this one it felt like the animals had been starved, hunted, and turned against each other.
Indeed, the press corps Trump faced Wednesday seemed more divided and less sure of itself than the one that grilled him six months ago, when he last held a formal press conference. With his surprise victory last November, Trump didn't just beat and embarrass his foes in the political press—he burned down their villages, defiled their temples, and danced on the graves of their dead. In the months that followed, news outlets entered into prolonged periods of soul-searching and self-flagellation while Trump took victory laps. Some of the same reporters and pundits who once laughed off his chances at victory were reduced to aggregating his tweets, pleading for access, and posing for chummy group photos at Mar-a-Lago.
At the dawn of the Trump presidency, America's political press corps is feeling anxious, territorial, threatened—and the president-elect showed Wednesday that he's ready to take advantage.
In the 18 hours leading up to Trump's news conference, the press had been busy obsessing over BuzzFeed's controversial publication of a dossier containing salacious, and unverified, claims about his relationship with Russia. Knowing they would field questions about the story, Trump and his team came prepared with a divide-and-conquer strategy—seizing on the intra-industry ethics debate surrounding the report to drive a wedge between their media adversaries.
Incoming White House press secretary Sean Spicer kicked things off with a belligerent statement blasting BuzzFeed as a "left-wing blog" that was engaged in a "sad and pathetic attempt to get clicks." Next up was Mike Pence, who adopted a deeply-troubled-and-saddened tone as he delivered a brief sermon on the Fourth Estate. "You know, I have long been a supporter of a free and independent press and I always will be," Pence intoned. "But with freedom comes responsibility."
When Trump finally arrived at the podium, he was in good-cop mode, heaping praise on the journalists who had criticized BuzzFeed's choice to publish the dossier. "I just want to compliment many of the people in the room," he said. "I have great respect for the news and great respect for freedom of the press and all of that. But I will tell you, there were some news organizations with all that was just said that were so professional—so incredibly professional, that I've just gone up a notch as to what I think of you, OK?"
Trump spent the rest of the news conference demonstrating his newfound respect for members of the press by taunting them, chiding them, and happily hurling insults at them.
When NBC's Hallie Jackson asked Trump if he would release his tax returns—as he once promised—the president-elect practically scoffed at the audacity of the request.
"You know," Trump said, "the only one that cares about my tax returns are the reporters, OK? They're the only who ask."
"You don't think the American public is concerned about it?" Jackson asked.
"No, I don't think so," came the response. "I won."
Aides and supporters in the atrium burst into gleeful applause, and Trump pushed on to the next question.
Later, when CNN's Jim Acosta—whose network first reported that intelligence officials had briefed Trump on the existence of the controversial dossier—tried to ask a question, Trump swiftly shot him down. "Not you," the president-elect snapped. "Your organization is terrible … You are fake news." (On Wednesday night, Director of National Intelligence James Clapper issued a statement verifying the essentials of CNN's report.)
Supporters cheered again, drowning out Acosta's protests, and Trump called on another reporter.
The long-awaited news conference proceeded generally along the same lines, with Trump easily manhandling the press corps while access-starved correspondents competed to get their questions answered on camera.
Afterward, the media infighting continued. CNN's Jake Tapper went on air accusing BuzzFeed—which Trump had just finished calling a "failing pile of garbage"—of "irresponsible" behavior. Asked to respond, BuzzFeed's editor Ben Smith said they were "not going to participate in an attempt to divide the media against each other."
Of course, the American press is not a special interest group, and it isn't meant to operate like one. Competition elevates journalism; disagreements, debates, and Twitter feuds are inevitable. In this particular case, as my colleague David Graham wrote, there is serious reason to question BuzzFeed's decision to publish such explosive allegations without verifying them.
But it's also true that when a politician succeeds in pitting members of the press corps against each other, it's usually the politician who wins. And on Wednesday, Donald Trump seemed less interested in parsing the finer points of journalistic ethics than in pursuing his own feud with the media, and encouraging its members to feud with each other.